Main content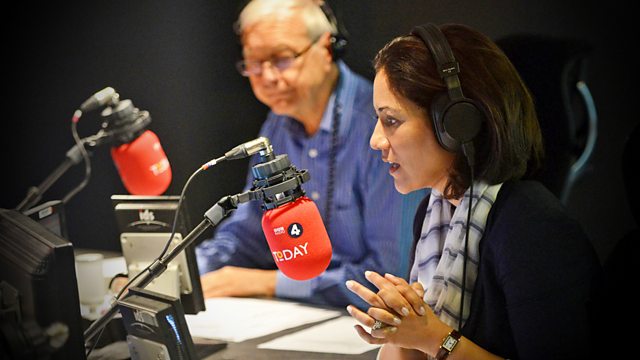 08/09/2017
Morning news and current affairs. Including Yesterday in Parliament, Sports Desk, Weather and Thought for the Day.
Today's running order
0650
The way young ethnic minority offenders are dealt with by the criminal justice system needs a radical overhaul, according to a report by Labour MP David Lammy. Malcolm Richardson is chairman of the Magistrates' Association and sitting magistrate since 1989.
0655
Musicity is a new project that involves musicians writing songs and recording music inspired by specific buildings. Seven artists have made seven new songs about seven buildings in London, including Peckham Library, the Shard, Canada Water bus station and Borough Market. Nick Luscombe is founder of Musicity and Sean O'Hagan is one of the musicians taking part in the project.
0710
Hurricane Irma is still making progress through the Caribbean islands and towards Florida. Gus Jaspert is governor of the British Virgin Islands, which has declared a state of emergency.
0715
The way young ethnic minority offenders are dealt with by the criminal justice system needs a radical overhaul, according to a report by Labour MP David Lammy. Junior Smart founded the St Giles Trust SOS Project after serving five years in prison for drugs offences. Lord Woolf is former Lord Chief Justice.
0720
The former Treasury minister Jim O'Neill is calling for entries to a competition seeking ideas for a more accurate way of measuring economic productivity. We have been speaking to Mr O'Neil.
0730
The Conservative chair of the Treasury Select Committee has written to Financial Conduct Authority about new proposals that could allow the world's largest oil company to list in London. Simon Jack is the BBC's business editor and Nicky Morgan is chair of the Treasury Select Committee.
0740
In an interview for this programme yesterday, John Le Carre said Ian Fleming was pivotal to his career. Why are the British so good at creating spy characters, and which has been the greatest, James Bond - or George Smiley? Charlie Higson is author of the Young Bond series of spy novels and Charles Cumming is a spy novelist.
0750
Communications are currently poor with those suffering from Hurricane Irma, but Today's Sanchia Berg has been speaking to two British Virgin Island residents. Kayla Laidlaw lives in a block on a hillside overlooking the capital Roadtown and Ed Childs moved from his house in the hills with his 12-year-old daughter and their family pets to a hotel in the town itself.
0810
The way young ethnic minority offenders are dealt with by the criminal justice system needs a radical overhaul according to a report by labour MP David Lammy. David Lammy is author of the report and Alison Saunders is Director of Public Prosecutions.
0820
K J Whittaker has a new novel: False Lights, the first in a trilogy. It is an alternate history with the 'what if' idea that Napoleon won at Waterloo. We speak live to Ms Whittaker and historian Andrew Roberts.
0830
An Oxford scientist is calling for companies whose products cause greenhouse gas emissions to be held liable for environmental consequences such as the current hurricane in the Caribbean. Myles Allen is professor of Geosystem Science at the University of Oxford and Tom Burke is chairman of think tank E3G, Third Generation Environmentalism.
0835
Thousands of Rohingya Muslims have crossed the Myanmar border into Bangladesh as they flee the country amid widespread violence. Pierre Peron is spokesperson for the UN Office for the Coordination of Humanitarian Affairs.
0840
Residents of the Turks and Caicos Islands on Thursday hunkered down for Hurricane Irma, which has smashed through a string of Caribbean islands as one of the most powerful Atlantic storms in a century, killing at least 14 people en route to Florida. Captain Stephen Russell is director of The Bahamas National Emergency Management Agency.
0845
One of the fasting-growing fields of astronomy is the search for exoplanets - planets that exist outside of our own solar system. Elizabeth Tasker is associate professor at the Japan Aerospace Exploration Agency.
0850
Have cold war arguments in favour of nuclear weapons as a deterrent been debunked? Bruce Kent is CND vice-president of the Campaign for Nuclear Disarmament and Sir Malcolm Rifkind is former defence secretary and foreign secretary.
All subject to change.