Main content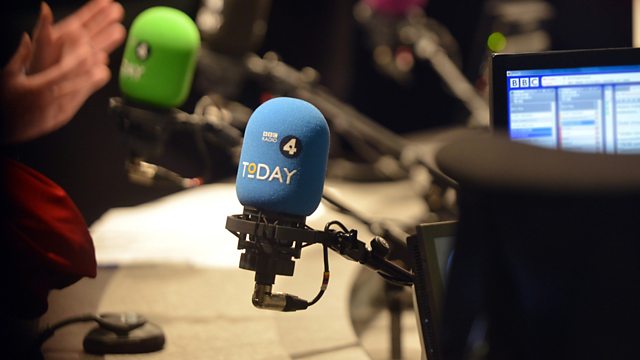 07/09/2017
Morning news and current affairs. Including Yesterday in Parliament, Sports Desk, Weather and Thought for the Day.
Today's running order
0650
The first session of Prime Minister's Questions yesterday in parliament allowed MPs to forget about Brexit for half an hour and concentrate on other political issues. The BBC's parliamentary correspondent Sean Curran reports.
0655
What happens now to those tiny islands and territories smashed by Hurricane Irma? Lee Miles is professor of crisis and disaster management at Bournemouth University.
0710
The category five hurricane sweeping through parts of the Caribbean has caused major flooding and destroyed buildings on several islands in the Caribbean. Anna Baltimore Thompson lives on the island of Barbuda and Josephine Gumbs-Conner is from the British Overseas Territory of Anguilla.
0715
The government will be trying to get MPs on side today over how we disentangle ourselves from the EU. Herman Van Rompuy is the former president of the European Council.
0720
Britain's biggest car-maker, Jaguar Land Rover, is announcing that all-new Jaguar Land Rover models will be available to buy in an electric version from 2020. Ralf Speth is the chief executive of Jaguar Land Rover.
0725
Treating insomnia with online cognitive behavioural therapy (CBT) could reduce mental health problems such as anxiety, depression, and paranoia, according to a large randomised controlled trial published today in The Lancet Psychiatry. Daniel Freeman is lead researcher of the study.
0730
Universities in England could face fines if they fail to make a case for giving their vice chancellor a high salary, under plans to be set out today. Jo Johnson is universities minister.
0740
Smiley is back. John Le Carre's master spy is making what the author says will be his last appearance in a novel in A Legacy of Spies. We heard Le Carre talking to Jim Naughtie yesterday about his own life in the secret world - now he is talking about Smiley himself.
0750
Myanmar's leader, Aung San Suu Kyi, has claimed that misinformation is fuelling the crisis which has led tens of thousands of Rohingya Muslims to flee her country to go to the relative safety of Bangladesh. Pierre Perron is public Information and advocacy officer for the UN office for coordination of humanitarian affairs in Myanmar.
0810
MPs begin to debate the European Union (Withdrawal) Bill in its Second Reading today. Damian Green is first secretary of state and Keir Starmer is shadow secretary of state for exiting the European Union.
0820
Oslo is now on at the National Theatre in London. It is a play about Norwegian ambassador Mona Juul and her husband Terje Rød-Larsen, who played key roles in the Oslo Accords. We speak live to Mona Juul.
0830
The category five hurricane sweeping through parts of the Caribbean has caused major flooding and destroyed buildings on several islands in the Caribbean. Gaston Browne is the prime minister of Antigua and Barbuda.
0835
The head of Kurdish counter terrorism and a key western ally in Iraq is visiting London. Lahur Talabani is director of Zanyari Agency, one of two intelligence services in the Kurdistan region of Iraq, and director of the Counter Terrorism Group (CTG) special forces group.
0840
The first purpose-built music college in a generation opens this month - the Birmingham Conservatoire. Julian Lloyd Webber is a cellist, conductor and the principal of the Birmingham Conservatoire.
0850
Poet and novelist Ben Okri has described his latest book The Magic Lamp as "fairytales laced with acid". We speak live to Mr Okri.
All subject to change.