Main content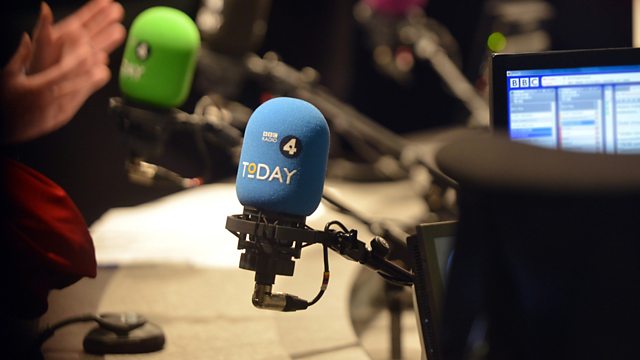 06/09/2017
Morning news and current affairs. Including Yesterday in Parliament, Sports Desk, Weather and Thought for the Day.
Last on
Today's running order
0650
David Cameron's government drastically reduced energy efficiency programmes in order, ministers said, to save people money on their bills. But a major report today by the Energy Research Centre concludes that the cuts meant missed opportunities for households to save on their energy bills. Roger Harrabin is the BBC's environment analyst.
0655
Today, on a blog and behind the scenes at Radio 4, three teams will be pitching policy ideas to try and reduce how much people drink in the UK. Their ideas will be judged by David WIlletts and Dawn Austwich from the Big Lottery Fund, to be heard live on the The Fix at 8pm tonight. Cat Drew is a policy maker who has worked in the Home Office, Cabinet Office and Number 10.
0710
The outer winds from Hurricane Irma have begun lashing islands in the eastern Caribbean. Pippa Holman and Kyle Pribilski are on holiday in Antigua.
0715
Whitehall departments are at odds over plans to raise the public sector pay cap after No 10 offered a clear hint that it would be lifted. Janet Davies is chief executive and general secretary of the Royal College of Nursing and Paul Johnson is director of the Institute for Fiscal Studies.
0720
Sports Direct, the high-street sports fashion retail chain majority owned by founder and chief executive Mike Ashley, holds its annual general meeting today - but Mr Ashley isn't attending. Paul Lee is Aberdeen Standard's head of corporate governance.
0725
The United States will receive more 'gift packages' from North Korea, said one of its diplomats in Geneva yesterday. Sue Mi Terry is a former CIA officer who served as Korea Director at the US National Security Council.
0730
The UK will end the free movement of labour immediately after Brexit and introduce restrictions to deter all but highly-skilled EU workers, under detailed proposals set out in a Home Office document leaked to the Guardian. Alp Mehmet is vice chair of Migration Watch UK and Edwin Morgan is director of policy at the Institute of Directors.
0740
Cape Town is preparing for the unveiling of the largest museum of contemporary African art in the world - The Zeitz Museum of Contemporary Art Africa. Thomas Heatherwick is its architect and the man who was also behind the failed Garden Bridge project in London.
0750
For the first time the top two places in the Times Higher Education World University Rankings have been taken by British Universities - the list just released shows Oxford in first place and Cambridge in second. Mishal Husain has been speaking to Louise Richardson, vice chancellor of Oxford University.
0810
China must use all its influence to end the "grave crisis" provoked by North Korea's latest nuclear test, Foreign Secretary Boris Johnson told MPs last night. Michael Fallon is secretary of state for defence.
0820
When John le Carre's A Legacy of Spies comes out tomorrow there is going to be a special thrill for his legion of readers - the return of George Smiley, the master spy. Jim Naughtie has been talking to Mr le Carre as he reflects on his own life.
0830
This is the last week here in the UK for the French ambassador, Sylvie Bermann. What are her departing observations? Ms Bermann is live on the programme.
0835
After Theresa May called her snap election in April a number of measures were rushed through the Commons removing any contentious issues – including the annual Finance Bill. Peter Dowd is shadow chief secretary to the Treasury.
0840
More than a hundred universities are calling for a rethink on the costs for poorer students in England. Ryan Shorthouse is director of Brightblue, a right-wing think tank which focuses on social reform.
0845
Prisoners are being asked for advice on how to reduce unprecedented levels of suicide and self-harm. Juliet Lyon is chair of the Independent Advisory Panel on Deaths in Custody.
0850
Legendary commentator John Motson will call time on his BBC after his 50th consecutive year with the corporation. 'Motty' is live on the programme.
All subject to change.
Broadcast