Main content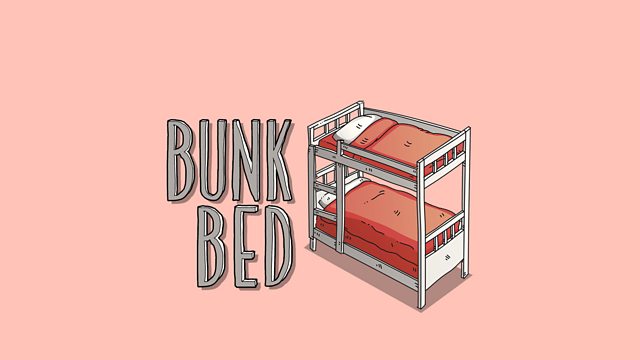 Kathy Burke is on the pull-out mattress beside Curran and Marber, as they use the cover of darkness to discuss romance, saucy 1970s novels and why acting lost its allure.
Everyone craves a place where their mind and body are not applied to a particular task. The nearest faraway place. Somewhere for drifting and lighting upon strange thoughts which don't have to be shooed into context, but which can be followed like balloons escaping onto the air. Late at night, in the dark and in a bunk bed, your tired mind can wander...
The acclaimed Bunk Bed written by and featuring Patrick Marber and Peter Curran returns for its fourth series with a dozy vengeance. Up there with Brian Johnson's famous dissolve into helpless laughter while commentating on cricket, this Bunk Bed boasts a similarly hilarious breakdown as the award-winning actor and director Kathy Burke relates her memories of reading saucy novels aloud for an audience of fellow teenagers in the 1970s. Curran and Marber fight over concepts of male sensitivity, only to be severely admonished by their guest, and the unlikely bedfellows discuss how the words of The Sex Pistols' God Save The Queen now mock them in middle-age.
'Bunk Bed is funny, strange, enchanting, and beautifully put together.' - The Observer
'Bunk Bed on Radio 4 is beloved by broadsheet critics, but don't let that put you off.' - Metro
Producer: Peter Curran
A Foghorn production for BBC Radio 4.