Main content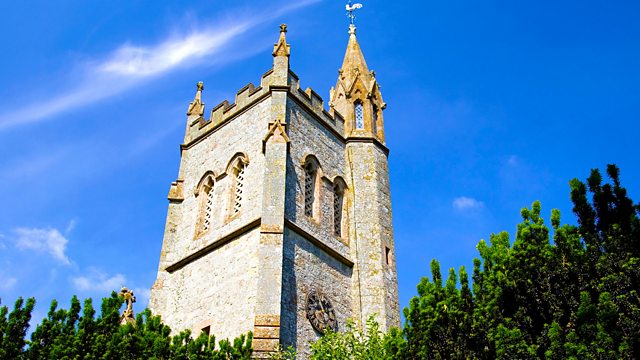 The Common Good
A service featuring musicians and speakers from the Greenbelt Festival at Boughton House near Kettering.
Set in the picturesque grounds of the Boughton Estate near to Kettering, Greenbelt brings top Christian thinkers and musicians together with 20,000 festival goers to spend the August bank holiday weekend reflecting on faith, justice and culture. The festival, which has been described as "Glastonbury with God", sees people of all ages, traditions and backgrounds, don their wellies and pitch their tents to consider the big questions of life.
Speakers, musicians and festival goers bring the sights and sounds of this extraordinary gathering to life as they explore this year's theme, The Common Good.
Producer: Katharine Longworth.
Last on
Script
ANNO:
Sunday Worship comes from Greenbelt Festival near Kettering and is presented by Chine McDonald
Link: The Camping Field
Chine – I'm out in a field of tents at the Greenbelt festival. All around me, sleepy campers are just waking up and getting ready for a day of debate, thought, poetry and art, of music dancing, prayer and reflection.  This is a place where thousands of people, spanning all ages and backgrounds, come together to share ideas and experiences, to engage with the big issues of today and to worship with their hearts, hands and voices, in marquees, tents and the open air.
And so, here, amongst the canvas and the camping stoves, we pray.
PRAYER 1:
Praise God.
Praise God in our thoughts and in our words,
In our songs and our dancing,
Praise God in green fields and by cool streams,
On mountain tops and rolling seas.
Praise God in busy towns and quiet streets,
In our work and in our homes.
Praise God, the creator of all.
Link: Camping Field OR in the festival with background noise
Music is the backbone of the Greenbelt Festival. Everywhere you go you're met with the sound of guitars, voices, percussion, bands of all types; warming up, sound checking or performing in front of energetic crowds.  And what music could be more powerful than that of voices coming together, to sing in harmony.  This year the Sacred Sounds Women's Choir feature at the festival, performing a cappella choral works from many faiths and tradition.  And now, we hear them as they sing the American Folk Hymn Down to the River to Pray
MUSIC 1:  Down to the River to Pray
Link 2: outside – birdsong, rustling of flags, festival sounds
That was Sacred Sounds Womens Choir Singing Down to the River to Pray/The Highways and the hedges.
I'm now sitting by the lake at Boughton House. It's one of the most still and peaceful places on the site, with the morning light reflecting on the water, the wind in the trees and the colourful flags rustling.  From here you get a good view of the site, the colourful Big Top tent and smaller venues which are beginning to fill up with festival goers in wellies and cagoules.
One of the aims of the festival is to challenge people to think and to feel and so contributors this year will be considering the theme of The Common Good.  How do we live together in an age of austerity? How do we ensure that no one is forgotten? How do we show respect for every human being as a beloved child of God?
These concepts are central to Christian moral values and to the Bible.
In a moment Pádraig Ó Tuama, (PAW-drig O TOO-ma) the Leader of The Corrymeela Community will reflect on what this means but before that we hear Acts 2:42-47 read by festival goer
Reading 1: Read by festival goer
Acts 2:42-47
They devoted themselves to the apostles' teaching and fellowship, to the breaking of bread and the prayers.
Awe came upon everyone, because many wonders and signs were being done by the apostles.  All who believed were together and had all things in common;  they would sell their possessions and goods and distribute the proceeds[a] to all, as any had need.  Day by day, as they spent much time together in the temple, they broke bread at home[b] and ate their food with glad and generous[c] hearts,  praising God and having the goodwill of all the people. And day by day the Lord added to their number those who were being saved.
Reflection 1: Pádraig Ó Tuama – the Theology of the Common Good
There's a reading in the book of Acts about how the early Christians lived together in friendship and devotion.
They held everything in common. They would sell their goods, and distribute their income, and would share meals and eat together with glad and generous hearts.
It's a gorgeous image. I imagine it was true, too. For a while.
The same book records stories of how, fairly soon, they worried about some who didn't quite give everything. There are also questions about when people from other cultures, other politics, other nationalities come.
I lived in a household like this myself for years. In many ways it was fantastic: instant friends, instant company and for a while it seemed like a cure for both loneliness and doctrine.
We all believe,  the same, I used to think.
Until we didn't. Someone thought one thing about war, and another thing about gender. Someone thought one thing about sexuality and another thing about doctrine. And then we also got on each others nerves.
And that's before we got talking about how to share a fridge between people who lived together. Everything had names written on it, saying "Do not touch".
The question isn't, for me, how do we share a common goal and a common good when it's all easy.
The question is: how do we share the common good when it's not easy at all.
At Greenbelt there are people selling food, selling clothes, people sharing ideas, people trying to convince people of ideas, people arguing, disagreeing with each other, people who use different names for god, people who sing different kinds of songs about god. There are people who want to talk about poverty and other who want to talk about the environment. There are people who start in different places and who, to be honest, sometimes differ in their ideas about destinations too.
The Common Good isn't a vision of easy harmony.
The Common Good is a vibrant argument of being alive. It's people disagreeing with people. It's debates and votes. It's disappointment without the threat of violence. It's a system that does not enthrone the few while trodding on the many.
The Common Good is not for the Some.
The Common Good is not for the few.
The Common Good is for for just me. Or just you. It's for us.
And Us means everyone.
This is not easy. This is damned difficult.
This is a vision of something called Beatitude.
Blessed are the all. For they shall enjoy the common good.

Music 2: David and Yvonne Lyon – From the Last to the first.

Prayer 2:
Dear Lord,
Bring peace among your people.
Where there is division, bring unity,
Where there is dischord, bring harmony,
Where there pain, bring healing,
And where there is hatred, bring love. Amen
Link:  In an "ideas" tent
Greenbelt is somewhere where big ideas are shared, ideas that can change hearts and change the world. It's a place for debate and discussion on hard hitting and important social issues. In a few moments we'll here from Human Rights lawyer, Clive Stafford Smith who has spent his life providing free legal support for some of the world's most vulnerable people and campaigning for justice, especially for those facing the death penalty.  Justice and mercy are central to the Common Good and to Christian Ethics so now we hear from the Gospel of Luke Chapter 6 read by a festival goer.
Reading 2:
 "But I say to you that listen, Love your enemies, do good to those who hate you,   bless those who curse you, pray for those who abuse you.  If anyone strikes you on the cheek, offer the other also; and from anyone who takes away your coat do not withhold even your shirt.   Give to everyone who begs from you; and if anyone takes away your goods, do not ask for them again.  Do to others as you would have them do to you.
"If you love those who love you, what credit is that to you? For even sinners love those who love them.  If you do good to those who do good to you, what credit is that to you? For even sinners do the same. If you lend to those from whom you hope to receive, what credit is that to you? Even sinners lend to sinners, to receive as much again.  But love your enemies, do good, and lend, expecting nothing in return. Your reward will be great, and you will be children of the Most High; for he is kind to the ungrateful and the wicked.   Be merciful, just as your Father is merciful.
Reflection 2: Clive Stafford Smith on Mercy
I have spent most of my life defending people facing execution. It is all about mercy. That's very different from forgiveness. The jurors vote life or death, and life in prison is hardly forgiving.
 
The first trial I did, not too long after graduating as a pompous British public schoolboy, predictably I quoted Shakespeare: The quality of mercy is not strain'd, and all that wonderful stuff from the Merchant of Venice. The jurors looked at me blankly. An old Georgia lawyer, Bobby Lee Cook, explained that he thought they probably didn't know who Shakespeare was.
 "Ah've used the same quote mahself," he went on. "Only Ah began by saying, 'Ah think it was in the Book of Job I read…'"
 I took some of his advice on board – not the lying bit, but the fact that most American jurors are motivated by Christianity, as the dominant faith. And the Bible is filled with references to mercy, as we've just heard in Luke chapter 6.  But, my own favourite was Matthew 5 v. viii – "Blessed are the merciful, for they shall obtain mercy." It reduces the juror's decision to a simple one: do as the defence lawyer asks and show mercy, and you'll get mercy yourself; listen to the prosecutor and apparently you get eternal damnation.
It's a lot more powerful than most arguments that are based on law. And there are also some more visual descriptions of their task. I used to ask them to imagine 13 jurors sitting around the table deliberating on a verdict - the additional person being Jesus. Did they honestly think that when it came time for him to express his view he would say, "Let's fry him." Unlikely.

 In the end, I believe it is only by keeping a distance from their own humanity that jurors could possibly bring themselves to vote that a fellow traveller should be executed. In my experience, when confronted with the simple reality of a few Bible verses – or analogous verses from the Torah or the Qur'an – few take that path.
Music 3: Tom Forest – Believer
Prayer 3:
We pray for those in prison, those who are in need of comfort and hope.
We pray for those who are captive within their own minds, those who are affected by mental illness.
We pray for those who suffer as a result of violence or abuse,
For victims of crime and casualties of war.
Pour balm on the wounds of all those who suffer, and inspire all people to work for a world in which justice and mercy prevail, where good news is delivered to the poor and where the year of the Lord's favour is proclaimed.
Amen
Link:  Somewhere "arty"
(Describe where you are)
Artists of all types congregate at Greenbelt, there's a real buzz of creativity in the air.  One thing that unites them is the belief in the power of art. Award-winning campaigner and Founder of the Craftivist Collective Sarah Corbett has taken crafting to a whole new level. We'll hear from her after a reading from Isaiah Chapter 2.
Reading 3:
He shall judge between the nations,
and shall arbitrate for many peoples;
they shall beat their swords into plowshares,
and their spears into pruning hooks;
nation shall not lift up sword against nation,
neither shall they learn war any more.
Reflection 3: Sarah Corbett – Craftivist
Nine years ago I was working in the charity sector, campaigning, lobbying, teaching people how to be effective activists and then creating national campaign resources for one of the biggest charities in the UK.  I travelled up and down the country, I loved my work but I was also burning out. Fast.  It was on one such train journey that I bought a cross stitch kit, the kind of thing that is trendy today, but back in 2008, it was far from cool! As stitch followed patient stitch, I reflected that activism shouln't just be about anger or demonising power-holders. It didn't have to be loud, quick and demanding  or just one click of an online petition. As an introvert, I needed something that allowed me to engage deeply and from the inside out. As a Christian, I wanted to reflect on the issue, the people involved and cross stitch gave me time to think, to empathise. Activism through craft. Craftivism.
 
And so I founded the Craftivist Collective in 2009 and have become one of the leading spokespeople/practitioners in this growing global movement travelling the world teaching, consulting and delivering hundreds talks and workshops to thousands of people keen to use their hands and art in activism.
 
Craftivism is a bit like the word punk - there are so many different styles and methodologies. I adopt an approach I call 'Gentle Protest'. By "gentle" I don't mean passive or weak, I mean provocative and engaging, always with kindness and compassion. The protest is encouraging and working with not at people whenever possible, and for the common good.
 
And it has real effects. 
 
How do you encourage shoppers to choose ethical brands?  How do you help change a government policy? How do you persuade a major company to change their policy on the Living Wage?
 
Well our Craftivist Collective recently did just that with a major company.  Through careful research and hours of craft work, we designed and made custom made handkerchiefs for each board member of a major retail company, and embroidered each one with a quote we thought would connect with each different board member.
 
 Within 14 months they went from ignoring campaigners to receiving our gifts. The Chair of the Board quietly told me afterwards that without our gentle protest, the real Living Wage would not have been put on their agenda. This led to 50,000 of their lowest paid staff receiving the real Living Wage.
 
Other examples are mini crossed banners tied to railings or lampposts, or handwritten scrolls wrapped in ribbon and 'shopdropped' into clothes pockets for people to find them, read and then become curious about how their clothes were made.
 
Small and beautiful objects, crafted with care taken over the colour, the font, the size, the messaging, can be catalysts for conversation and connection. They can be tools to plant seeds, lovingly challenging not bullying. [could take this paragraph out if needed]
 
Jesus protested against injustice in creative ways. He used provocative questions, intriguing stories and quiet conversations. To be effective protesters we should thread care, compassion and courage through our activism. After all, as Christians if we want our world to be more beautiful, kind and just shouldn't our activism be beautiful, kind and just?
Music 4:  We Shall Overcome – David and Yvonne Lyon
Prayer 4:
Mighty God, King of Kings,
Ruler of heaven and earth,
Bring wisdom and insight to world leaders and all in positions of power.
Send strength to those who work to make the world a better place.
And fill each one of us with your loving care.
Amen
Link:
(back anno music)
Throughout the festival, people come together to worship in a range of forms and styles, expression the richness of our diverse and multicultural society.  worship is a big feature of Greenbelt, the Christian roots of the festival mean that worship is woven throughout the schedule in many different forms and styles.  Worship leaders like Nabeel Masih and the 9 Beat Collective offer new perspectives on worship in the 21st Century.
Package: The 9 Beat Collective – The Beatitudes

Link:
The Lord's Prayer, words to unite Christians throughout the world sung by friends and members of the Iona Community.
The Lord's Prayer:
Sung by Iona Community.
Link:
As we go on our way, may we find God's blessing in our lives today; in our homes and our families, in our work and in our rest, in fields and lakes, in trees and grasses, in the highways and the hedges.
Amen
Music 5: Sacred Sounds Choir Highways and the Hedges

Broadcast