Main content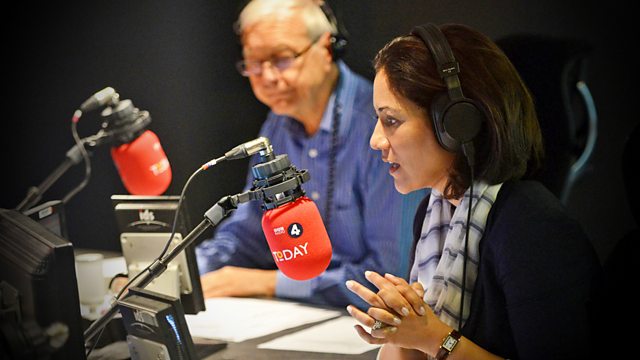 01/09/2017
Morning news and current affairs. Including Sports Desk, Weather and Thought for the Day.
Today's running order
0650
This morning's puzzle comes from the School of Mathematics at the University of Manchester.
0655
The Local Government Association says today that 49% of councils across the country are at risk of being unable to meet rising demand for secondary school places within the next five years. Cllr David Simmonds is vice chairman of the LGA and Rachel Wolf is a former educational adviser to David Cameron.
0710
The DUP leader Arlene Foster has appealed to Sinn Fein to go back into power-sharing at Stormont immediately, while trying to sort out their differences in negotiations that would take place at the same time. David Ford is former Alliance party leader and MLA for South Antrim.
0720
Powerful vacuum cleaners are being banned from today and people living in EU countries won't be able to buy those vacuums that are said to produce more noise and heat than suction. Roger Harrabin reports.
0725
The first hints of Autumn started in July. We can expect brilliant colours this year from yellow to orange to deep red. Andrew Smith is director of Westonbirt, the national arboretum in Gloucestershire.
0730
The international trade secretary has said Brussels must not be allowed to blackmail the UK into agreeing a divorce bill. Liam Fox is the international trade secretary and Ben Wright is the BBC's political correspondent.
0740
Today the Royal Air Force will for the first time accept applications from women to join the RAF regiment. It follows a decision last year to lift the ban on women serving in close combat roles like the infantry. Group Captain Wendy Rothery is head of RAF recruiting and selection.
0750
Ninety-five per cent of British homes and businesses will have superfast broadband by the end of the year, the government's has said. Ed Vaizey is the former minister for culture, communications and creative industries.
0810
The UN Security Council have been meeting to discuss Syria. The UN special envoy to the country has said a new approach is needed to put the people of Syria first. Staffan De Mistura is the United Nations and Arab League envoy to Syria.
0820
Donald Trump loves to put an exclamation or two at the end of most his tweets. Is social media changing the nature of this punctuation mark? Philip Cowell is the author of This is Me, Full Stop.
0830
England's exams watchdog has announced a review of rules allowing teachers to set question papers in the wake of allegations of exam leaks. Geoff Barton is the general secretary of the Association of School and College Leaders.
0840
The Berkeley University initiative to find signs of intelligent life in the universe has detected 15 fast radio bursts emanating from a mysterious 'repeater' - the largest number seen so far. Vishal Gajjar is a post-doctorate fellow at the Berkeley Research Centre.
0850
A survey commissioned by BBC Radio 5 Live suggests four in five British adults are proud of the work they do and two thirds say they enjoy going to work most days. Lucy Cavendish is a journalist turned psychotherapist and Polly Toynbee is a Guardian columnist and author of two books on work.
All subject to change.