Main content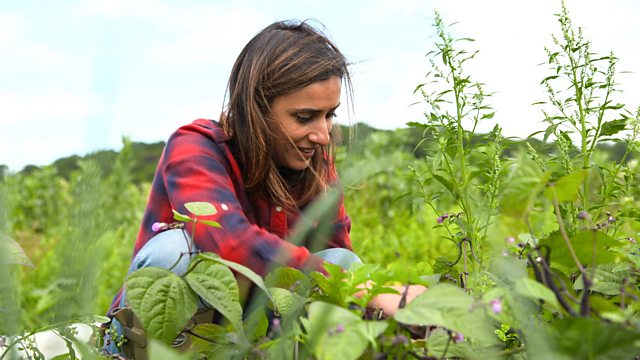 Dartmoor
Anita Rani explores the Artisan Trail in Dartmoor, a newly created route that links some of the area's best artists and craftspeople.
Anita and Sean are in the rugged wilds of Dartmoor. Anita explores the Artisan Trail, a newly created route that links some of the area's best artists and craftspeople. She meets the blacksmith working out of a traditional forge, visits a community-supported farm providing locals with hearty seasonal veg and tries her hand spinning wool on an old-fashioned spinning machine. We also meet the printmaker who works out in the wild in all weathers.
Sean looks at native Dartmoor ponies and asks if there is a better alternative to culling unwanted foals at birth. He looks at two different options. One involves finding use for unwanted animals as therapy for people with learning difficulties, and the other, more controversially, suggests rearing the animals for meat.
Tom finds out what happens to the male calves born into dairy herds and looks at what can be done to ensure they have a useful and decent life. And with harvest just around the corner, Adam is taking stock down on his farm.
Artisan trail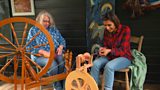 The Artisan Trail is a brand new trail across Dartmoor linking various artists, craftspeople and producers. Members of the public can hit the trail and meet the artisans and try their hands at the crafts on show. Anita sets off to explore the trail and meets some of the artisans. Her first stop is with Jane Deane, a textile designer who creates bespoke yarn with wool from her  flock of Wensleydale sheep. She dyes the yarn using flowers from her garden. And she spins it on a traditional wheel. Jane guides Anita through the process; from dyeing, to teasing out the fibres and finally spinning the yarn.
Dairy bull calves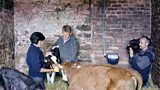 On a dairy farm the females do all the hard work producing the milk, so what happens to the boys born into the herd? Well sadly some end being shot, but this isn't a situation that anyone likes. So Tom Heap travels to meet the farmers trying to do something different with their male youngsters. From rose veal to beef it seems there is a market for the bull calves, but it needs us, the consumers to buy into it and build it to give all our bull calves a useful and decent life.  
Discover more about rose veal
Wild printing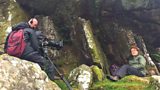 Anita Reynolds is a wild printer. That means, she makes prints out in the elements, high up on Dartmoor, in all weathers.  Drawing inspiration from the moorland around her, she sketches quickly and rapidly records what she sees, picking out the colours of lichen and the textures of rocks beneath her feet. She then she heads back to her specially adapted van turned mobile studio. Here she uses a portable  printing press to turn her sketches into striking prints.    
Visit Dartmoor
Chagfood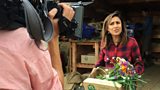 Anita's second stop on the trail is Chagfood, a community supported market garden supplying fresh organic fruit and veg to people in an around the town of Chagford. Anita finds out that Chagfood members pay up front for their veg and each gets a share of the harvest.  This guarantees a market for the growers, and in return the buyers get a box of hearty seasonal  veg each month. Anita helps pick, pack and prepare the latest batch of veg  boxes and gets stuck in harvesting chard, courgette, shallots, and vibrant purple runner beans.
Dartmoor ponies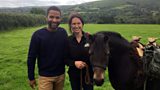 The Dartmoor pony has been part of the landscape here for millennia.  But for how much longer? Sean finds out what the future holds for the  animals and hears some controversial ideas to keep them on the moor.  Local farmer Sue Martin tells him that farmers have little incentive to keep the ponies, and foals often get shot. Sean then meets conservationist Charlotte Faulkner who  thinks preventing unwanted births is better than shooting, so she's licensed to administer contraceptives to the mares.   Finally Sean meets Robyn Petrie-Richie who puts the ponies to work helping those with disabilities.  But there is another even more radical option on the table.
Blacksmith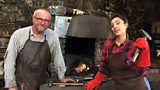 Anita's final stop on the Artisan Trail is to meet resident blacksmith Greg Abel.  Greg gave up a high powered job as a software engineer to pursue his first love – blacksmithing.  He saw the forge and two days later he'd bought it, swapping mouse and keyboard for hammer and anvil. Now his forge is ready for his latest apprentice – Anita.  Greg guides Anita,  step by step , through the process of making a fire poker.  A simple enough object, and Anita soon has the sparks flying.  But has she got what it takes to become a master craftsperson?
Harvest on Adam's farm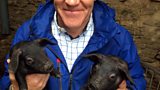 Adam's combines are eating up the acres of oil seed rape, making the most of any hot dry weather they can get, but in typically British fashion, the weather isn't playing ball. His pigs though are happy come rain or shine. One of Adams Large Black sows has recently had a litter of nine piglets and despite the weather, today's the day they head out from their pen into the field.
Pony meat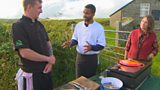 Sean catches up  with Charlotte Faulkner again  to hear the most radical idea yet to save the Dartmoor ponies - eat them! Charlotte tells him that if there was a market for pony meat it could add the value that would stop them from being shot at birth as worthless. She's putting her money where her mouth is too.  She heads up Dartmoor Conservation Meat, which sells cuts of pony meat, pony sausages, burgers and chorizo. But what will Sean make of pony burgers? 
Credits
| Role | Contributor |
| --- | --- |
| Presenter | Anita Rani |
| Presenter | Sean Fletcher |
| Presenter | Adam Henson |
| Presenter | Tom Heap |
| Executive Producer | William Lyons |
| Series Producer | Joanna Brame |