Main content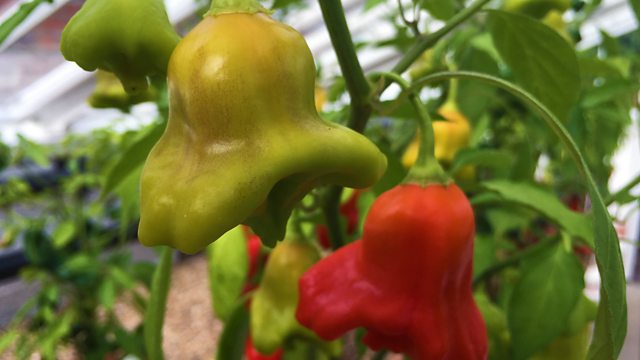 Cardiff
Eric Robson and the panel are in Cardiff. Matthew Wilson, Bunny Guinness and Matt Biggs answer the audience's questions.
Eric Robson and the panel are in Cardiff. Matthew Wilson, Bunny Guinness and Matt Biggs answer the audience's questions.
This week, the panellists recommend garden uses for sheep fleece, offer advice on overwintering chillis, and give the definitive 'dos and don'ts' for starting an allotment.
They also offer up a whole host of interesting and varied planting suggestions for one questioner with a riverbank garden, one looking to attract pollinators with fruit and veg, and one who is looking for plants to remind his wife of Yorkshire.
Finally, Matt Biggs lets his inner-thespian run amok as he investigates Shakespeare's connections to plants and horticulture.
Produced by Hannah Newton
Assistant Producer: Laurence Bassett
A Somethin' Else production for BBC Radio 4.
Fact Sheet
Q – I used sheep fleece under my runner beans this year.  Is there anything else I can use it for?
Bunny – I put it under my brassicas to help keep slugs off. 
Matt – Liners for hanging baskets. Insulation for Dahlias.
Matthew – It's a good soil improver for thin, fast-draining soil. 
Eric – Weed suppressant
Q – I've tried growing a chilli called 'Friar's Hat' this year and the instructions say I should overwinter it.  How should I do it?
Matt – Cut the laterals back by a third and then keep it in a cool, bright place
Bunny – I'm growing Padron Pepper this year – the 'Tapas Chilli'
Q – What are your top three 'must dos' for beginner allotmenteers? It is currently covered with bindweed
Bunny – Get rid of the bindweed.  Get lots of green waste on it.  Then make raised or fixed beds.
Matthew – Cover the bindweed with a thick layer of cardboard and then a thick layer of organic matter and leave it for a year
Matt – Sow as you clear
Q – I live on the riverbank of the Taff.  I have just about managed the Japanese Knotweed but not yet the Himalayan Balsam.  On the bank there is an old bathtub – what can I grow in it in spring/summer?
Matthew – Himalayan Balsam is quite pernicious. It has explosive seed pods that spread the seed across a wide distance.  I'd recommend putting in Saponeria officinalis (the Soapwort).  Some of the Alstroemerias.  Vinca minor. 
Eric – 'Rambling Rector'
Bunny – Honeysuckles.  Dog roses.  Rugosas.  Honeysuckle tellmanniana. Hedera ivy.  Cristata. 
Matt – Salix.  Dogwoods. 
Q – We bought and planted a Mock Orange two years ago; will I ever see it grow into a tree?
Matthew – This is a Philadelphus.  It is quite fast growing so you should be fine.  The trick is to get your pruning right – they flower on wood produced the previous season.  So don't prune them early in the year, prune them after flowering.  Give it plenty of light too.
Q – My husband has converted a small swimming pool into a sunken garden.  It gets very little sunlight.  What could he grow in it? Should he get artificial light put in?
Matthew – Ferns.  The Regal Fern (Osmunda regalis).  The Shuttlecock Fern (Matteuccia struthiopteris).  Japanese Painted Lady Fern (Athyrium niponicum).  Pictum. 
Bunny – Exotics would be good, and the odd Tree Fern.  Zantedeschia aethiopica 'Crowborough'.   Native Iris (Iris foetidissima).  Gunnera. 
Matt – Rhododendron praecox. Rhododendron yakushimanum.  Hostas like 'Sum and Substance'. Aspidistras.  Fatsia japonica.  Hardy Orchids.  Garden Cymbidiums.
Q – I have a climbing Hydrangea which, due to strong winds and a competing Wisteria, has come away from the wall.  What should I do?
Eric – Hydrangea petiolaris
Bunny – Cut it right back after flowering
Matthew – I would be wary of cutting it back
Q – Are there any fruits or vegetables that are good for pollinators?
Matthew – Everything that fruits.  Apples and crab-apples are great.  Wild fruiting plants like Sloe too. 
Bunny – Almond.  The variety 'Robijn' which is peach leaf curl resistant.  Plums and peaches.  Alliums.  Wild carrot. 
Matt – Grow apples or pears as espaliers across a fence to save space.  Broad beans, runner beans, asparagus peas
Q – We have a twenty-year old Camellia that has apple seed pouches on it.  Should I germinate them?
Bunny – I think it's quite easy to do. 
Matt – Take the seed out and then chill it over winter in a moist peat-substitute. Sow in the spring. 
Q – My wife is from Yorkshire.  What plants can we grow in south Wales to remind her from home?
Matthew – White rose – I'd recommend 'Winchester Cathedral'. 
Bunny – Yorkshire fog.  Liquorice plant. 
Matt – Rhubarb and Flat Cap Mushrooms