Main content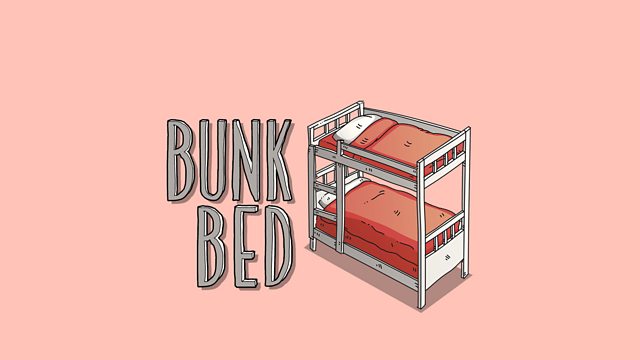 Patrick Marber and Peter Curran discuss HG Wells's archive of 'working as a prostitute' and the lasting trauma from seeing a father wearing trousers of horizontal corduroy.
Everyone craves a place where their mind and body are not applied to a particular task. The nearest faraway place. Somewhere for drifting and lighting upon strange thoughts which don't have to be shooed into context, but which can be followed like balloons escaping onto the air. Late at night, in the dark and in a bunk bed, your tired mind can wander...
The acclaimed Bunk Bed written by and featuring Patrick Marber and Peter Curran returns for its fourth series with a dozy vengeance. From under the bedclothes, they wonder what services were on offer after hearing rare archive of H G Wells admitting that he used to earn his living as "a prostitute". They also grapple with one of the most ferociously bad pop singles of all time - Cinderella Rockerfella - and get to the heart of the British aristocracy's perverse attitude to dogs. And the unlikely bedfellows deal with the emotional scars left by seeing a father wearing trousers made from horizontal corduroy.
'Bunk Bed is funny, strange, enchanting, and beautifully put together.' - The Observer
'Bunk Bed on Radio 4 is beloved by broadsheet critics, but don't let that put you off.' - Metro
Producer: Peter Curran
A Foghorn production for BBC Radio 4.