Main content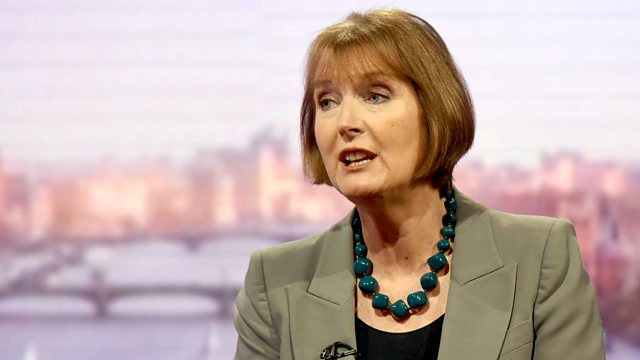 Harriet Harman
Peter Hennessy invites senior politicians to reflect on their life and times. This week, his guest is Harriet Harman, former deputy Labour leader and senior cabinet minister.
The historian Peter Hennessy asks senior politicians to reflect on their life and times. Each week, he invites his guest to explore their early formative influences, their experiences and their impressions of people they've known. In this programme, Peter Hennessy's guest is Harriet Harman, the former Deputy Labour Leader, member of Tony Blair's and Gordon Brown's Cabinets, and determined champion of women's rights and their role in public life.
Harriet Harman reflects on her upbringing in London, where her father was a doctor while her mother was expected to be the housewife despite having qualified as a lawyer and standing as a Liberal candidate in the 1964 election. Recalling her rebellious streak at school and unhappy time at university, Harriet Harman tells how she finally found her 'spiritual home' in Law Centres and the women's movement in the 1970s.
She never intended to enter politics, confessing that she was 'lacking in plans but very full of causes.' However, her outrage that the House of Commons was 97 per cent male prompted her to stand for election. She recalls winning the Peckham by-election in 1982 while expecting her first child and her early days in a male-dominated Parliament.
She recalls that after promotion to Labour's front-bench, she was unable to stop taking on even more work than the men, because she felt that she always had to prove herself. She discusses her time in the Blair and Brown Cabinets and her election as Labour's Deputy Leader in 2007. She also tells why, despite having twice been Labour's Acting Leader, she decided not to stand for the leadership after Brown resigned in 2010. In conclusion, she reflects on the position of women in politics today compared with when she began.
Producer: Rob Shepherd.
Last on
Broadcasts