Main content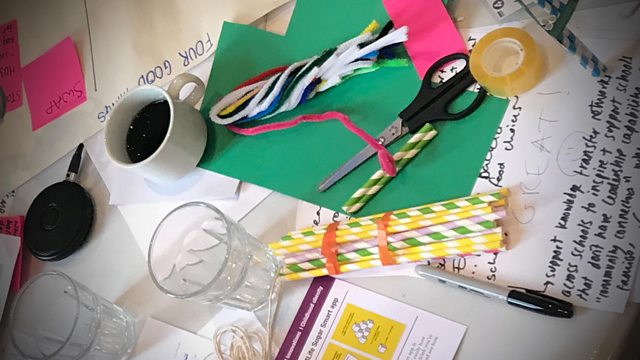 The teams have just one day to find solutions to the problem of childhood obesity.
Can you take twelve bright young people and get them to solve a complex policy problem in just one day? It may sound ambitious but using techniques being used increasingly by governments around the world, our teams are going to do just that. The day is introduced by Matthew Taylor, Chief Executive of the RSA and the teams will be led through the process by Cat Drew a director at design consultancy Uscreates.
In this episode the teams are going to be tackling childhood obesity and at the end they will have to pitch their ideas to our judges: Dawn Austwick, Chief Executive of the Big Lottery Fund, and David Willets former Cabinet minister and now Executive Chairman of the Resolution Foundation.
Who will impress and who will fall short?
Team One:
Jag Singh - tech entrepreneur and former political strategist.
Miriam Redi - social dynamics research scientist at Bell Labs Cambridge.
Margot Lombaert - creative director of Margot Lombaert Studio, an independent graphic design practice.
Solveiga Pakštaitė - industrial designer specialising in user-centred design.
Team two:
Emily Goldhill - strategist and research leader at creative youth network Livity.
Gemma Hitchens - Account Director at Signal Noise, which specialises in data visualisation and analysis.
Jasmine Robinson - RSA-award winning designer.
Dr Rebecca Roache - Senior Lecturer in Philosophy at Royal Holloway, University of London.
Team three:
Amanda Gore - Co-Director of The Liminal Space, a creative engagement consultancy.
Helen Steer - educator and maker who runs Do It Kits, a start-up that helps teachers use technology.
Matt Tinsley - Senior Economist with consultancy firm Oxford Economics.
Steve Wilson - chef, sociologist and entrepreneur.
Clips