Main content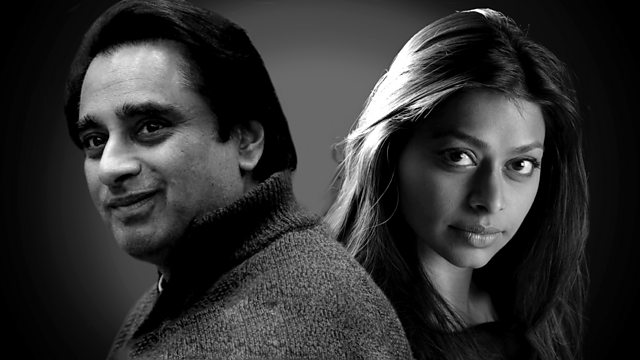 Partition
A sequence of music and readings about the Partition of India and its legacy, with actors Ayesha Dharker and Sanjeev Bhaskar.
August 1947 - just seventy years ago - and Britain grants independence to India but at the same time splits its dominion to create Pakistan. The actor Sanjeev Bhaskar, whose own family was caught up in the turmoil, joins Ayesha Dharker in a programme that traces the emotional and psychological cost of Partition. There are readings from the work of Intizar Husain, Saadat Hasan Manto, Kushwant Singh, Amrita Pritam and Anita Desai, amongst others, and music that reflects the turbulence - whether it's a rallying cry, a lament, the sound of stunned incredulity or simply strangulated laughter in the face of bureaucratic insanity.
Partition deepens religious divisions on the subcontinent. Twelve million people are displaced and are forced to find new homes in the new states. Sickness and starvation claim many on the road; many more die in sectarian violence. Some historians put the death toll as high as two million. It's a huge political earthquake in the life of southern Asia and the aftershock is still being felt today.
Producer: Zahid Warley.
Music Played
Timings (where shown) are from the start of the programme in hours and minutes
Paul Scott

from 'Division of the Spoils, volume 4, The Raj Quartet', read by Sanjeev Bhaskar

BBC Archive

Mountbatten in 1947 – Independence

BBC Archive

Nehru in 1947 – Independence

Amrita Pritam

from 'Pinjar', read by Ayesha Dharker

Saadat Hasan Manto

A Tale of 1947, read by Sanjeev Bhaskar

Khushwant Singh

from 'Train to Pakistan', read by Sanjeev Bhaskar

Sujata Bhatt

Partition, read by Ayesha Dharker

Moniza Alvi

From 'At the Time of Partition section 15', read by Ayesha Dharker

Saadat Hasan Manto

from 'Toba Tek Singh', read by Sanjeev Bhaskar

Intizar Hussain

from 'An Unwritten Epic', read by Sanjeev Bhaskar

Anita Desai

from 'Clear Light of Day', read by Ayesha Dharker

BBC Archive

Robert Stimson eyewitness of Gandhi assassination

BBC Archive

Nehru's response to Gandhi's assassination

Urvashi Butalia

from 'Blood', read by Ayesha Dharker

Faiz Ahmed Faiz

The Dawn of Freedom, read by Sanjeev Bhaskar and Ayesha Dharker

Words and Music: Partition

 It's seventy years since India's tryst with destiny; seventy years since she was granted independence but seventy years, too, since Partition. For those in the still new states of India and Pakistan - itself split at the time into East and West - there's a fine balance every August between celebration and recrimination. Independence is remembered with fireworks and feasting; Partition with a mixture of sadness, self-righteousness and remorse.

 For some the new dispensation was an all too vivid example of how we repent at leisure when we act in haste.  Twelve million people were displaced and had to find new homes.  Sickness and starvation claimed many on the road; but many more died in sectarian violence.  Some historians put the overall death toll as high as two million.  It was a huge political earthquake in the life of southern Asia and the tremors are still being felt today.

 This evening, the actor, Sanjeev Bhaskar, whose own family was caught up in the turmoil, joins Ayesha Dharker in a programme that traces the emotional and psychological cost of Partition.  There are readings from the work of Intizar Hussain, Saadat Hasan Manto, Khushwant Singh, Amrita Pritam, Anita Desai and Paul Scott amongst others. 

The musical choices operate more obliquely but are meant to reflect and comment on the idea of Partition too.  They're drawn primarily, but not exclusively, from the European classical canon and I hope they challenge the notion of emotional barriers between East and West and between then and now.  A couple of examples may help to explain what I mean.  The programme begins with the Dead March from Handel's Saul, played at Queen Victoria's funeral.  It was an event that marked a changing of the guard in 19th century Britain but to my mind it also ushered in a change in British attitudes to India.  Later, I use Penderecki's Threnody for the Victims of Hiroshima to suggest that man's inhumanity to man is unquenchable - leaks that spurted from the pipes in 1947 may have been stopped up but fresh ones have found a way of bursting out somehow.  I hope the same will be true of your indulgence as you listen to rallying cries, laments and the sound of strangulated laughter in the face of bureaucratic insanity.

Some of you will notice that I have used some archive actuality in the programme – the first two extracts date from the declaration of Partition in 1947 and they are of course recordings of the last Viceroy of India, Lord Louis Mountbatten and India's first Prime Minister, Jawaharlal Nehru.  The second two relate to the assassination in 1948 of Mahatma Gandhi.  Part of Robert Stimson's eyewitness account is followed once again by Nehru.

I have also included two songs in the programme. The first – Ajj Aakhan Waris Shah Nu – is a version of Amrita Pritam's famous poem and the second, Je Rate Mor Duarguli, is a song performed by Debabrata Biswas and Gita Ghatak in the film Cloud Capped Star directed by Ritwik Ghatak. You will find translations of both below – the first is by Khushwant Singh and the second by Rabindranath Tagore.

TO WARIS SHAH

To Waris Shah I turn today!
Speak up from the graves midst which you lie!
In our book of love, turn the next leaf.
When one daughter of the Punjab did cry
You filled pages with songs of lamentation,
Today a hundred daughters cry
0 Waris to speak to you.
 
O friend of the sorrowing, rise and see your Punjab
Corpses are strewn on the pasture,
Blood runs in the Chenab.
Some hand hath mixed poison in our live rivers
The rivers in turn had irrigated the land.
From the rich land have sprouted venomous weeds
flow high the red has spread
How much the curse has bled!
 
The poisoned air blew into every wood
And turned the flute bamboo into snakes
They first stung the charmers who lost their antidotes
Then stung all that came their way
Their lips were bit, fangs everywhere.
The poison spread to all the lines
All of the Punjab turned blue.
 
Song was crushed in every throat;
Every spinning wheel's thread was snapped;
Friends parted from one another;
The hum of spinning wheels fell silent.
 
All boats lost the moorings
And float rudderless on the stream
The swings on the peepuls' branches
I lave crashed with the peepul tree.
 
Where the windpipe trilled songs of love
That flute has been lost
Ranjah and his brothers have lost their art.
 
Blood keeps falling upon the earth
Oozing out drop by drop from graves.
The queens of love
Weep in tombs.
 
It seems all people have become Qaidos,
Thieves of beauty and love
Where should I search out
Another Waris Shah.
 
Waris Shah
Open your grave;
Write a new page
In the book of love.

Translated by Kushwant Singh

JE RATE MOR DUARGULI

On that night when the storm broke open my door
I did not know that you entered my room through the ruins,
For the lamp was blown out, and it became dark;
I stretched my arms to the sky in search of help.
I lay on the dust waiting in the tumultuous dark and I knew not that storm was your own banner.
When the morning came I saw you standing upon the emptiness that was spread over my house.

Translated by Rabindranath Tagore


Producer: Zahid Warley


 

The hidden history of plant-based diets