Main content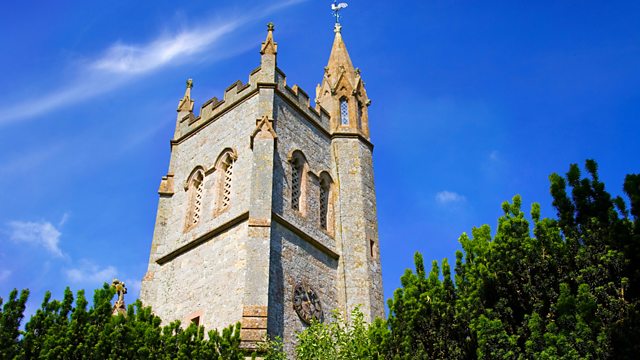 From the Edinburgh Festival
A service from St Andrew's and St George's West Church with the Rev Ian Gilmour. The Central Council of Church Bell Ringers visit the church with Scotland's oldest peal of bells.
From St Andrew's and St George's West Church, Edinburgh with the Rev Ian Gilmour.
The Central Council of Church Bell Ringers visits the Church with Scotland's oldest peal of bells.
We cannot measure how you heal (Ye Banks and Braes)
Praise to the Lord, the Almighty (Lobe den Herren)
Anthem: Psalm 150 (Andrew Carvel)
Unchanging God, who livest (Belfry Praise)
God of freedom, God of justice (Rhuddlan)
Organ Voluntary: F Mendelssohn - Sonata No4 (Last movement)
Choir directed by Brigitte Harris. Organists: Michael Harris & Peter Backhouse.
Producer: Mo McCullough.
Script
REV IAN GILMOUR
Good morning and welcome.
Over the last few days we have heard a lot about bells, as Big Ben is to be silenced on a temporary basis from tomorrow.  Earlier this summer, St Andrew's and St George's West hosted a visit of our Central Council of Church Bell Ringers, and later in our service we'll hear some of our visitors playing what's called a 'short touch' on handbells.
The sound of church bells ringing across town and countryside resonates through our history.   Bells cheer us during times of celebration such as our current festival here in Edinburgh, and they gather us together for comfort and consolation in times of pain and sorrow.  Both the heights and the depths of human experience come to us side by side, and we often search for the strength to savour the precious gift of life while honouring and sharing the kind of suffering we have witnessed in the last few days, in Barcelona and Cambrils.  Our hearts go out to all those killed and wounded in the attack and those affected in so many other ways.
Perhaps one of the most memorable poetic images of bells comes from Henry Longfellow, who, during a tragic period of his life, wrote of the encouragement of bells at Christmastime in the midst of the American Civil War.
"And in despair I bowed my head;
'There is no peace on earth,' I said;
    'For hate is strong,
    And mocks the song
Of peace on earth, good-will to men!'
Then pealed the bells more loud and deep:
'God is not dead, nor doth He sleep;
    The Wrong shall fail,
    The Right prevail,
With peace on earth, good-will to men."
Peace on earth is our hope, as we seek healing and forgiveness in our opening hymn, 'We cannot measure how you heal, or answer every sufferer's prayer.'
MUSIC:  HYMN – WE CANNOT MEASURE HOW YOU HEAL 
(Tune: Ye Banks and Braes)  Scottish Church Hymnary (CH4) 718
Call to Worship (based on Psalm 150)
VOICE 1
Praise God in his holy house of worship,
praise him under the open skies;
All: Hallelujah
VOICE 2
Praise him for his acts of power,
praise him for his magnificent greatness;
All: Hallelujah
VOICE 3
Let every living, breathing creature praise God!
All: Hallelujah
IAN   Prayer of Approach and the Lord's Prayer
Let's approach God with confidence,
LET US PRAY
We gather together to worship
people of God drawn from around the globe
we give thanks for the cathedral of creation.
We are grateful to You
for all You reveal to us of Yourself
in the creation and in the life of our fellow human beings
on festive and reflective occasions
Your Word asks us to love our neighbour
and to love You with a wholesome and committed generosity.
We confess we have failed at times both You and our neighbours.
Forgive us and set us free from all that separates us from you.
Help us to be ready to try afresh following the example of Jesus himself
with whom we pray as we say:
ALL:   The Lord's Prayer
Our Father in heaven, Hallowed be your name.
Your kingdom come, Your will be done on earth as in heaven.
Give us today our daily bread.
Forgive us our sins as we forgive those who sin against us.
Save us in the time of trial and deliver us from evil.
For the kingdom, the power and the glory are yours, now and forever.  Amen  
 MUSIC:  HYMN - PRAISE TO THE LORD, THE ALMIGHTY, THE KING OF
                               CREATION    (Tune: Lobe den Herren)  CH4 124  
IAN:  There is always an element of danger concerning any engagement with the Almighty.  Aaron prepares to enter the most holy place wearing bells, whose sound will guard his life – they mark him out as a genuine priest, prepared for his role in calling the people to worship while encountering God.
READER :   Reading 1    Exodus 28: 31-35 (NRSV)
A reading from the Book of Exodus, Chapter 28.
31 You shall make the robe of the ephod all of blue. 32 It shall have an opening for the head in the middle of it, with a woven binding round the opening, like the opening in a coat of mail, so that it may not be torn. 33 On its lower hem you shall make pomegranates of blue, purple, and crimson yarns, all round the lower hem, with bells of gold between them all round— 34  a golden bell and a pomegranate alternating all round the lower hem of the robe. 35 Aaron shall wear it when he ministers, and its sound shall be heard when he goes into the holy place before the Lord, and when he comes out, so that he may not die.
HANDBELLS:  BRISTOL MAJOR
IAN: 
We don't have time to tell all of the fascinating stories of bells, from founding to tuning, of gudgeons, dog-plates, grooves, mouths or the tale of the lost bell of Raleigh or the ghost bell of Girton. To me the most interesting stories are of the bands – the change ringers, without them the magnificent bells would never be heard in all their glory.
Bands around the country often produce peals of over three hours requiring tremendous concentration, before heading for rehydration in a local hostelry, a valued tradition which is about bonding and appreciating community. 
It was a former Member of Parliament Donald Gorrie who made the decisive contribution at a meeting in this church to turn a silent loft into an active one after a chime-less century.  Some of the people who have worked to have these bells restored, laboured hard as well as fundraising and recruiting ringers and maintaining commitment on cold days, after the initial enthusiasm had grown thin. Mike Clay has led our band loyally as tower captain for 10 years and has now stepped aside to allow Simon Aves to replace him. Mike remains part of the band, and is well known in ringing circles and has 'rung' the bells at York Minster and St Paul's cathedral.  Mike now tells us a tiny bit of his story, and the story of our bells.
MIKE CLAY:  Story of Bells at St Andrew's and St George's West      
In 1788 Edinburgh Town Council agreed that bells were necessary for what was then St Andrew's Church.  The following year a "Compleat Chyme" of eight bells, cast by William and Thomas Mears of Whitechapel, were installed in the tower.  They were the first to be hung in the English style of full circle ringing in Scotland.
For a while the bells were rung regularly.  But over the next one hundred years the condition of the bells deteriorated until in 1903 all ringing ceased.
My personal involvement began in 2001 when an inspection in the tower here in what is now St Andrew's and St George's West, revealed that the bell frame had been loosely installed, allowing it to move when the bells were swung, and strike against the tower walls like a battering ram.
After months of creative fund raising, the bells were removed from the tower and returned to Whitechapel for restoration at the same premises where they had originally been cast over 200 years before.
They were re-installed and dedicated in November 2006, after a challenging restoration.  A new team resumed regular ringing for services and weddings – including my own wedding in 2013, to a girl I first met back in 1982, while ringing the heaviest bells in the world at Liverpool's Anglican Cathedral during the visit of Pope John Paul II.
The sound of bells creates a powerful atmosphere.  They communicate a presence of ringers who share in the occasion and often convey a comforting reassurance.
I find the sound of bells captivating.  As a practitioner, I focus and pick out the sound of my own bell so as to position it as best I can relative to the others.  It's a team activity so we all do this.  Achieving good, even and consistent ringing is deeply satisfying.  Those are the moments that make the hairs stand up on the back of my neck.
MUSIC:   ANTHEM – PRAISE THE LORD!  (Ps 150, Composer:  Andrew Carvel)   
IAN:
That was 'Praise the Lord!', a version of Psalm 150 by our Assistant Director of Music here, Andrew Carvel. 
We listen again to God's Word, from Romans Chapter 12, verses 1 and 2.
READER:   Reading 2    Romans 12: 1-2
I appeal to you therefore, brothers and sisters, by the mercies of God, to present your bodies as a living sacrifice, holy and acceptable to God, which is your spiritual worship. 2 Do not be conformed to this world, but be transformed by the renewing of your minds, so that you may discern what is the will of God—what is good and acceptable and perfect.
IAN:   TALK
Can you feel the excitement through a medieval child's eyes when a team arrive in your village who said that they were going to turn metal into sound?  Through fire, knowledge and skill these people, with strange accents, would make a sound you had never heard. They were creating a bell.
Had Alchemy entered the village, as base metal was transformed into a clapper and bell? Can you imagine the rising excitement as the mould was prepared, the exotic materials - woods, metals, ropes were unloaded from the carts. The furnace pit was dug out, eventually a fire kindled which would allow molten metal to pour freely and be moulded.
New words would be coined, a new world unveiled.
One or more bells would be prepared to ring, celebrating the high days, marking all sacred occasions including the end of life.
It actually happened… an 800 year old bell mould was found at Bolsover, Derbyshire in the 1990's. It was used to cast a bronze bell for the church tower there.
In our church and amongst our congregation here in Edinburgh, we connect with that tradition and share the excitement of campanology with ringers from the United Kingdom and beyond.
Bells have a long history, with three references in the Law of Moses including our passage today, which describes a golden bell which the priest Aaron wore to enter the Holy Place to be in God's presence.  It had a very significant purpose, it would protect his life.
In the medieval monastery the bell was employed to wake the canons up for prayers at Matins, Prime and Mass. In European towns and cities the massive town bell rang to get the inhabitants up for a day's work. In small towns everywhere a bell is rung to call volunteers to the fire station, to go to a fire or to the lifeboat for a sea rescue. Bells are rung at weddings, funerals, and various historic occasions. So the bell can create joy and celebration, but it can also reflect sorrow, mourning.
For me, bells are rather like people: they have crowns, waists and mouths.
They can bring transformation to a person, family or community. 
They influence through sound upwards and over many miles
they can delight brides
comfort widowers
reveal the value of continuity as well as
the possibilities of being part of a larger group,
of course they can also ring the changes!
They have rung when in and out of fashion.
At royal weddings they have a starring role.
On Remembrance Sunday our bells are rung half-muffled
to honour all those who died during two World Wars.
Bells can serve for centuries affecting those around them, like favoured aunts and uncles too often taken for granted until they are silenced.
As Paul suggests in his letter to the Romans, Christians should strive never to conform to the world's mores but instead tune our mouths and minds to the will of God.  We should seek to make harmonious contributions, be sound citizens of heaven on earth,
willing to sacrifice ourselves, prepared always to give God the glory.
And most tellingly, as this city makes room for artists, dancers, musicians and speakers of every imaginable kind, expressing fresh insights and ideas, Paul calls us to the renewing of our minds – the better to know God's will:  all that is good and acceptable and perfect.
Remember and take heed the next time you hear a bell ring from a cathedral or a tiny village tower, in a most positive sense as John Donne coined it, 'it tolls for thee'.  And the message is "Wake up." Wake up from your preoccupation with self; wake up and have regard for what is happening around you. Wake up in order to discern both the nature of the world and what God is doing in it. The people of God are required to be wakeful in order to transform the world for good. The bell moves us from being of the world to being awake in the world.
Take a moment now to be inspired by the sound of bells and be open to your own transformational possibilities, as we listen to the bells of St Andrew's and St George's West.
TOWER BELLS OF ST ANDREW'S & ST GEORGE'S WEST
Hymns Ancient & Modern, 496 (Tune:  Belfry Praise)
[Tune: John H Matthews;  Words: Henry Charles Wilder, 1904]
IAN: 
As we enjoy all that times of festival can bring us, we remember too the places and people in our world who need our thoughts and prayers.  Let us pray                                                                                                      
MUSIC:  CHOIR  -  SPIRIT OF LIFE (Carvel)
IAN:
This morning we remember especially those killed and injured, and all those affected, in Barcelona and Cambrils, and all the people of Spain.
As we pray for those marked by this violence, we remember too all those who still suffer in the aftermath of terrorist attacks in the UK, around Europe and in all places. 
We also hold before you the people of Sierra Leone, who last week were hit by the devastating mudslide which claimed so many lives, shattered communities and left so many lost and bereaved.
We pray that the Spirit of God may bring new life to the world. 
            Hear our prayer                                                                               
MUSIC:  CHOIR  -  SPIRIT OF LIFE
Voice 2:   We pray for all who suffer in places of warfare, injustice and oppression; for those who bring medical help, provide food and shelter, or work for peace and justice: by the Spirit of Christ may reconciliation, hope and healing begin to flourish for those who feel forgotten.
           Hear our prayer   
MUSIC:  CHOIR  -  SPIRIT OF LIFE
Voice 3:   We pray for the church in every place: for clergy and ministers, for musicians and bell-ringers, for every Christian in their vocation and witness in life and work; by the Spirit of Christ may they be strengthened in faith and compassion to share the love of God.  
           Hear our prayer                                                                                                                                        
MUSIC:  CHOIR  -  SPIRIT OF LIFE
Voice 1:   We pray for all who are in need through sickness, loneliness, fear or bereavement; for all who care for them, listen to them and support them; by the Spirit of Christ may healing, restoration and fullness of life be discovered in human community.       
Hear our prayer     
MUSIC:  CHOIR  -  SPIRIT OF LIFE
IAN:
We sing together, 'God of freedom, God of justice.'  
MUSIC: HYMN – God of freedom, God of justice
                               (Tune: Rhuddlan)  CH4 263                                          
IAN:  Benediction
May the grace of Christ attend us
The love of God surround us
The Holy Spirit keep us
This day and forever.
SUNG:   Amen (Threefold, CH4 819)
MUSIC:  ORGAN VOLUNTARY       Peter Backhouse
Mendelssohn Sonata No 4 (Last movement) – Publisher, Breitkopf