Main content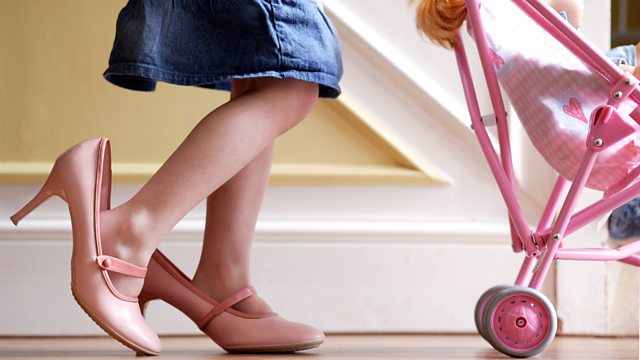 Children and gender stereotyping, Family estrangement, Shirley Henderson
Listener views on the impact of treating girls and boys differently as they grow up. Plus Shirley Henderson and Sheila Atim, family estrangement and Samin Nosrat cooks.
In weekend Woman's Hour we hear your experiences of the 'drip drip' effect of gender-stereotyping when it comes to bringing up boys or girls. Girls being assigned princessy clothes, and toys that mimic pampering or homemaking, and boys being encouraged to be active, with construction sets and superheroes. What impact does it have on the way children see themselves and on how they grow up? Parents Ros Ball and James Millar spent two years documenting the ways that their daughter and son were treated differently, sharing their experience in The Gender Agenda.
Australia is to vote on whether same-sex marriage should be legalised. It is a debate which has divided the country and has also revealed a public rift between former Prime Minister Tony Abbott and his sister. We speak to Christine Forster about the vote, and what it's like to be at political odds with her brother.
Life After a traumatic event - Abby Hollick meets three women who are all estranged from their mothers. Plus, we hear from a mother who has no contact with her daughter and Helen Gilbert, a psychotherapeutic councillor at the charity Stand Alone about how to cope if you are estranged from your family or children.
There's a stereotype that bosses are Alpha characters and assistants Beta. But Rebecca Holman, author of Beta: Quiet Girls Can Run The World, is one woman boss who identifies very much as Beta. She discusses what makes an Alpha or Beta female with Anne Perry who has always identified strongly as Alpha.
Shirley Henderson and Sheila Atim talk about playing mother and adopted daughter, and bringing the music of Bob Dylan to the stage in the Old Vic's production of The Girl From the North Country, with an extract from Tight Connection To My Heart sung by Sheila.
Plus, chef Samin Nosrawe Cooks the Perfect...Pasta alla Puttanesca. Her recipe comes from her new book Salt, Fat, Acid, Heat.
Presenter: Jane Garvey
Producer: Sophie Powling
Editor: Jane Thurlow
Interviewed Guest: Christine Forster
Interviewed Guest: Helen Gilbert
Interviewed Guest: Ros Ball
Interviewed Guest: James Millar
Interviewed Guest: Shirley Henderson
Interviewed Guest: Sheila Atim
Interviewed Guest: Samin Nosrat
Interviewed Guest: Rebecca Holman
Interviewed Guest: Anne Perry.
Last on
Support For Estranged Adults
Credits
| Role | Contributor |
| --- | --- |
| Presenter | Jane Garvey |
| Producer | Sophie Powling |
| Editor | Jane Thurlow |
| Interviewed Guest | Christine Forster |
| Interviewed Guest | Helen Gilbert |
| Interviewed Guest | Ros Ball |
| Interviewed Guest | James Millar |
| Interviewed Guest | Shirley Henderson |
| Interviewed Guest | Sheila Atim |
| Interviewed Guest | Samin Nosrat |
| Interviewed Guest | Rebecca Holman |
| Interviewed Guest | Anne Perry |
Broadcast

Podcast
Women's voices and women's lives - topical conversations to inform, challenge and inspire.