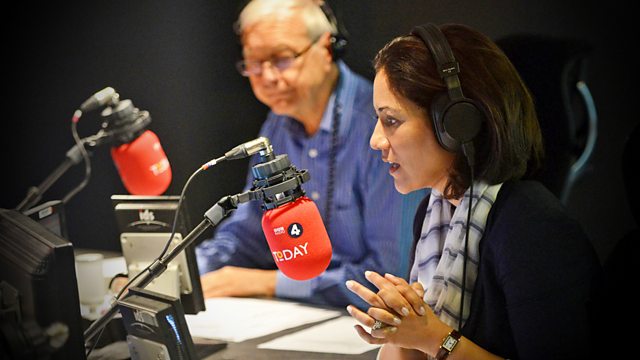 25/08/2017
Morning news and current affairs. Including Sports Desk, Weather and Thought for the Day.
Today's running order
0650
Today's #PuzzleForToday was set by University Challenge's Bobby Seagull and Eric Monkman.
0655
For the first time in 19 months the state of Florida has executed a convicted killer. Maya Foa is the director of the human rights organisation Reprieve.
0710
The Independent Police Complaints Commission has concluded that South Wales Police missed a number of opportunities to bring convicted paedophile Ian Watkins to justice sooner because they doubted the credibility of a key witness. Jan Williams is the IPCC Commissioner for Wales.
0720
The Foreign Secretary Boris Johnson has recently returned from a two day visit to Libya where he urged all sides to compromise in an attempt to unite their divided country. Oliver Miles is former Ambassador to Libya and deputy chairman of the Libyan British Business Council.
0725
Jeremy Corbyn has been spending much of his summer travelling to different parts of the country and holding rallies visiting 40 seats in all, 18 of them in Scotland where Labour was all but wiped out in the 2015 election. Ross Hawkins reports.
0730
The United Nations has called for a humanitarian pause to allow an estimated 20,000 civilians trapped in Raqqa to escape. Dr Ghanem Tayara is the chairman of the Union of Medical Care and Relief Organisation and Dr David Nott is a British surgeon who has worked in many war zones.
0750
The Department for Transport has announced platoons of self-driving lorries will be trialled on England's motorways. Edmund King is the President of the AA and Josh Switkes the Founder of Peloton Technology.
0810
The Foreign Secretary Boris Johnson has told Libyan politicians they should learn from Theresa May's mistake and avoid holding early elections before they are ready. Boris Johnson is the UK Foreign Secretary.
0820
Words spoken by Abraham Lincoln to Congress in 1862 are still considered relevant and very powerful today and being narrated by Charles Dance at the Edinburgh festival. Charles Dance, actor.
0840
A radio enthusiast heard a distress call over 70 miles away via his amateur radio equipment as 12 year old girl was having an epileptic fit and needed immediate medical help but her family did not have access to a phone line. Mike Everett is an amateur radio enthusiast, Jon Matthews and twelve year old May received assistance while camping.
0845
Autumn looks like it's coming early this year as there are some red autumnal leaves developing, chestnuts ripening early and Rhododendrons fruiting earlier than normal. Dr Rebecca Yahr is a biodiversity scientist at the Royal Botanical Gardens in Edinburgh.
0850
The BBC is not looking for any more panel shows as entertainment executive Pinki Chambers has ruled them out in the future in a speech at the Television Festival in Edinburgh saying the BBC needed to "up our game" by embracing new technology and social media. Nicholas Parsons is the presenter of BBC Radio 4's long-running panel show "Just A Minute" and Jane Bussmann is a comedy writer.
All subject to change
So you think you know the Today programme?