Main content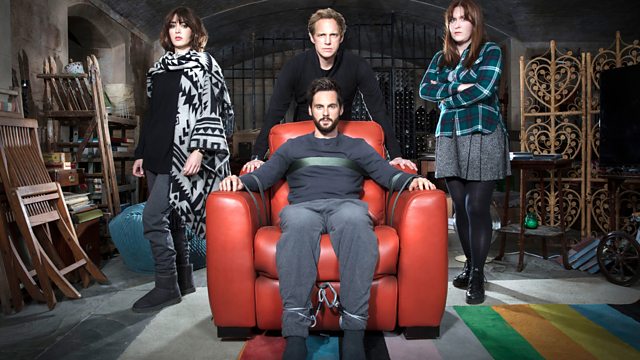 Illness in comedy series, Ned Beauman, Thomas Meehan
Illness in comedy series with Peep Show creator Sam Bain and Alison Vernon Smith. Ned Beauman on his new novel Madness is Better Than Defeat. Thomas Meehan remembered.
Making TV comedy about of illness, with Peep Show writer Sam Bain, whose new series Ill Behaviour features a cancer sufferer refusing conventional treatment, and Alison Vernon Smith, producer of Bad Salsa, Radio 4's comedy drama about women who take up salsa dancing after their cancer treatment.
Thomas Meehan was behind successful musicals including Annie, The Producers, and Hairspray but he's not the name you're likely to know because he wrote the book: the narrative glue that holds a musical together. Theatre critic Matt Wolf assesses his legacy and discusses his partnership with Mel Brooks.
Ned Beauman on his latest novel Madness Is Better Than Defeat. Beauman is the author of four novels including Boxer, Beetle. He has been longlisted for the Man Booker prize, won a Somerset Maugham award, and in 2013 was named one of Granta's best British novelists under 40. This latest novel is inspired by the making of the films Apocalypse Now and Fitzcarraldo, though its setting is the earlier Hollywood golden age of the 1930s.
As Oscar-winning film-maker Michael Moore takes on Donald Trump in a new one man show Terms of My Surrender, Matt Wolf evaluates his attempt to "convert the unconverted" and whether the the stage is the best place to do it.
Main Image: Ill Behaviour: Nadia (Lizzy Caplan), Charlie (Tom Riley), Joel (Chris Geere), Tess (Jessican Regan) Image Credit: BBC / Fudge Park Productions / Jon Hall.
Chapters
Illness in comedy series

Duration: 09:18

Thomas Meehan obituary

Duration: 05:38

Ned Beauman

Duration: 07:27

Michael Moore's Terms of My Surrender

Duration: 05:33

Illness depicted in comedy series

Sam Bain's Ill Behaviour is on BBC2, and also on BBC iplayer.
Bad Salsa is on BBC Radio 4, and BBC iplayer.
Image:  Ill Behaviour with Charlie (Tom Riley) and Nadia (Lizzy Caplan). Credit: BBC / Fudge Park Productions / Jon Hall

 

Ned Beauman

Madness is Better Than Defeat by Ned Beauman is available now from Hodder.
Photo:  Ned Beauman.  Photo credit:  Alice Neale.

 

Credits

| Role | Contributor |
| --- | --- |
| Interviewed Guest | Sam Bain |
| Interviewed Guest | ALISON SMITH |
| Interviewed Guest | Matt Wolf |
| Interviewed Guest | Ned Beauman |