Main content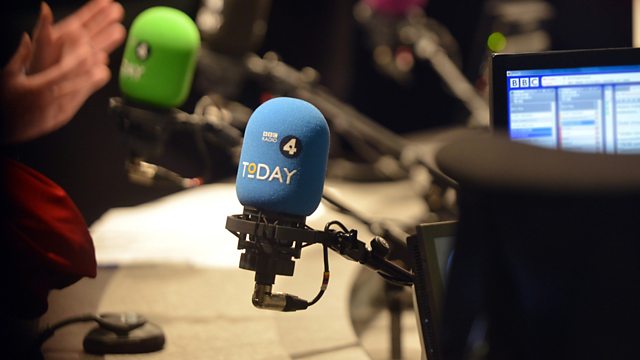 24/08/2017
Morning news and current affairs. Including Sports Desk, Weather and Thought for the Day.
Last on
Today's running order
0655
Millions of adults in England spend less than ten minutes each month walking at a brisk pace putting their health at risk, according to experts. Dr Jenny Harries is deputy medical director at Public Health England and Julia Bradbury is a TV presenter and outdoor walking enthusiast.
0710
More than half a million teenagers will get their GCSE results today in England, Wales and Northern Ireland. Gillian Hargreaves is the BBC's Education correspondent.
0712
Traumatised women and children fleeing the Tal Afar district of Iraq have told of people dying after walking for days through the desert in 50C heat to reach safety. Amy Christian is the spokesperson for Oxfam in Iraq.
0720
Today the Met Office marks 150 uninterrupted years of the shipping forecast, believed to be the longest running continuous forecast in the world. Alice Arnold read the shipping forecast on Radio 4 for nearly 20 years.
0730
The government is launching an investigation into the impact of international students on the UK's society and economy. Madeleine Sumption is Director at the Migration Observatory at Oxford University.
0740
Jon Snow has delivered this year's MacTaggart lecture and in it he discussed how the explosion of digital media did not connect us any more effectively with "the left behind" in society. Jon Snow is a Channel 4 News Presenter.
0750
In England new, tougher GCSEs in maths and English will be graded using a new 9 to 1 system. It marks growing differences with the system in Wales and in Northern Ireland which are sticking with A*to G.  Nick Gibb is the schools minister.
0810
Charlie Alliston, a cyclist who while riding a fixed gear bike without brakes fatally injured a mother of two, was cleared of manslaughter but found guilty of causing bodily harm by wanton or furious driving after knocking Kim Briggs over in London last year. Matt Briggs is Kim Briggs husband.
0820
Test Match Special celebrates the programme's 60th anniversary with a special cricket match in Leeds today. Jonathan Agnew is the BBC's cricket correspondent and Mike Gatting is a former England player and TMS regular.
0830
Machines programmed using photos are learning to be sexist towards women, dismissing the great promise of artificial intelligence and its ability to remove bias. Maxine Mackintosh is the founder of One Health Tech and Noel Sharkey is co-director of the Foundation for Responsible Robotics.
0840
The UK Government is publishing another Brexit paper today, this time on data protection. Anthony Walker is deputy CEO of TechUK.
0850
The new GCSE maths exam has received particular attention after pupils took to social media to discuss how hard they had found it. Mel Muldowney is a maths teacher at Alcester Academy and Dr Hannah Fry is a broadcaster and mathematician at UCL.
All times subject to change.
Broadcast