Main content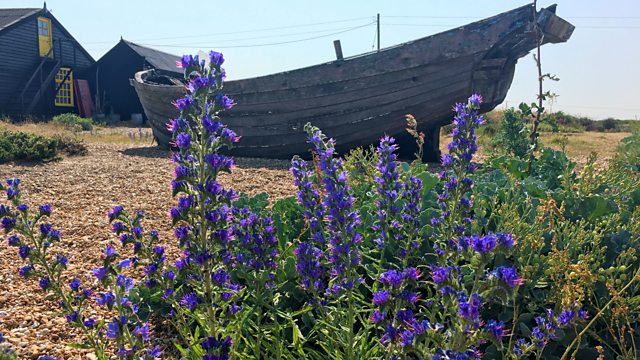 Romney Marsh
Eric Robson and his panel of experts visit Romney Marsh in South Kent. Pippa Greenwood, Matthew Biggs and Bob Flowerdew offer the advice this week.
Eric Robson and his panel of experts visit Romney Marsh in South Kent. Pippa Greenwood, Matthew Biggs and Bob Flowerdew offer the advice this week.
The panellists answer questions on keeping trees in pots and which plants are best to grow in wall crevices, and offer suggestions for greenery in floral arrangements.
They also suggest planting options for a prairie garden and advise a reverend on how best to make his church garden more eco-friendly.
Matt Biggs visits Derek Jarman's garden at Dungeness.
Produced by Dan Cocker
Assistant Producer: Phil Barratt
A Somethin' Else production for BBC Radio 4.
Fact Sheet
Q – I have an Aspidistra that I want to put in the garden; can I?
Pippa – I wouldn't
Matt – You might be able to put it in a sheltered corner
Q – I have a four-foot 'Indian Bean Tree' (Catalpa bignonioides) – can I keep it in a pot?
Bob – You can grow almost anything in a pot if you tend to it.  Trees often aren't very happy though. 
Pippa – It won't fruit/flower in a pot
Q – How do you get plants to grow in wall crevices?
Pippa – Houseleeks (Sempervivums) did well for me. 
Matt – Campanulas will trail (eg portenschlagiana)  also Corydalis lutea if there's enough moisture
Bob – Anything that starts with the name 'wall'. Wall flowers, wall germanders, wall cress. 
Q – I have recently taken up floristry and wonder what the panel would recommend for greenery?
Matt – Depends on the style.  Ivies or Cubas or Pittosporums. Euonymous. Rosemary.  'Globe Thistle' (Echinops bannaticus).  Eryngium.  Hollies. 
Bob – I use ferns.  Asparagus sometimes. 
Q – I am planting my front garden in a Prairie style. Can you suggest ideas for the hedging please?
Bob – Lavender could be good.  Not an old one like Hidcote but a new big one. 
Pippa – Hebes or rosemary.  Potentillas. 
Eric – Cloud-pruned Gorse
Bob – Or the dwarf Gorse (Ulex minor)
Bob – Pampas grass
Q – All the plants at the far end of my garden have become covered in white flecks – what is going on?
Pippa – Aphids are the cause of this.  The white flecks are the cast skins of the aphids.  It's not a problem for the plants though.
Q – Every year I grow the Cup and Saucer Vine (Cobaea scandens) and every year I get a handful of flowers just before frost comes.  How can I get it to flower earlier? 
Matt – Starting in February and putting it out at 3ft (0.9m) it should be fine.  I would feed it with sulphate of potash from mid-summer.
Bob – Wait till mid-June to put it out – that will help
Q – I used to keep my roses in pots as my garden was north-facing.  Now I'm south-facing I've planted them out but I'm struggling with rust.  What should I do?
Pippa – Some roses are more susceptible to rust than others.  Try and improve the situation for the rose.  Cut out early rusting bits.  And improve circulation around the plant. 
Matt – Wash the secateurs after pruning so as to avoid spreading rust further
Q – We have a large church garden and we want to be more green/eco-friendly. What can we do?
Bob – Grow your grass at different lengths as this will attract different types of birds and wildlife.  Bird boxes and bird baths too. 
Matt – Hawthorn as a nesting site for birds.  Nettles are good for butterflies and caterpillars.  Don't keep it so immaculate.  A pond if you can.