Main content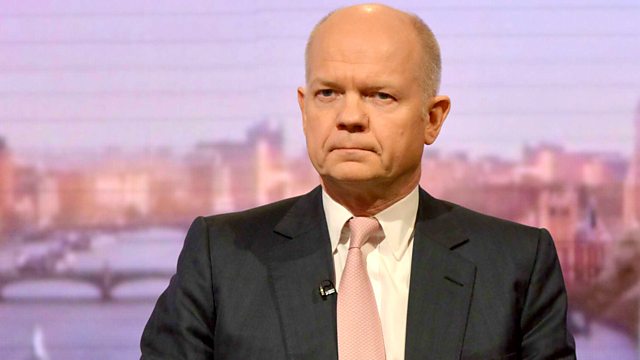 William Hague
Peter Hennessy invites senior politicians to reflect on their life and times. In this edition, his guest is William Hague, former Conservative leader and foreign secretary.
The historian Peter Hennessy asks senior politicians to reflect on their life and times. Each week, he invites his guest to explore their early formative influences, their experiences and their impressions of people they've known.
In this programme, Peter Hennessy's guest is William Hague, the former Conservative Leader who served as Foreign Secretary in the Coalition Government. Hague recalls how he first captured the headlines in 1977 as a sixteen year-old schoolboy from a Yorkshire comprehensive, when he told the Conservative Party Conference, 'it's all right for some of you, half of you won't be here in thirty to forty years time.'
Hague reflects on his family background and upbringing in a staunchly Labour-supporting part of Yorkshire. He was an MP by the age of 28 and only six years later John Major appointed him to the Cabinet as Welsh Secretary. Recalling his time as Conservative Leader after the Tories' 1997 election debacle, he discusses his decision to stand for the leadership against more experienced candidates and his failure to dent Tony Blair's political dominance.
Hague turned to writing after the Tories' heavy election defeat in 2001, and he talks about his biographies of Pitt the Younger, Britain's youngest prime Minister, and William Wilberforce, campaigner against the slave trade. He explains why he returned to frontline politics in 2005 as Shadow Foreign Secretary, talks about his role in forming the Coalition Government in 2010, and discusses his time as Foreign Secretary, including the crises in Libya and Syria. On the future, Hague is concerned about Brexit's impact on Britain's role in the world and discusses his support for the campaign to end the use of sexual violence in conflicts.
Producer: Rob Shepherd.
Last on
Broadcasts