Main content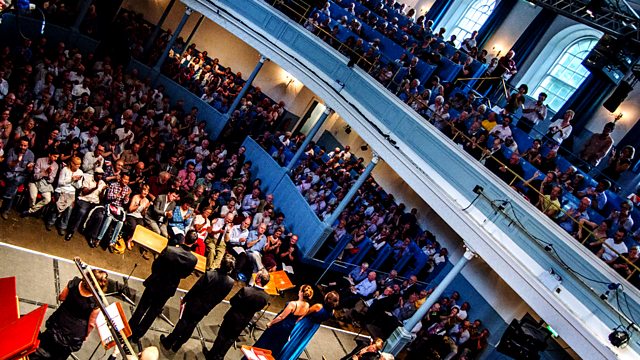 Benjamin Appl and Pavel Kolesnikov
Live from the Edinburgh Festival, German baritone Benjamin Appl and pianist Pavel Kolesnikov perform a selection of lieder by Schubert, Schumann and Grieg plus Matthias Pintscher.
The German baritone Benjamin Appl is joined by pianist Pavel Kolesnikov for a broad selection of Schubert lieder in the first half of today's recital, live from the Queen's Hall in Edinburgh. Schumann's settings of one of his favourite poets, Heinrich Heine, open the second half, before a new work by German composer and conductor Matthias Pintscher. Finally, we hear Greig's Sechs Lieder, perhaps the closest works that Grieg wrote to Romantic German lieder style.
Schubert: Der Winterabend, D938 [von Leitner]; Drang in die Ferne, D770 [von Leitner]; Der Wanderer an den Mond, D870 [Seidl]; Die Taubenpost, D965a [Seidl]; Abendstern, D806 [Mayrhofer]; Nachtstück, D672 [Mayrhofer]; Alinde, D904 [Rochlitz]; An die Laute, D905 [Rochlitz]; Der Zwerg, D771 [von Collin]
11.45 am
INTERVAL: Festival artist Richard Egarr plays Bach's Partita in B flat major, BWV 825
12.10
Schumann: Mein Wagen rollet langsam, Op 142 No 4 [Heine]; Belsatzar, Op 57 [Heine]; Dein Angesicht, Op 127 No 2 [Heine]; Du bist wie eine Blume, Op 25 No 24 [Heine]; Die beiden Grenadiere, Op 49 No 1 [Heine]
Matthias Pintscher: Canto I (after Octavio Paz "un despertar") (world premiere)
Grieg: Sechs Lieder, Op 48 [Heine/Geibel/Uhland/von der Vogelweide/Goethe/von Bodenstedt]
Benjamin Appl (baritone)
Pavel Kolesnikov (piano)
Presenter: Donald Macleod
Producer: Laura Metcalfe.
Last on

Music Played
Franz Schubert

Der Winterabend D 938

Performer: Benjamin Appl. Performer: Pavel Kolesnikov.

Franz Schubert

Drang in die Ferne D 770

Performer: Benjamin Appl. Performer: Pavel Kolesnikov.

Franz Schubert

Der Wanderer an den Mond D 870

Performer: Benjamin Appl. Performer: Pavel Kolesnikov.

Franz Schubert

Die Taubenpost D 965a

Performer: Benjamin Appl. Performer: Pavel Kolesnikov.

Franz Schubert

Abendstern D 806

Performer: Benjamin Appl. Performer: Pavel Kolesnikov.

Franz Schubert

Nachtstück D 672

Performer: Benjamin Appl. Performer: Pavel Kolesnikov.

Franz Schubert

An die Laute D 905

Performer: Benjamin Appl. Performer: Pavel Kolesnikov.

Franz Schubert

Alinde D 904

Performer: Benjamin Appl. Performer: Pavel Kolesnikov.

Franz Schubert

Wehmut D 772

Performer: Benjamin Appl. Performer: Pavel Kolesnikov.

Johann Sebastian Bach

Partita in B flat major BWV 825

Performer: Richard Egarr.

Robert Schumann

Mein Wagen rollet langsam Op.142, no. 4

Performer: Pavel Kolesnikov. Singer: Benjamin Appl.

Robert Schumann

Belsatzar Op.57

Performer: Pavel Kolesnikov. Singer: Benjamin Appl.

Robert Schumann

Dein Angesicht Op 127 2

Performer: Benjamin Appl. Performer: Pavel Kolesnikov.

Robert Schumann

Du bist wie eine Blume Op.25, no. 24

Performer: Pavel Kolesnikov. Singer: Benjamin Appl.

Robert Schumann

Die Beiden Grenadiere Op.49, no.1

Performer: Pavel Kolesnikov. Singer: Benjamin Appl.

Matthias Pintscher

Canto I for baritone and piano

Performer: Benjamin Appl. Performer: Pavel Kolesnikov.

Edvard Grieg

Six Songs, Op48

Performer: Benjamin Appl. Performer: Pavel Kolesnikov.

Franz Schubert

Die Forelle
Broadcast