Main content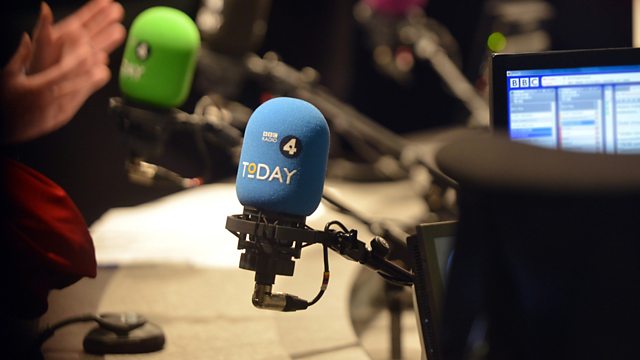 18/08/2017
Morning news and current affairs. Including Sports Desk, Weather and Thought for the Day.
Today's running order
0650
A van has ploughed into pedestrians in Barcelona's famous Las Ramblas tourist area, killing 13 people and injuring more than 100. Spanish police have described it as a terror attack. Fitzroy Davies is an eyewitness staying in Cambrils.
0655
Teenage schoolchildren who use e-cigarettes increase their chances of using tobacco, according to new research. Professor Mark Conner is lead author of the report.
0709
Thirteen people died and dozens were injured when a van ploughed into crowds in Barcelona's famous Las Ramblas area, Catalan police and local officials say. Sonia Andolz is a professor at the Catalan Institute for Public Security.
0712
A statue of the American civil war confederate general Robert E Lee was defaced at Duke University yesterday. Corey Stewart is the former chair of Donald Trump's Virginia campaign.
0720
Bitcoin has doubled in value in the last month and hit a record high this week breaking the $4,000 barrier. Simon Taylor is the co-founder of a money thinktank 11fs.
0730
There has been controversy at the holiest place in Jerusalem, the Western Wall, where Jewish women and men must pray separately. Our Middle East correspondent Tom Bateman reports.
0740
For the first time the Defence Secretary Michael Fallon has personally apologised to the mother of a soldier killed in a Snatch Land Rover in Iraq in 2005. Sue Smith is the mother of the soldier killed.
0750
An obesity plan for England launched a year ago by the Government will require food manufacturers to cut calories in products like ready meals. Dr John Ashton is an independent public health consultant and Dr Alison Tedstone is chief nutritionist at Public Health England.
0810
A massive police operation in Spain has ended in a shootout in Cambrils, south of Barcelona, the event being linked to the earlier van attack in the city. Our Barcelona correspondent is James Reynolds and Gerard Pisarello is first deputy mayor of Barcelona and Francisco Martinez Vazquez is former security of state for Barcelona.
0830
Many have travelled to Europe in recent years due to Libya not playing their part in their agreement to stop migrants. Jeremy Bowen is the BBC's Middle East Editor and Annemarie Loof is MSF Operational Manager at Libya Search and Rescue.
0820
Black British actor John Boyega plays the lead in new film Detroit, a movie set during riots and civil disturbance in the city exactly fifty years ago.
0840
A scientist from the team seeking life on Mars gave a speech this week outlining the mission plans. Carolin Crawford is professor of astronomy at the University of Cambridge and David Whitehouse is a former science correspondent and astronomer.
All subject to change.