Main content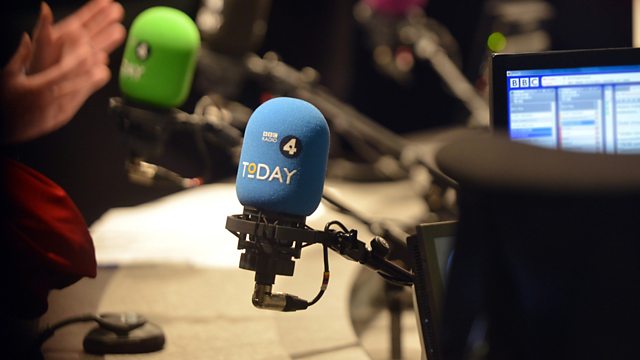 16/08/2017
Morning news and current affairs. Including Sports Desk, Weather and Thought for the Day.
Last on
Today's running order
0650
Today's #PuzzleForToday has been set by GCHQ.
0655
If a chimp shook its hips at you, would you know what they were trying to say? Cat Hobaiter is a Primatologist at St Andrews University.
0710
The government says it is determined to avoid any physical barriers at the Irish border after Brexit in a position paper due to be published later today. Senator Mark Daly is the Deputy Leader of Fianna Fáil.
0720
A research study predicts that more than 71,000 extra places for those with substantial care needs will be needed by 2025 because of higher life expectancy. Carol Jagger is Professor of Epidemiology of Ageing at Newcastle University.
0730
President Trump said on Tuesday that both sides are to blame the Charlottesville protest on Monday. Jon Sopel is BBC's America Editor
0740
Gardening is good for you. That's what research by the health tank, the King's Fund shows. Sangita Myska reports.
0750
More than 3000 people are still serving indeterminate prison sentences in England and Wales with no release date, even though IPP - Imprisonment for Public Protection - were abolished five years ago. Zoe Conway reports.
0810
The government's position paper out today sets out the UK's negotiating position on what should happen to the border between Northern Ireland and the Republic once the UK leaves the EU. Chris Page is BBC's Ireland Correspondent and James Brokenshire is the Northern Ireland Secretary.
0820
The largest warship ever built for the Royal Navy enters Portsmouth for the first time this morning. Vice Admiral Simon Lister is the Royal Navy's Chief of Fleet Support.
0830
Two MPs – one a nurse and one an A&E doctor have been continuing to work shifts at the NHS alongside their job as an MP. Maria Caulfield is the MP for Lewes and a Nurse at the Royal Marsden in London. Dr Rosena Allin-Khan is the MP for Tooting and A&E Trauma doctor at St George's Hospital Tooting.
0840
President Trump went back to his original position on the protests in Charlottesville on Monday, blaming all sides for the violence. Avid Toscano is Virginia's House of Delegates, Democratic Leader and former mayor of Charlottesville.
0845
Researchers from the University of Cambridge and the Natural History Museum have solved the mystery of the so-called "Frankenstein Dinosaur". Matt Baron is from the University of Cambridge.
0850
The authorities in Sierra Leone say rescue workers have recovered nearly four hundred bodies from Monday's mudslide on the outskirts of the capital Freetown. Rajesh Srivastava is the British Red Cross Sierra Leone Country Manager.
All times subject to change
Broadcast