Main content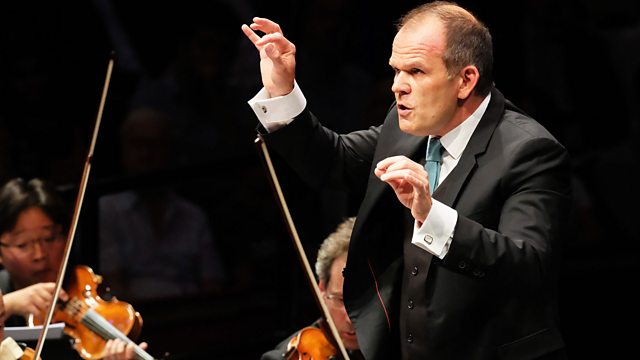 Live from the Royal Albert Hall, an all-French programme of music from Les Siecles and Francois-Xavier Roth, with Cedric Tiberghien the soloist in Saint-Saens' Egyptian Concerto.
Live at BBC Proms: French music from Les Siècles and conductor François-Xavier Roth.
The hugely acclaimed period instruments of Les Siècles return to the Proms this year with Cédric Tiberghien as the soloist in Saint-Saëns's Egyptian Concerto as part of a programme of Romantic French music inspired by the East.
Live from the Royal Albert Hall.
Presented by Martin Handley.
Saint-Saëns: La princesse jaune - overture
Delibes: Lakmé - ballet music
Saint-Saëns: Piano Concerto No. 5 in F major, 'Egyptian'
approx 8.15pm Interval: PROMS EXTRA
Turkish novelist Elif Shafak talks about the figure of the djinni in Arabic mythology, who along with humans and angels, make up the three sapient creations of God, according to Islamic tradition. New Generation Thinker Dr Shahida Bari joins the discussion hosted by Ian McMillan.
Recorded earlier this evening as a Proms Extra with an audience at Imperial College.
Franck: Les Djinns
Lalo: Namouna - Suites Nos. 1 and 2 (excerpts)
Saint-Saëns: Samson and Delilah - Bacchanal
Cédric Tiberghien (piano)
Les Siècles
François-Xavier Roth conductor
An all-French programme inspired by the East, from the fragrant Indian gardens of Delibes's Lakmé and the eroticism of Samson and Delilah, to Corfu with the adventures of Lalo's Namouna.
Oriental demons surface in Les Djinns, complementing the vibrantly coloured music of Java and the Middle East that suffuses Saint-Saëns's 'Egyptian' Piano Concerto.
Clips

Music and featured items
Interval

Ian McMillan and guests examine the the figure of the djinni in Arabic mythology

Duration: 20:24

Part 2

Duration: 01:01:02

Post-concert

Duration: 13:13

Featured in...

These Proms clips and programmes are due to expire soon - but there's loads more to enjoy

Highlights from the BBC's annual music spectacular from the Royal Albert Hall and beyond.