Main content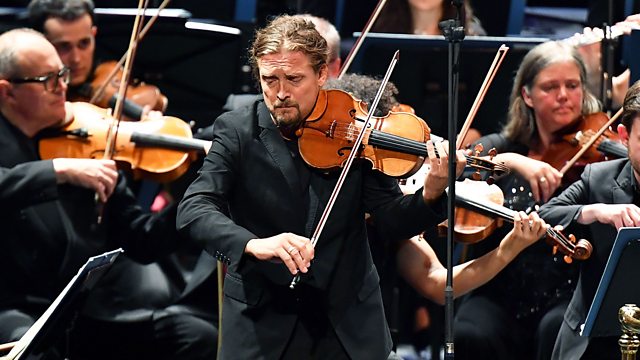 Live from the Royal Albert Hall, the Scottish Chamber Orchestra performs Brahms, Berg, Schumann and Larcher, conducted by Robin Ticciati. Presented by Penny Gore.
Live at BBC Proms: the Scottish Chamber Orchestra conducted by Robin Ticciati with violinist Christian Tetzlaff in Brahms, Berg's Violin Concerto, Schumann and Thomas Larcher
Live from the Royal Albert Hall, London.
Presented by Penny Gore.
Brahms: Tragic Overture
Berg: Violin Concerto
c.7.50pm Interval: PROMS EXTRA
Nick Littlehales, sports sleep coach and chair of the Sleep Council, talks with novelist AL Kennedy and presenter Rana Mitter about sleep and insomnia.
Recorded earlier as a Proms Extra with an audience at Imperial College.
8.10
Thomas Larcher: Nocturne - Insomnia (UK premiere)
Schumann: Symphony No 3 in E flat major, 'Rhenish'
Christian Tetzlaff (violin)
Scottish Chamber Orchestra, Robin Ticciati (conductor)
Brahms's Tragic Overture is not so much tragic as a 'serious' follow-up to his more frivolous Academic Festival Overture.
Dedicated 'To the memory of an angel', Berg's luminous Violin Concerto is an intensely moving personal testament to the death of a young woman, quoting Bach's funeral chorale 'Es ist genug'.
Thomas Larcher's nocturnal wanderings receive their UK premiere before a joyous journey down the Rhine in Schumann's Third Symphony, which climaxes in a musical homage to Cologne Cathedral.
Re-tuning your sleep routine can unlock real recovery benefits.
Music and featured items
INTERVAL

Nick Littlehales and A.L Kennedy talk about sleep and insomnia.

Duration: 22:34

Featured in...

These Proms clips and programmes are due to expire soon - but there's loads more to enjoy

Highlights from the BBC's annual music spectacular from the Royal Albert Hall and beyond.