Main content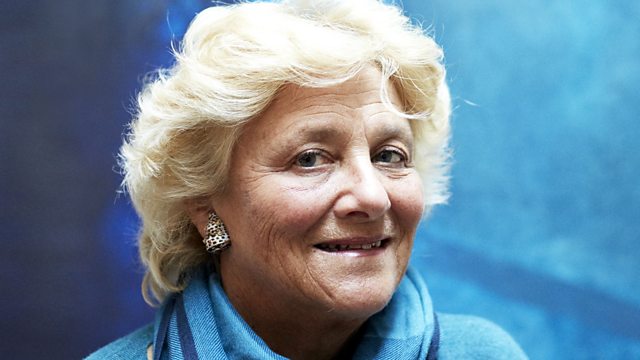 Vivien Duffield
Michael Berkeley's guest is arts philanthropist Vivien Duffield. With Edif Piaf, Maria Callas, Placido Domingo, Wagner and Richard Strauss.
Dame Vivien Duffield is one of our leading philanthropists, and her passion for the arts - and particularly opera - is reflected in her giving. Her Foundation, the Clore Duffield Foundation, has supported the Royal Opera House, the Tate, the Royal Ballet, the British Museum, the Natural History Museum, Dulwich Picture Gallery, the Southbank Centre and The National Children's Museum. It all amounts to more than 200 million pounds over the last fifty years. In 2008 the Prince of Wales presented her with one of the first medals for arts philanthropy.
In Private Passions Dame Vivien talks to Michael Berkeley about why it's important to give money to the arts in this country, and about the legacy of her extraordinary family. Her father, the businessman Sir Charles Clore, was brought up poor in East London - but ended up a millionaire property developer and owner of Selfridges. Despite his own success, he was determined that his daughter should never go into the business, a job not at all suitable for a woman. But he did take her to concerts and the opera, and ignited Dame Vivien's passion for the arts.
Dame Vivien's choices capture key performances she's been lucky enough to see: Edif Piaf, for instance, on the Paris stage, "tiny, in a little black slip dress, virtually carried on to the stage." She saw Callas too, and Placido Domingo, in a disastrous first night at the Royal Opera House when he kept sliding down the vertiginous slate set. Other music choices include Richard Strauss's Alpine Symphony; Wagner's Parsifal; and Ravel's Kaddisch sung by Jessye Norman.
Produced by Elizabeth Burke
A Loftus production for BBC Radio 3.
Six mind-expanding music podcasts to download in 2019
Archive Unlocked: Two Decades of Private Passions