Main content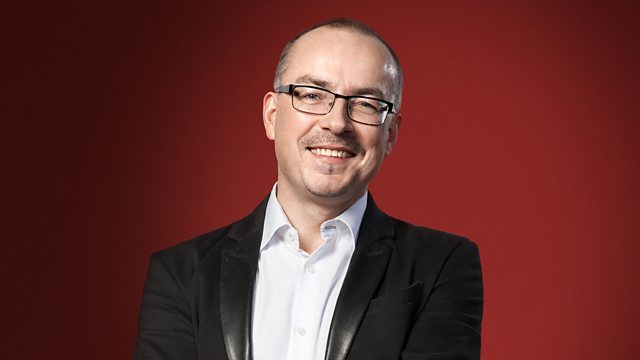 Summer Record Review: Andrew McGregor with Caroline Gill. Proms Composers: Peter Maxwell Davies
Andrew McGregor includes a review from Simon Heighes of recent reissues of Medieval, Renaissance and early Baroque music. Also featuring Proms composer Peter Maxwell Davies.
with Andrew McGregor;
0930 Proms Composer: Peter Maxwell Davies
Peter Maxwell Davies was the Master of the Queen's Music. When he was a student at both the University of Manchester and at the Royal Manchester College of Music, he was part of a group dedicated to contemporary music with fellow students Harrison Birtwistle, Alexander Goehr, Elgar Howarth and John Ogdon. He wrote several works for the stage. His monodrama Eight Songs for a Mad King, originally shocked the audience in 1969, but has since become a favourite. He wrote ten symphonies. Davies was a prolific composer and he composed in a number of styles. After his move to Orkney, he was often inspired by Orcadian or more generally Scottish themes.
1030 Andrew talks to Caroline Gill about recent reissues on the Glossa label of Medieval, Renaissance and early baroque music including: madrigals by Giaches de Wert; Medieval pieces for fiddle and percussion; liturgical music from Baroque Naples; 17th-century music from Latin America and secular music from the Spanish Renaissance.
1130
Franck
Sonata for Violin and Piano
Isabelle Faust (violin)
Alexander Melnikov (piano).
Record Review
9.00 a.m.
Handel Goes Wild
HANDEL: Alcina: Act 3 Sinfonia; Venti turbini (Rinaldo); Semele: O, Sleep Why Dost Thou Leave Me?; Semele: Where'er you walk; Cara sposa (from Rinaldo); Arrival of the Queen of Sheba (from Solomon); Pena tiranna (from Amadigi); Piangero la sorte mia (from Giulio Cesare); Verdi prati (from Alcina); Tu del ciel ministro eletto (Il Trionfo del Tempo e del Disinganno); Mi lusinga il dolce affetto (from Alcina); Ombra mai fu (from Serse)
VIVALDI: Concerto in G minor RV157
Valer Sabadus (countertenor), Nuria Rial (soprano), L'Arpeggiata, Christina Pluhar (director and arranger)
ERATO 9029581170 (CD)
Il Violoncello del Cardinale
AMADEI: Sonata in D Minor, WD 896/10
BONI, G G: Cello Sonata in F Op. 1 No. 8; Cello Sonata in G minor Op. 1 No. 9
COSTANZI: Sinfonia in D for cello and basso continuo
HAYM: Sonata in E minor for 'cello and basso continuo
PERRONI: Sonata No. 2 in D major
Accademia Ottoboni, Marco Ceccato (cello and director)
ALPHA ALPHA368 (CD)
CHARPENTIER, M-A: La Descente d'Orphee aux enfers
Robert Getchell (Orphee), Caroline Weynants (Eurydice), Caroline Dangin-Bardot (Oenone), Violaine Le Chenadec (Daphne), Caroline Arud (Arethuse), Lucile Richardot (Proserpine), Stephen Collardelle (Ixion), Davy Cornillot (Tantale), Etienne Bazola (Apollon/Titye), Nicolas Brooymans (Pluton), Ensemble Correspondances, Sebastien Dauce (conductor)
HARMONIA MUNDI HMM902279 (CD)
0930 Proms Composer: Sir Peter Maxwell Davies
Maxwell Davies & Panufnik: Symphonies No. 10
DAVIES, PETER MAXWELL: Symphony No. 10 'Alla ricerca di Borromini'
PANUFNIK, A: Symphony No. 10
Markus Butter (baritone), London Symphony Chorus, London Symphony Orchestra, Sir Antonio Pappano (conductor)
LSO LIVE LSO0767 (Hybrid SACD)
Maxwell Davies: Symphony No. 1
DAVIES, PETER MAXWELL: Symphony No. 1; Points and Dances from Taverner
Philharmonia Orchestra, Simon Rattle (conductor), Fires of London, Sir Peter Maxwell Davies (conductor)
DECCA 4788354 (CD)
Peter Maxwell Davies: Music for Brass
DAVIES, PETER MAXWELL: March - The Pole Star; Litany for a ruined chapel between sheep and shore; Sea Eagle for solo horn; Fanfare for Lowry; Brass Quintet
TALLIS: Veni Redemptor genitum; Ex more docti mistico; Ecce tempus idoneum; Veni Redemptor genitum II
John Wallace, John Miller (trumpets), Paul Gardham (horn), Simon Gunton (trombone), Robin Haggart (tuba), The Wallace Collection
NIMBUS NI5936 (CD)
Maxwell Davies: An Orkney Wedding & other works
DAVIES, PETER MAXWELL: Concert Overture - Ebb Of Winter; Hill Runes; Last Door Of Light; Farewell to Stromness; An Orkney Wedding, with Sunrise
Sean Shibe (guitar), Scottish Chamber Orchestra, Ben Gernon (conductor)
LINN CKD534 (CD)
Sir Peter Maxwell Davies: Works for Violin
DAVIES, PETER MAXWELL: Sonata for Violin Alone; Dances from 'The Two Fiddlers'; Violin Sonata; A Voyage to Fair Isle
Duccio Ceccanti (violin), Bruno Canino (piano), Vittorio Ceccanti (cello), Matteo Fossi (piano)
NAXOS 8573599 (CD)
The Last Island
DAVIES, PETER MAXWELL: The Last Island for string sextet; A Postcard from Sanday for solo piano; String Trio; Two Nocturnes for piano quartet; Lullaby for violin and cello; Oboe Quartet; A Birthday Card for Jennifer for solo piano; Sonata for Violin and Piano; String Quartet Movement
Hebrides Ensemble
DELPHIAN DCD34178 (CD)
CPE Bach: Tangere
BACH, C P E: Free Fantasia, for keyboard in F sharp minor, H300/Wq67; Keyboard Sonata in D minor, Wq. 57/4 (H208); Rondo II in C minor, Wq. 59/4 (H283); Fantasia for keyboard in D minor, Wq. 117/12 (H224); Fantasia in G major, Wq. 117/11 (H223); Fantasia in D major, Wq. 117/8; Fantasia in B flat major, Wq. 112/8 (H146); Clavierstuck fur die rechte oder linke Hand allein, Wq. 117/1 (H241); Solfeggio in C major, Wq. 112/10 (H147); Solfeggio in A major, Wq. 117/4 (H222); Solfeggio in C minor, Wq. 117/2 (H220); Rondo in D minor, Wq. 61/4 (H290); Keyboard Sonata in G major, Wq. 55/6 (H187); Fantasia for keyboard in C major, Wq. 59/6 (H284)
Alexei Lubimov (tangent piano)
ECM 4763652 (CD)
Haydn & CPE Bach: Cello Concertos
BACH, C P E: Cello Concerto No. 3 in A major, Wq. 172 (H439)
BOCCHERINI: Cello Concerto No. 7 in G major, G 480: Adagio
HAYDN: Cello Concerto No. 1 in C major, Hob. VIIb:1; Cello Concerto No. 2 in D major, Hob. VIIb:2 (Op. 101)
MOZART: Geme la tortorella (from La finta giardiniera)
Steven Isserlis (cello/director), The Deutsche Kammerphilharmonie Bremen
HYPERION CDA68162 (CD)
Mozart: Piano Concertos, Vol. 2
MOZART: Piano Concerto No. 14 in E flat major, K449; Piano Concerto No. 19 in F major, K459; Divertimento in D major, K136; Divertimento in F major, K138
Jean-Efflam Bavouzet (piano), Manchester Camerata, Gabor Takacs-Nagy (conductor)
CHANDOS CHAN10958 (CD)
MENDELSSOHN: Symphony No. 2 in B flat major Op. 52 'Lobgesang'
Lucy Crowe (soprano), Jurgita Adamonyte (mezzo), Michael Spyres (tenor), London Symphony Orchestra, Monteverdi Choir, Sir John Eliot Gardiner (conductor)
LSO LIVE LSO0803 (2 Hybrid SACD + Blu-ray Audio)
1050 – Caroline Gill on Baroque re-issues
Giaches de Wert: Madrigals
WERT: Sovente all'hor; Giunto alla tomba; Usciva homai del molle e fresco grembo; Vezzosi augelli; Forsennata gridava; Qual musico gentil; Misera non credea ch'agli occhi miei; Giunto alla tomba; O primavera gioventu; Ah dolente partita; Udite lagrimosi spirti; Cruda Amarilli
La Venexiana, Claudio Cavina (conductor)
GLOSSA GCDC80911 (CD)
Responde Mihi: Liturgical Music in Baroque Naples
FAGO: Laudate pueri;            Beatus vir;       Quid hic statis pastores
GRECO, G: Pastorale
PROVENZALE:          Su i palchi delle stelle
VENEZIANO: Lectio III del Primo Notturno; Lectio IX del Primo Notturno - 'Quare de vulva'; Lectio IV del Primo Notturno - 'Responde mihi'
Antonella Ippolito, Jane Houghton (sopranos), Daniela del Monaco (alto), Cappella Neapolitana, Antonio Florio (conductor)
GLOSSA GCDC80023 (CD)
Istanpita: Danses Florentines du Trecento
Istanpitta Tristano e Manfredina
Istanpitta 'Ghaetta'
Istanpitta In Pro
Istanpitta Chanconetta tedesca
Istanpitta Saltarello
Istanpitta Saltarello e trotto
Istanpitta 'Isabella'
Istanpitta Tre fontana
Henri Agnel (cistre, cetera, ud), Michael Nick (quinton), Henri Tournier (bansura), Djamchid Chemirani (zarb), Idriss Agnel (udu)
ALPHA ALPHA336 (CD)
Yedid Nefesh: Amant de mon ame
Alta alta es la luna
Durme querido hijico
Moshe
Nani, nani
Shaar, petakh dodi
Shalom leven-dodi
Shekhora ani
Teromen Bat Rama
Veeda ma
Ya shadill el khan - Tsour Maguinenou
Ya viene el cativo
Yedidi Hashakhakhta
Yedid nefesh
Meirav Ben David-Harel (voice, percussion, hurdy-gurdy), Yair Harel (voice, tar, percussion), Nima Ben David (viola da gamba), Michele Claude (percussion)
ALPHA ALPHA341 (CD)
Istampite
Trotto
Tre fontana
Principio di virtu
La manfredina & la rotta
Chominciamento di gioa
Palmento
Salterello 2
Belicha
Salterello 1
Jim Denley, Pedro Estevan (percussion), Sinfonye, Stevie Wishart
GLOSSA GCDC80701 (CD)
BOESSET, A: Je meurs sans mourir
Le Poeme Harmonique, Vincent Dumestre (conductor)
ALPHA ALPHA331 (CD)
L. Couperin: Suites & Pavane
COUPERIN, L: Pavane in F sharp minor; Suite in A minor; Suite in C major; Suite in D major; Suite in F major
Skip Sempe (harpsichord)
ALPHA ALPHA333 (CD)
Le Berger Poete
PHILIDOR: Suite No. 5 En E Minor For Flute And Continuo
CHÉDEVILLE: Sonata No. 6 In G Minor For Musette And Continuo
HOTTETERRE: Suite No. 2 En C Minor For Flute And Continuo
REBEL: Musette For Flute En Ré
BOISMORTIER: Sonate À Quatre In A Minor For 3 Flutes And Continuo
COUPERIN: Le Rossignol En Amour For Flute And Continuo
MONTÉCLAIR: Suite Of Duos For Musette And Hurdy-Gurdy
COUPERIN Arr. Chedeville:  Suite Of Duos For Musette And Hurdy-Gurdy
DUGUÉ: Trio Sonata In C Major For Musette, Hurdy-Gurdy And Continuo
Les Musiciens de Saint-Julien, Francois Lazarevitch (conductor)
ALPHA ALPHA332 (CD)
Haydn: Flute Sonatas
HAYDN: Flute Sonata in C major Op. 87; Flute Sonata in E flat major Op. 90; Flute Sonata in G major Op. 90
Juliette Hurel (flute), Helene Couvert (piano)
ALPHA ALPHA335 (CD)
JS Bach: Works for flute
BACH, J S: Partita in A minor for solo flute, BWV1013; Cello Suite No. 1 in G major, BWV1007; Cello Suite No. 2 in D minor, BWV1008; Cello Suite No. 3 in C major, BWV1009; Trio Sonata No. 3 in D minor, BWV527; Trio in D minor, BWV583; Trio Sonata No. 1 in E flat major, BWV525; Trio Sonata No. 4 in E minor, BWV528; Couperin Aria in F major, BWV587; Trio Sonata No. 2 in C minor, BWV526
Jacques Ogg (harpsichord), Wilbert Hazelzet (Baroque transverse flute)
GLOSSA GCDC80804 (2CD)
1150 - DOTW
Franck: Violin Sonata & Chausson: Concert
CHAUSSON: Concert in D major for piano, violin and string quartet Op. 21
FRANCK, C: Violin Sonata in A major
Isabelle Faust (violin), Alexander Melnikov (piano), Salagon Quartet
HARMONIA MUNDI HMM902254 (CD)