Main content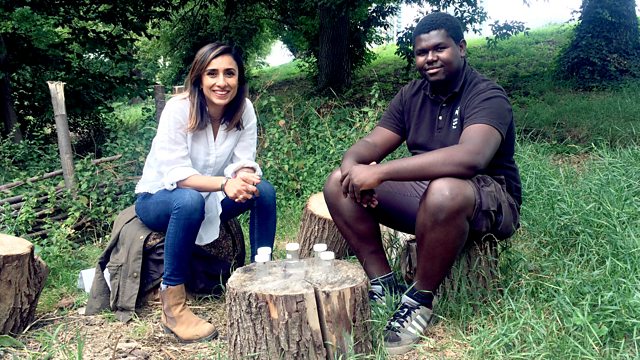 Cities
Anita Rani is in London at the remarkable Woodberry Wetlands, a haven for all sorts of wildlife just a stone's throw from the tower blocks of Stoke Newington.
Countryfile takes a look at our cities and the green spaces and wildlife that can be found there. Anita Rani is in London at the remarkable Woodberry Wetlands, a haven for all sorts of wildlife just a stone's throw from the tower blocks of Stoke Newington. She spends time with the locals keeping this patch of London green and meets 'guerrilla explorer' Daniel Ellison, a man on a mission to make London the UK's first National Park city.
Anita also meets up with urban wildlife photographer Sam Hobson to see if they can photograph a pair of nesting common terns and the very rare hornet moth.
Sean Fletcher is at Manchester Airport with the environment team. It's their job to make sure that the impact on the wildlife and the environment around the runways is kept to a minimum. He also spends time with the crack squad of bird scarers who use some clever tricks to keep wild birds off the runways.
James Wong is in Liverpool seeing how rooftops and disused spaces are being used to grow fresh vegetables.
Tom Heap looks at air pollution and finds it's as much a problem in our countryside as our cities, and Adam Henson meets the ex-serviceman helping other ex-forces personnel rebuild their lives through farming.
Music Played
Timings (where shown) are from the start of the programme in hours and minutes
00:07

Orbital

Belfast (Proms 2015)

00:49

Roxy Music

Love Is the Drug
London: National Park City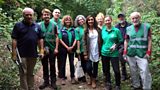 Daniel Raven-Ellison is on a mission to make London the World's first National Park City. Alongside better-known parks like Dartmoor, Daniel's believes  the urban ecosystem is as diverse, interesting and valid. Anita joins Daniel on a walk along London's longest and thinnest nature reserve, and she get's a sneak preview of a new map, showing all the green spaces in London for the first time. 
Manchester: Environmental airport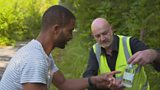 Many people will remember the storm of environmental protests when a second runway was proposed at Manchester Airport there was a storm of protests. Now, the runway sits at the heart of a nature trail. Sean Fletcher heads to the airport to meet the Environment Team. As part of the conservation effort, they've planted 150,000 native trees and the River Bollin is now carried through a tunnel under the runway, complete with cascades and pools for the fish. The water is monitored constantly and Sean helps the team to take a sample. It's a wild place and it's hard to believe that there's a runway just fifty metres away… until a jet takes off!
Air pollution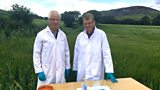 Think of air pollution and most people imagine an urban problem, but as Tom Heap discovers it's a big problem in our rural areas as well. Tom discovers how ammonia from the countryside mixes with diesel fumes from our roads creating poisonous particles that blight the lives of many people. But with a few small changes to how we go about things could we beat the rural air pollution issue? 
Liverpool: Farm Urban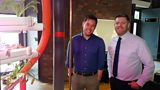 Large-scale urban agriculture is on the rise with more farms appearing in our cities. Urban farms employ local people, regenerate neighbourhoods and give residents access to fresh produce. James Wong heads to the University of Liverpool and their rooftop farm, to meet the  co-founders of Farm Urban, Dr Paul Myers and Dr Jens Thomas. They believe that urban farming is the high-tech job of the future, working with renewable energy sources, plumbing and pump technology, fish and animal husbandry, design and construction. 
Ex forces farming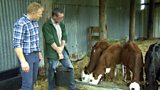 Adam meets up with a farmer with a difference this week. Jamie Quinn served for 20 years in the RAF Ground Forces until he was discharged with Post Traumatic Stress Disorder in 1998. Since then his condition deteriorated, that is until last year when he took on a hundred acre tenant farm. Now with the help of the charity Farm-Able he's bringing other veterans onto the farm to help them too.  
Find out more about Hall Farm
Urban Wildlife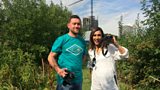 Continuing her celebration of the countryside in the city, Anita meets the local residents living around Woodberry Wetlands, a surprising wildlife oasis in the heart of the city, who share their love of this haven on their doorstep. Anita then catches up with a wildlife photographer who specialises in urban wildlife. 'Wildlife Photographer of the Year' in 2016, Sam Hobson's photographs of urban foxes in Bristol are now world famous. Anita and Sam take a walk around Woodberry Wetlands as Sam captures more portraits for his collection.
Discover Woodberry Wetlands for yourself
Manchester: Airport scarecrow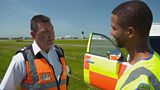 Bird strikes on aircraft are bad for the wildlife and extremely dangerous for the planes. So although wildlife is encouraged around the perimeter of the airport, it is actively managed nearer the runways. Manchester Airport has had all sorts of close encounters from foxes to flamingos, even a vulture! Enter Scarecrow - a dedicated team of wildlife-loving airfield operations team members who have the difficult job of keeping birds in particular, away from the runways. Sean joins them on patrol to see how it all works. Armed with the distress calls of numerous bird species, they also have all manner of sirens and nasty noises to deter any birds they spot. 
Credits
| Role | Contributor |
| --- | --- |
| Presenter | Anita Rani |
| Presenter | Sean Fletcher |
| Presenter | James Wong |
| Presenter | Tom Heap |
| Presenter | Adam Henson |
| Executive Producer | William Lyons |
| Series Producer | Joanna Brame |