Main content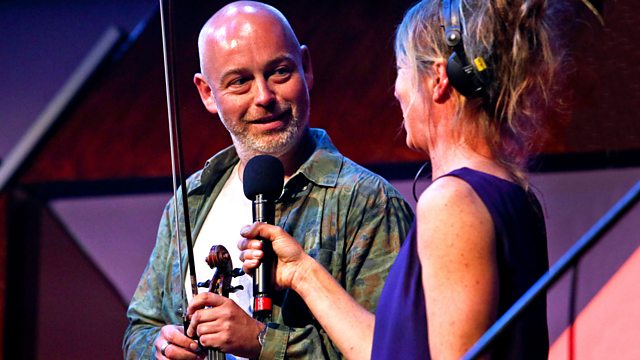 Verity Sharp with an Edinburgh Festival 2017 concert
Verity presents musicians including Alasdair Roberts and Aidan O'Rourke, for a live showcase for the BBC at the Edinburgh Festivals.
BBC at the Edinburgh Festivals: Verity presents a magnificent line-up of musicians and artists, handpicked from the current festivals and the city's underground scene, for a special Late Junction showcase.
Listen at home or join us in the audience at our broadcast hub in George Heriot's School for live performances from Alasdair Roberts, James Robertson, Aidan O'Rourke, Raymond MacDonald, and Lauren Sarah Hayes.
Prolific singer Alasdair Roberts is as adept writing epic ballads as he is performing centuries-old folksongs. In a 24 year career he has worked with the likes of Isobel Campbell, Jason Molina, and Will Oldham, and released 11 timeless solo albums. His latest, 'Pangs', is one of our favourite records of the year so far on Late Junction. He performs gigs in Edinburgh later this month.
Folk fiddler Aidan O'Rourke was inspired to write a tune a day for a year as a response to author James Robertson's book, '365'. The pair will perform part of this project live at the Book Festival on the 17th of August, and play us a special preview tonight.
Raymond MacDonald is a saxophonist who explores the boundaries between improvisation and composition. He has collaborated with Evan Parker, David Byrne, and Jim O'Rourke, and passed on his knowledge as Professor of Music Psychology and Improvisation at Edinburgh University. He will be playing tonight with a group of 'Friends', including students and academic colleagues.
Lauren Sarah Hayes is a member of the New BBC Radiophonic Workshop who builds her own hybrid instruments to perform a brand of experimental pop, techno, and noise. She completed a PhD in Edinburgh in 2013, researching the relationships between sound and touch, and is still based in the city.
Produced by Jack Howson for Reduced Listening.