Main content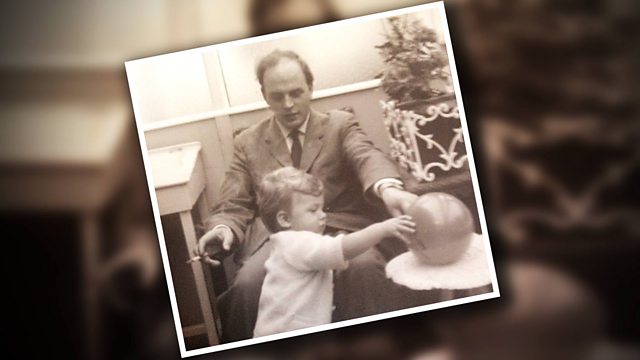 Some Kind of Man with Peter Curran
The writer and broadcaster's comic life-search for useful male role models in books, films and real life, as he grew up with five sisters during The Troubles in 1970s Belfast.
The accomplished writer and broadcaster reflects on his comical life-long search for useful male role models in films, novels and real life. Peter grew up surrounded by his mum and five sisters - although, as the eldest, he wasn't spoiled. Honestly.
In this programme, he goes mooching around the streets of his Belfast childhood, recalling torturous inquisitions from local lads about religion, and he takes the audience at The Queens Film Theatre in Belfast on a journey into the power of George Best, men in towelling trunks, polite gunmen at the front door, and the all-conquering laughter of girls.
Peter's joined by some expert and inexpert witnesses to answer questions on gender, parenting and Darth Vader.
The programme was recorded as part of the Belfast Film Festival and Peter was joined on stage by one of Britain's foremost experts on psychosexual medicine, Dr Ian Walsh; cinema historian and documentary director, Brian Henry Martin; and Good Vibrations record label owner and local legend, Terri Hooley.
The programme includes a vivid reading by the presenter's mother of an excerpt from WF Marshall's Ulster-Scots dialect classic about the cost of romantic indecision, Me and Me Da. As mentioned in the programme, the words are listed here:
I'm livin in Drumlister
An I'm getting very oul
I have to wear an Indian bag
To save me from the coul.
Me Da lived up in Carmin,
And kep a sarvint boy.
His second wife was very sharp,
He birried her with joy.
Now she wos thin, her name was Flynn
She come from Cullentra,
And if me shirts a clatty shirt
The man to blames me Da.
Consarnin weemin sure it wos
A constant word of his,
Keep well away from them that's thin
Their tempers aisy riz.
Well, I knowed two I thought wud do
But still I had me fears,
So I skiffled back and forrit
Between the two, for years.
Wee Margit had no fortune,
She thought the world of me.
I'll tell the truth me heart wud lep
The sight of her to see.
And Margit she was very wee,
And Bridget she was stout.
But her face was like a gaol door,
With the bowlts pult out.
So I swithered back an forrit
Till Margit got a man.
A fella come from Mullaslin
And left me jist the wan.
But cryin cures no trouble,
To Bridget I went back,
An faced her for it that night week
Fornenst her own turf stack
I axed her there, and spoke her fair,
The handy wife she'd make me,
I talked about the land that joined
-Begob! She wudn't take me.
So I'm livin in Drumlister
And I'm getting very oul
I creep to Carmin wanst a month
To thry and make me sowl
The deil a man in this townland
Wos claner raired nor me,
And I'm dying in Drumlister
In clabber to the knee.
Producer: Steve Doherty
A Giddy Goat production for BBC Radio 4
Last on
Broadcasts