Main content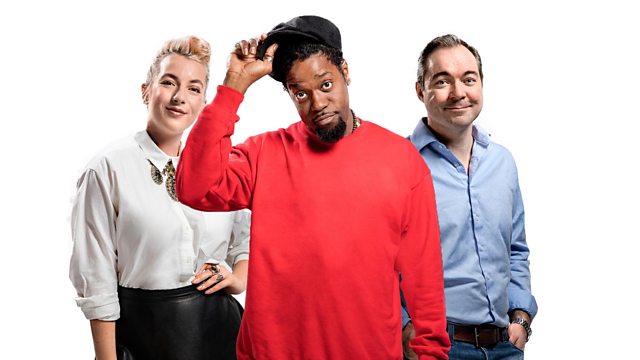 Moon Hooch
Soweto Kinch presents Brooklyn saxophone and drums trio Moon Hooch in concert in Brighton, featuring Mike Wilbur and Wenzel McGowen on reeds and drummer James Muschler. Plus a set from Vels Trio, and Al Ryan with the latest from BBC Introducing.
PLAYLIST
Moon Hooch perform live at the Brighton Coalition on 11th June 2017
Duration: 31'35" 
Performers: James Muschler (drums) and Mike Wilbur and Wenzl McGowen (saxophone)

Vels Trio perform live at the Brighton Coalition on 11th June 
Yellow Ochre Pt. 1 - 3'42"
40 Point - 2'35"
Tenderness - 4'34"
Godzilla - 4'55"
Yellow Ochre - 6'49"

BBC Introducing with Al Ryan 

Artist: Better Than TV
Title: PM
Duration: 4'48"
Performers: David Burgoyne: piano; Ed Blake: drums; Gavin Spence:trumpet/flugelhorn; Sergio Contrino: bass guitar; Tom Green: trombone

Artist: Flying Machines
Title: Tracks
Composer: Munk
Duration: 7'18"
Performers: Alex Munk - Electric Guitar; Matt Robinson - Piano/Synths; Conor Chaplin -Electric Bass; Dave Hamblett – Drums

Artist: Jim Gold & Will Barry 
Title: Hold On 
Duration: 4'05"
Performers: Jim Gold, Alto Sax; Will Barry, Piano. 

Artist: Dean Stockdale Trio
Title: Nth Degree
Duration: 4'00"
Performers: Dean Stockdale piano; Gavin Barras double bass;Adam Dawson drums
Artist: Thomas Haines and the Birmingham Jazz Orchestra
Title: Yitzoid
Duration: 7'53"
Performers: Performers: Tom Haines: composer, arranger, conductor; Tom Syson: trumpet; Sean Gibbs: trumpet; Mike Adlington: trumpet, flugelhorn; Hugh Pascall: trumpet; Elliot Drew: alto, soprano sax, flute; Chris Young: alto sax; John Fleming: tenor sax, clarinet; Vittoria Mura: tenor sax, clarinet; Alicia Gardener-Trejo: baritone sax, bass clarinet, flute; Richard Foote: trombone; Kieran McLeod: trombone; David Sear: trombone; Andrew Clennell: bass trombone; Ben Lee: guitar; David Ferris: piano; Stuart Barker: bass; Jonathan Silk: drums.