Main content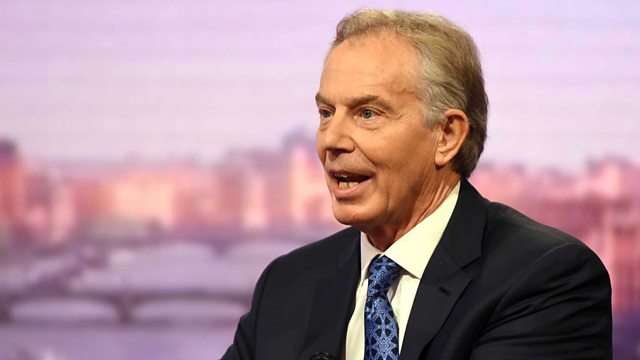 Tony Blair
Peter Hennessy invites senior politicians to reflect on their life and times. This week, his guest is Tony Blair, the former prime minister.
In this series, the historian Peter Hennessy asks senior politicians to reflect on their life and times. Each week, he invites his guest to explore their early formative influences, their experiences and their impressions of people they've known.
In the first programme of this run, Peter Hennessy's guest is Tony Blair, the former Prime Minister, who gave his name to an era following a rapid rise to power and his energetic leadership at home and abroad during ten years in Downing Street. Like other leaders whose personality creates an aura and whose name creates an 'ism', few people are neutral about Tony Blair and his legacy.
In the interview Blair reflects on his early enthusiasm for acting, 'the performance element' in his character, and the experiences that shaped his political and religious beliefs. Recalling his journey from youthful far-left politics to mainstream Labour and his dramatic path to power, he tells of his dealings with Gordon Brown.
On his premiership, Blair recalls battles against Whitehall's resistance to reform and reflects ruefully on his relations with the media. The conversation explores two of the most momentous issues during his premiership - negotiating the Northern Ireland peace agreement and the controversial decision to go to war in Iraq. On politics today, Blair re-affirms his interest in re-making the centre-left in British politics and shaping a policy agenda to address the challenge of globalisation.
Producer: Rob Shepherd.
Last on

Broadcasts