Main content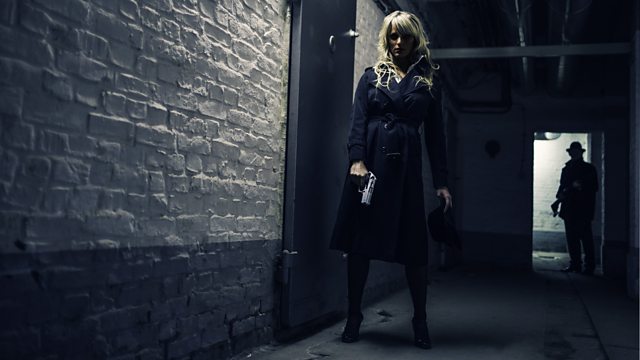 Kiss, Kiss, Bang, Bang!
Plot the perfect murder; dance till you drop; yield to sweet temptation; and walk the mean streets with Henry Goodman and Tracy-Ann Oberman.
Kiss, Kiss, Bang, Bang! is a brazen attempt to lure you into temptation. It's a fast ride to a place where sex and violence collide. People literally dance for their lives or are ordered to stay glued to their seats or risk losing theirs. It's the world of noir - the world of Dashiell Hammett, Raymond Chandler, James M Cain, Chester Himes and Elmore Leonard. It's a world populated by "friends of Italian opera" as Billy Wilder famously put it in Some Like it Hot. Rigoletto is a well established gangster favourite but you'll also hear Carreras singing Amapola and Pavarotti's Chi mi frena in tal momento - not to mention John Adams's City Noir, John Zorn's Spillane and Kurt Weill. Tracy-Ann Oberman and Henry Goodman brave the shadows and lead us along the mean streets deep into the poisoned heart of this modern darkness.
Producer: Zahid Warley.
Music Played
Timings (where shown) are from the start of the programme in hours and minutes
Henry Miller

The Air-conditioned Nightmare read by Henry Goodman

James M. Cain

The Postman Always Rings Twice read by Henry Goodman

Joseph Moncure March

The Wild Party read by Tracy-Ann Oberman

Raymond Chandler

Playback read by Henry Goodman

Raymond chandler

from 'Goldfish' read by Henry Goodman

Dashiell Hammett

The Maltese Falcon read by Tracy-Ann Oberman

Elmore Leonard

Freaky Deaky read by Henry Goodman

Horace McCoy

They shoot horses, don't they read by Tracy-Ann Oberman

Chester Himes

The Real Cool Killers read by Tracy-Ann Oberman

John Franklin Bardin

The Deadly Percheron read by Tracy-Ann Oberman

Henry Miller

The Air-conditioned Nightmare read by Henry Goodman

Words and Music: Kiss, Kiss, Bang, Bang!

 

Kiss, Kiss, Bang, Bang!  Is a brazen attempt to lure you into temptation.  It's a fast ride to a place where sex and violence collide. People literally dance for their lives or are ordered to stay glued to their seats or risk losing theirs. 

It's the world of noir – the world of Dashiell Hammett, Raymond Chandler, James M. Cain, Chester Himes and Elmore Leonard. It's a world populated by "friends of Italian opera" as Billy Wilder famously put it in Some Like it Hot.  Rigoletto, is a well-established gangster favourite but you'll also hear Carreras singing Amapola and Pavarotti's Chi mi frena in tal momento – not to mention John Adams' City Noir, John Zorn's Spillane and Kurt Weill. 

Tracy-Ann Oberman and Henry Goodman brave the shadows and lead us along the mean streets deep into the poisoned heart of this modern darkness.

 Producer: Zahid Warley

The hidden history of plant-based diets