Main content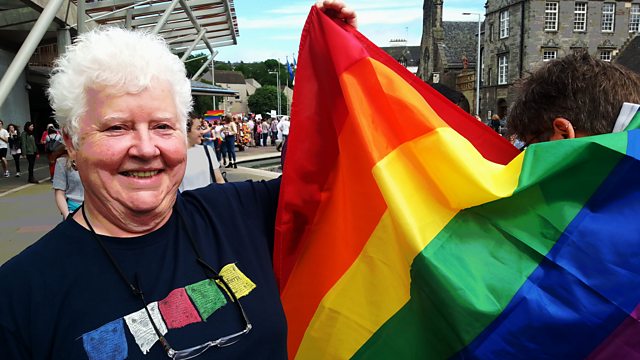 Episode 2
Val McDermid concludes her series about LGBTQ life in the UK - this week from Victorian family values to gay and lesbian clubland. Stories of pain, persecution - and fun.
Val McDermid presents the second of two programmes charting the history of same-sex relationships in Britain.
"I know who I am, but I have to keep it to myself."
"I find I'm living a lie all day long."
"I've known girls who've taken their own lives because the woman they love has finished the affair."
The stories of gay men and women from the past century are deeply sad, and moving testimony to the way persecution has dogged the lives of homosexual men and women - and continues to blight them, even in the days of equal marriage.
In this radio history, novelist Val McDermid, herself in a long-term lesbian partnership, explores the story of same-sex love. From the molly-houses of 18th century London, where men met to enjoy same-sex company, dancing and drinking in relative safety, to the moment in 1967 when consenting men in private might have a sexual relationship without fear of the Police knocking at the door.
In this concluding episode, Val traces the story of same-sex relationships from the height of Victorian persecution, through the trials of playwright Oscar Wilde and novelist Radclyffe Hall, to the relative sexual freedom enjoyed by gay men and women during the interwar period when the recent birth of psychoanalysis brought renewed attention to people's emotional and sexual make-up.
Yet after the two world wars, homosexual men found themselves again pursued by police in a renewed crackdown. And even when Sir John Wolfenden issued his celebrated report that led to the partial decriminalisation of homosexuality in 1967, the terms in which he discussed same-sex relationships were, to say the least, judgemental. "I don't think any of us who signed this report want to be thought of as approving or condoning in a moral sense homosexual behaviour," he told the BBC, "The churches don't - they say it's sin."
And yet, at Edinburgh's Gay Pride parade, Val McDermid is delighted to meet a group of homosexual Episcopalians celebrating the newly-granted permission to marry their partners in church. From shame to Pride in a mere half century.
Producer: Simon Elmes
A Pier production for BBC Radio 4.