Main content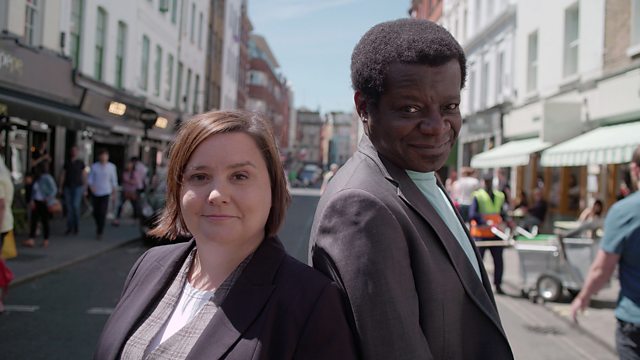 Episode 2
Ordinary people share the objects that have helped define their lives since homosexuality was decriminalised, including naval discharge papers and even a pair of Ugg boots.
Every so often the world changes beyond your wildest dreams. In 1967 the Sexual Offences Act partially decriminalised homosexuality, offering lesbian, gay, bisexual, transgender and queer people the opportunity to start living openly for the first time.
Presented by Stephen K Amos and Susan Calman, this unique series features LGBTQ people from across the UK as they share the objects that helped define their lives during these transformative 50 years.
In episode two, these crowdsourced artefacts include a copy of the controversial schoolbook Jenny Lives with Eric and Martin, naval discharge papers, even a pair of Ugg boots.
We meet the nun-impersonating freedom fighters the Sisters of Perpetual Indulgence, the writer behind TV's steamiest lesbian kiss and a Muslim man who set up an LGBT support group for Southeast Asians.
Ranging over the past 30 years, this was an era when public acceptance of homosexuality overtook the government's - a time when many celebrities came out and stood up for LGBTQ rights.
But this is the story of ordinary people in extraordinary times - told through their treasured possessions - charting the joys and heartbreaks of just being true to yourself.
Prejudice and Pride: The People's History Of LGBTQ Britain is part of Gay Britannia, a season of programming marking the 50th anniversary of 1967 Sexual Offences Act.
Music Played
Timings (where shown) are from the start of the programme in hours and minutes
00:01

Frankie Knuckles

Your Love

00:03

The Everly Brothers

('til) I Kissed You

00:04

The Simon May Orchestra

Eastenders

00:04

Love Unlimited Orchestra

Love's Theme

00:04

The Simon May Orchestra

Eastenders

00:05

Level 42

Lessons In Love

00:06

Freddie Phillips

Trumpton

00:06

Pet Shop Boys

It's A Sin

00:08

Cocteau Twins

The Thinner The Air

00:13

INXS

Never Tear Us Apart

00:14

David Bowie

A Small Plot of Land

00:15

Pet Shop Boys

West End Girls

00:17

Pet Shop Boys

It Couldn't Happen Here

00:18

Terence Trent D'Arby

Dance Little Sister

00:19

Eurythmics

&

Aretha Franklin

Sisters Are Doin' It For Themselves

00:22

Meek Mill

Lord Knows

00:22

Eurythmics

Sex Crime (1984)

00:23

Massive Attack

Better Things

00:24

Tony De Vit

Burning Up (Trade Club Mix)

00:25

Grace Jones

Nightclubbing

00:26

Tall Paul

Rock Da House

00:27

Kate Bush

Army Dreamers

00:35

The Smiths

Rubber Ring

00:36

The Smiths

William, It Was Really Nothing

00:33

Belle and Sebastian

Expectations

00:37

Erasure

A Little Respect

00:40

Gina G

Ooh Aah... Just a Little Bit

00:40

Pet Shop Boys

Go West

00:42

George Michael

Outside

00:44

Daddy's Favourite

Feel Good Things For You

00:45

Nine Inch Nails

2 Ghosts I

00:50

Eileen

Ces Bottes Sont Faites Pour Marcher

00:47

Oasis

Champagne Supernova

00:41

Frankie Goes to Hollywood

The Power Of Love

00:52

Amy Winehouse

Wake Up Alone

00:54

Cornershop

Brimful of Asha

00:54

Cornershop

Brimful of Asha
Credits
| Role | Contributor |
| --- | --- |
| Presenter | Susan Calman |
| Presenter | Stephen K Amos |
| Production Company | 7 Wonder Productions |
| Interviewed Guest | Austin Allen |
| Interviewed Guest | Louise Carolin |
| Interviewed Guest | Geoff Hardy |
| Interviewed Guest | Peter Roscoe |
| Interviewed Guest | Liam Boudicca |
| Interviewed Guest | Ian Elmslie |
| Interviewed Guest | Ian Lucas |
| Interviewed Guest | Bright Daffodil aka Adeleh Sansara |
| Interviewed Guest | Emma Riley |
| Interviewed Guest | Shaun Duggan |
| Interviewed Guest | Mike Atkinson |
| Interviewed Guest | Simon Johnson |
| Interviewed Guest | Susan and Gerrie |
| Interviewed Guest | Jennifer Black |
| Interviewed Guest | Khakan Qureshi |
| Executive Producer | Eve Kay |
| Director | James Giles |
| Editor | Bruce Law |
| Production Manager | Rosie Gray |
| Production Assistant | Harry Gardner |
| Production Assistant | Pada Schaaf |
| Assistant Producer | Joseph Ingham |
| Assistant Producer | Emma Love |
| Executive Producer | Steve Condie |