Main content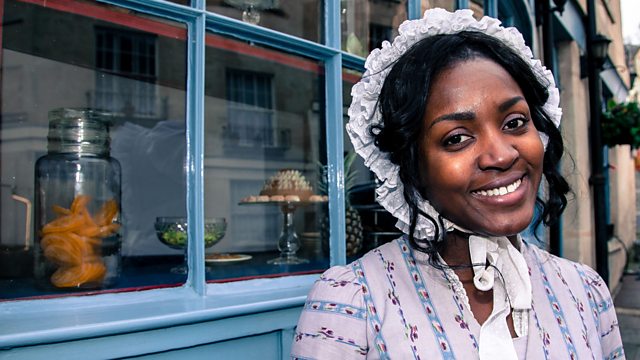 Confectioners use original recipes to recreate a Georgian dessert course and discover how the quest to satisfy the nation's sweet tooth transformed Britain.
Four modern-day confectioners use original recipes to recreate a Georgian shop and a stunning dessert course and discover how the quest to satisfy our national sweet tooth transformed Britain. Guided by food historian Dr Annie Gray and social historian Emma Dabiri, our 21st-century sweetmakers are in Bath to experience first-hand the life of confectioners in late 18th- and early 19th-century England - a time when the wealth from the sugar plantations of the Caribbean had made Britain rich and Bath's residents were making a fortune from the slave trade. They are now catering to the wealthy middle classes who could spend up to the modern equivalent of £2,000 on a bespoke dessert course to dazzle their guests. Every dish the team make across four days in the kitchen forms part of the stock for their shop and this spectacular final course at one of the most famous addresses in Bath, the Royal Crescent. Our confectioners use period equipment to create dishes that haven't been made, let alone tasted, for hundreds of years.
The four confectioners are Paul A Young, who runs two boutique chocolate shops in London, Cynthia Stroud, a bespoke wedding cake decorator, Diana Short, who owns her own chocolate company, and sweet consultant Andy Baxendale, whose first job in the industry was in the Chewitts factory.
They discover how the art of the confectioner peaked in the Georgian era as wealthy customers and abundant sugar supplies from the plantations allowed them to experiment with all of the latest fashions from Italy and France.
While Dr Annie Gray is their guide to the unfamiliar recipes and ingredients, Emma Dabiri helps the confectioners understand the vital role the sugar trade played in enriching the nation and the grim business of plantation life. Emma travels to Barbados to explore the legacy of our sugar obsession - and sees the slave lists of the men, women and children who worked at one of the oldest plantations in the Caribbean.
Last on

Credits
| Role | Contributor |
| --- | --- |
| Interviewed Guest | Andy Baxendale |
| Interviewed Guest | Diana Short |
| Interviewed Guest | Cynthia Stroud |
| Interviewed Guest | Pedro Welch |
| Interviewed Guest | Paul A Young |
| Presenter | Emma Dabiri |
| Presenter | Annie Gray |
| Costume designer | Heidi Miller |
| Makeup Artist | Isabel While |
| Expert | James Walvin |
| Director of photography | Patrick Acum |
| Sound | Mike Williams |
| Runner | Alice Judge |
| Production Secretary | Emma Marks |
| Production Coordinator | Gemma Templar |
| Production Manager | Emily Assael |
| Editor | Dilesh Korya |
| Executive Producer | Emily Shields |
| Director | Lucy Swingler |
| Series Producer | Helen Nixon |
| Production Company | Wall to Wall Media |
| Producer | Noa Snowdon |
| Producer | Hermione Drew |
| Editor | Jane Harris |