Main content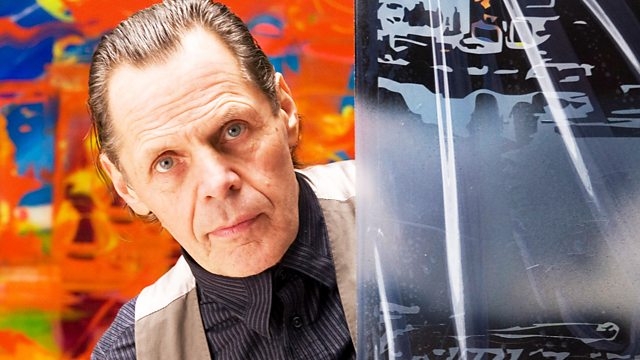 Fiona Talkington with Emil Schult
Fiona Talkington shares a new reimagining of Commonwealth-era alehouse music, a Quechua-inspired electro-acoustic opera, and tape-looped speech by Scott Johnson.
The week's musical forays across continents and centuries get underway with Fiona Talkington and her guest, visual and sonic artist Emil Schult, most famous for his collaborations with Kraftwerk.
The itinerary also includes a new reimagining of Commonwealth-era alehouse music, blending popular dance forms and Baroque, led by Norwegian violinist Bjarte Eike; and a piece by Scott Johnson that's one of the earliest examples of tape-looped speech being harmonised. Plus, an example of the oldest surviving African-American performance tradition - the slave shout songs that hail from the coast of Georgia; and an excerpt from Annette Vande Gorne's Quechua-inspired electro-acoustic opera, Yawar Fiesta.
Produced by Chris Elcombe for Reduced Listening.
Last on
Music Played
Scott Johnson

Involuntary Song #1(Excerpt)

McIntosh County Shouters

Jubilee

Spirituals & Shout Songs From The Georgia Coast.
Smithsonian Folkways.

Django Bates

&

Frankfurt Radio Big Band

Within You Without You

Saluting Sgt. Pepper.
Edition Records.

Hidhawk

Tuna

No hay más fruta que la nuestra.
Piratón Records.

Evelyn Glennie

My Spine (feat. Björk)

Evelyn Glennie: Her Greatest Hits.
RCA Victor.

Charles Mingus

Myself When I Am Real

The Charles Mingus Anthology.
Rhino Records.

Emil Schult in conversation

Kraftwerk

Pocket Calculator

Henk Badings

Ragtime

Evolutions.
Finders Keepers.

Martha Reeves and the Vandellas

Dancing In The Street

Dancing in the Street / There He Is (At My Door) 7".
Stateside.

Emil Schult

The Unanswered Question (A Tribute to Charles Ives)

Sibusile Xaba

Wampona

Open Letter to Adoniah.
Mushroom Hour Half Hour.

Rhodri Davies

,

David Sylvian

,

Mark Wastell

&

Toshimaru Nakamura

There is No Love (Extract)

There Is No Love.
Confront.

Peteris Vasks

Māte Saule

Choir: Latvian Radio Choir. Conductor: Kaspars Putniņš.

Sam Amidon

Blackbird

The Following Mountain.
Nonesuch.

Henry Purcell

Curtain Tune (Timon of Athens Z.632)

Music Arranger: Barokksolistene. Performer: Bjarte Eike. Ensemble: Barokksolistene.

The Alehouse Sessions.
Rubicon.

Dinosaur

Underdog

Together, As One.
Edition.

Annette Vande Gorne

Yawar Fiesta (Excerpt)

Performer: Annette Vande Gorne.

Yawar Fiesta.
empreintes DIGITALes.
Broadcast