Main content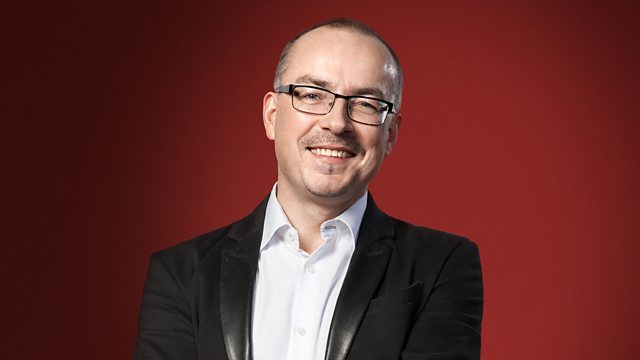 Summer Record Review: Andrew McGregor with Eric Levi. Proms Composer: James MacMillan
Andrew McGregor presents Summer Record Review with recent recordings, top releases and a focus on Proms composer James MacMillan.
with Andrew McGregor;
0930 Proms Composer: James MacMillan
Andrew explores recordings of music by the contemporary British composer Sir James MacMillan, who enjoyed his first major success with The Confession of Isobel Gowdie at the 1990 Proms. MacMillan's eclectic musical language is rooted in the twin poles of his Scottish identity and Roman Catholic faith, but it encompasses a far wider range of influences than that might suggest - from the lush Romanticism of Wagner to the hard-edged modernism of Birtwistle; from the humanist symphonic narratives of Shostakovich to the knowing polystilism of Schnittke. The result is music of extraordinary stylistic diversity - and appeal.
1030 Andrew talks to Professor Erik Levi about recent releases of music by Hanns Eisler and Kurt Weill.
1130
Excerpt from Beethoven's Missa Solemnis
Regine Hangler (soprano)
Elisabeth Kulman (alto)
Christian Elsner (tenor)
Franz-Josef Selig (bass)
Rundfunk Sinfonieorchester Berlin
MDR-Rundfunkchor Leipzig
Marek Janowski
Producer Chris Barstow.
Summer Record Review
9.00am
Stravaganza d'Amore!
ALLEGRI: Primo ballo della notte d'amore
ALLEGRI, L: Primo Ballo
BRUNELLI: Non havea Febo ancora
BUONAMENTE: Ballo del Gran Duca; Ballo del Gran Duca
CACCINI, G: Ineffabile ardore (Il Rapimento di Cefalo); O che felice giorno; Al canto, al ballo; Funeste piagge; Trionfi oggi pieta
CAVALIERI: O che nuovo miracolo
FANTINI: Toccata 'La Renuccini'
GAGLIANO: Ohime che vegg'io a 5 'La Dafne'; Poi giacque estinto al fine 'La Dafne'; Un guardo, un guard'appena; Bella ninfa fuggitiva
MALVEZZI: O fortunato giorno; Dal vago e bel serono; O qual rispelnde nube; Dolcissime sirene; A voi reali amanti; Coppia gentil
MARENZIO: La dipartita e amara; Donne il celeste lume; Qui di carne si sfama; O mille volto; Udite, lagrimosi spirti d'Averno, udite
OROLOGIO: Apollo affronta il serpente
PERI, J: Lassa, che di spavento; Non piango e non sospiro; Cruda morte - Sospirate aure celesti; Giote al canto mio (from Euridice); Ma che piu?
STRIGGIO: O giovenil ardire
Ensemble Pygmalion, Raphael Pichon (conductor)
HARMONIA MUNDI HMM90228687 (2 CDs + Book)
Bach - Secular Cantatas VIII
BACH, J S: Cantata BWV206 'Schleigt,spielende Wellen, und murmelt gelinde'; Cantata BWV215 'Preise dein Glucke, gesegnetes Sachsen'
Hana Blažikova (soprano), Hiroya Aoki (alto), Charles Daniels (tenor), Roderick Williams (bass), Bach Collegium Japan, Masaaki Suzuki (conductor)
BIS BIS2231 (Hybrid SACD)
9.30am – Proms Composer: Sir James MacMillan
BRAHMS: Ein Deutsches Requiem Op. 45
Lore Binon (soprano), Tassis Christoyannis (baritone), Flemish Radio Choir, Herve Niquet (conductor)
EVIL PENGUIN EPRC0019 (CD)
Macmillan: The World's Ransoming
MACMILLAN: The World's Ransoming. A Concertante work for cor anglais and orchestra; The Confession of Isobel Gowdie
Christine Pendrill (cor anglais), London Symphony Orchestra, Sir Colin Davis (conductor)
LSO LIVE LSO0124 (CD)
MACMILLAN: The Berserking; Britannia; Into the Ferment
Martin Roscoe (piano), BBC Philharmonic Orchestra, James MacMillan (conductor)
CHANDOS CHAN10092 (CD)
MacMillan: Violin Concerto & Symphony No. 4
MACMILLAN: Violin Concerto; Symphony No. 4
Vadim Repin (violin), BBC Scottish Symphony Orchestra, Donald Runnicles (conductor)
ONYX ONYX4157 (CD)
Who Are These Angels?
MACMILLAN: And lo, the Angel of the Lord; The Strathclyde Motets: Qui meditabitur; The Strathclyde Motets: O Radiant Dawn; The Strathclyde Motets: Lux aeterna; The Strathclyde Motets: Os mutorum; Bring us, O Lord; The Strathclyde Motets: Canticle of Zachariah; Benedictus Deus; Advent Antiphon; The Strathclyde Motets: Pascha nostrum immolutes est; Who are these Angels?; Think of how God loves you; The Strathclyde Motets: Benedicimus Deum caeli; Mass of Blessed John Henry Newman
Cappella Nova, Alan Tavener
LINN CKD383 (CD)
Macmillan: Stabat Mater
MACMILLAN: Stabat Mater
The Sixteen, Britten Sinfonia, Harry Christophers (conductor)
CORO COR16150 (CD)
MacMillan: Mass and other sacred music
MACMILLAN: A New Song; Mass; Christus vincit; Gaudeamus in loci pace; Seinte Mari moder milde; A Child's Prayer; Changed
Andrew Reid (organ), Westminster Cathedral Choir, Martin Baker (Master of Music) (conductor)
HYPERION CDA67219 (CD)
10.15am – New Releases
La Esfera de Apolo
OREJON Y APARICIO: A del Dia, Our Lady of Copacabana; Villancico; Jilguerillo sonoro; Ah, de la esfera de Apolo; Tocatta - Al post Comunio; Xacara - Segun veo el Aparato; Dolores y Gozos de San Joseph: Chacona - Giga
Musica Temprana
COBRA COBRA0051 (CD)
Brazilian Landscapes
ALEGRE: Sonhos
BELLINATI: Pingue-Pongue; Jongo
GISMONTI: Karate; A Fala de Paixao; A Fala de Paixao
JOBIM: Olha Maria (Amparo)
MURRAY, D: Cancao e Danca; Cauteloso
NAZARETH: Fon-Fon!
PASCOAL: Sao Jorge
RIBEIRO: Miniaturas (VIII)
VILLA-LOBOS: Choros No. 2 for flute & clarinet; Choros No. 5 'Alma Brasileira' for piano
Michala Petri (recorder), Marilyn Mazur (percussion), Daniel Murray (guitar)
OUR RECORDINGS 6220618 (Hybrid SACD)
Piano Music of Cuba
ANGULO: Zapateo Cubano
ARDEVOL GIMBERNAT: Danzon
BROUWER, L: Boceto No. 4 'Acosta Leon'
BUELTA Y FLORES: La Valentina
GARCIA CATURLA: Comparsa
GUERRERO, E: La que a ti te gusta
LEON, A: Invencion No. 3
LOPEZ NUSSA: Nina con violin
LOPEZ-GAVILAN, A: an con "Timba"
PEREZ SENTENAT: Palmas reales rubias
PINERA: Estudio de concierto; Y el brillo de la luna te encantaba
RODRIGUEZ SUAREZ: Preludio No. 3: Motivos de danz
ROLDAN: Mulato
VALERO: Cuento sonoro
VITIER: Habanera del angel
Alexandre Moutouzkine (piano)
STEINWAY & SONS STNS30064 (CD)
Mozart in Havana
MOZART: Piano Concerto No. 21 in C major, K467 'Elvira Madigan'; Piano Concerto No. 23 in A major, K488
Simone Dinnerstein (piano), Havana Lyceum Orchestra, Jose Antonio Mendez Padron
SONY 88985382442 (CD)
10.50am – New Releases: Erik Levi on Weill and Eisler
Edition RadioMusiken, Vol. 3: Plays & Opera for the Radio
GRONOSTAY: Mord
GROSZ: Banken und Balladen Op. 31
HAAS, P: Radio Overture Op. 11; Radio Overture Op. 11
HINDEMITH: Sabinchen
SUTERMEISTER: Jorinde und Joringel
WEILL, K: Berliner Requiem
Jens Winkelmann (tenor), Jihoon Kim (bass), Gerd Wiemer (baritone), Christian Grygas (tenor), Jeanette Oswald (soprano), Bernd Konnes (tenor), Elke Kottmair (soprano), Tanja Hoft (mezzo-soprano), Marcus Gunzel (baritone), Inka Lange (narrator), Hans-Jurgen Wiese (bass-baritone), Wolfgang Schaller (narrator), Elmar Andree (bass-baritone), Manja Freitag-Feetz (soprano), Veit Zorn (tenor), Herbert Adami (baritone), Jessica Glatte (soprano), Frank Ernst (tenor), Orchester der Staatsoperette Dresden, Chor der Staatsoperette Dresden, Berliner Rundfunkorchester, Ernst Theis
CPO 7778392 (2CD)
Thousands of Miles
KORNGOLD: Mond, so gehst du wieder auf
MAHLER, A: Hymne; Die stille Stadt
WEILL, K: Nanna's lied (Text: Bertolt Brecht); Pirate Jenny (from The Threepenny Opera); Barbara Song (from The Threepenny Opera); Trouble Man; Je ne t'aime pas (text: Maurice Magre); Big Mole; Don't Look Now; Lonely House from Street Scene; Der Abschiedsbrief; Denn wie man sich bettet (from Rise and Fall of the City of Mahagonny); Buddy on the Nightshift
ZEMLINSKY: Und hat der Tag all seine Qual; Selige Stunde
Kate Lindsey (mezzo), Baptiste Trotignon (piano)
ALPHA ALPHA272 (CD)
Ballads of the Pleasant Life: Kurt Weill, Weimar and Exile
EISLER: Lied der Bergarbeiter (Song of the Miners); Stempellied (No. 6 from Sechs Lieder Op. 28); Gruss an die Mark Brandenburg (Greetings to Brandenburg March)
KORNGOLD: Gluckwunsch
SCHOENBERG: Dank Op. 1 No. 1
SCHREKER: Die Rosen und der Flieder
STOLZ, R: Schon war's heute Abend (This Evening Was Beautiful); Ein schoner Herbst (A Beautiful Autumn); Ich hab' mich tausendmal verliebt (I've Fallen in Love a Thousand Times)
WEILL, K: The Ballad Of The Good Life (from The Threepenny Opera); September Song; Les Filles de Bordeaux (The Girls of Bordeaux); Kanonensong (from Die Dreigroschenoper); Moritat von Mackie Messer (from The Threepenny Opera); There'll Be Life, Love and Laughter; Tschaikowsky; Anstatt dass-Song (Instead of Song); Song of the Free; Tango Ballad
ZEMLINSKY: Lied der Baumwollpacker (from Symphonische Gesange Op. 20)
Peter Coleman-Wright (baritone), Nexas Saxophone Quartet
ABC CLASSICS ABC5762204 (CD)
Hanns Eisler: Lieder Und Balladen Vol 1
EISLER: Bankenlied Op. 48 No. 1; Die Ballade vom Wasserrad Op. 45 No. 11; Lied Der Nanna; Lied von der belebenden Wirkung des Geldes; Kuppellied; Das "Vielleicht"-Lied; Chorlied Von Der Nutzlichen Missetat; Andere Die Welt, Sie Braucht Es; Grabrede Fur Einen Genossen; Lob Des Lernens; Solidaritatslied (No. 1 from Kuhle Wampe Op. 27); Die Spaziergange; Sklave, wer wird dich befreien; Oh Falladah, Die Du Da Hangest; Das Lied Vom Anstreicher Hitler; Deutsches Lied 1937, 'Marie, weine nicht'; Stempellied (No. 6 from Sechs Lieder Op. 28); Schlussballade; Lied Der Mariken; Wenn Der Igel In Der Abendstunde; In Die Stadte Kam Ich; An Die Uberlebenden; Das Lied Vom SA-Mann; Ballade Vom Baum Und Den Asten; Der Rauber und sein Knecht; Die Ballade vom Soldaten; Das Einheitsfrontlied
Holger Falk (baritone), Steffen Schleiermacher (piano)
MDG MDG6132001 (CD)
Hanns Eisler: Film Music
EISLER: Hangmen Also Die; Orchesterstucke (5) from the Film 400 Millionen; The Grapes of Wrath; Kleine Symphonie; Horfleissubung
Rundfunk-Sinfonieorchester Berlin, Johannes Kalitzke (conductor)
CAPRICCIO C5289 (CD)
11.45am – Disc of the Week
BEETHOVEN: Missa Solemnis in D major Op. 123
Regine Hangler (soprano), Elisabeth Kulman (alto), Christian Elsner (tenor) and Franz-Josef Selig (bass), MDR-Rundfunkchor Leipzig, Rundfunk Sinfonieorchester, Marek Janowski (conductor)
PENTATONE PTC5186565 (Hybrid SACD)