Main content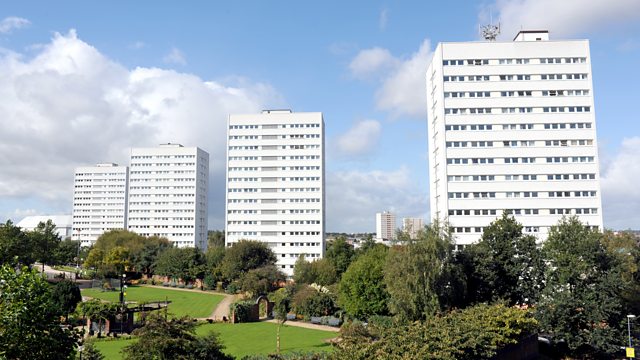 High Rise
Following the Grenfell Tower fire, a radio meditation on the enduring dream, and the potential nightmare, of tower block life.
Since the Grenfell Tower fire in June, the architectural dream of Le Corbusier's 'streets in the sky' has, in many minds, become a living nightmare. Every high rise building in the country, and each of their residents, has become embroiled in the Grenfell story. As this debate with its practical and policy considerations continues, High Rise offers a radio meditation on the experience of tower block life.
What has come of that vision of airy existence above the bustle of the streets, with open horizons and light-filled apartments? What future can tower blocks now have in the provision of social and private housing? Who will want to live in them and, more to the point, what happens to the current residents?
In a mosaic of interviews gathered around the country, we hear from Rita in Margate's famous Arlington House, a block her father helped build. "It gleamed like a diamond back then," she says. Nicole, who lives in Cables Wynd House in Leith, featured in the film of Irvine Welsh's Trainspotting, shares the horror she experienced as a teenager living locked in the sky. We visit Rochdale where residents have mounted a campaign to stop the proposed demolition of their iconic Seven Sisters tower blocks.
In London, Bill speaks of his long, happy years on the notorious Pepys Estate in Deptford. Across the city, JP Ajunonwu, a resident in the iconic Trellick Tower, describes the night of the fire in neighbouring Grenfell Tower. Francesca and her young daughter visit what, until that night, she'd anticipated as being her wonderful new home on the 13th floor of a high rise.
And architectural writer Shumi Bose, who grew up in a tower block in Kolkata, outlines the dreams of the architects and urban planners who designed our modern cityscapes.
Produced by Rebecca Lloyd-Evans and Alan Hall
A Falling Tree production for BBC Radio 4.
Last on
Broadcasts