Main content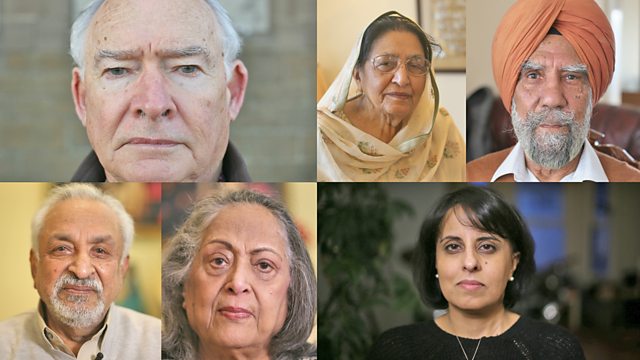 Division
To mark the 70th anniversary of the partition of India, British Asians and the Colonial British who witnessed the violence tell their stories.
On the 70th anniversary of the partition of India, Kavita Puri hears remarkable first-hand testimonies from both British Asians and the Colonial British. The division of the Indian subcontinent into Hindu-majority India and Muslim-majority Pakistan resulted in one of the largest migrations the world has ever seen. Over 10 million people sought refuge in one or other of the new dominions. Unspeakable violence accompanied the displacement, claiming up to a million lives, while tens of thousands of women suffered rape and abduction. Many of those who experienced the chaos have kept their silence ever since, such was their trauma. Yet those taking part in this series speak with remarkable clarity about the tumultuous events, whose legacy endures to this day within Britain's South Asian communities.
This first programme covers the years leading up to partition; a time in which many Muslims, Sikhs and Hindus recall living together harmoniously - indeed, sometimes remarkably closely. We hear about the calls for the British to quit India; the rising clamour for an independent Pakistan; the dread as communal rioting gripped ever more of the subcontinent; and how the movement of people began even before partition, as the first refugees abandoned lands inhabited for centuries; and how independence day was marked on both sides of the border.
Producer: Mike Gallagher, Tim Smith, Ant Adeane
Academic Consultants:-
Dr Joya Chatterji, Professor of South Asian History, University of Cambridge
Dr Andrew Whitehead, Honorary Professor, University of Nottingham
Radio 4's Partition Voices recordings will be archived in full in the British Library Sound Archive.
Last on
Broadcasts