Main content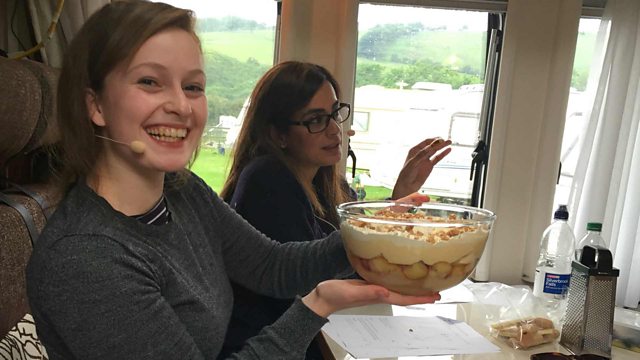 Campervan - Retro Foods
Neil, Flora and Sumayya go all retro this week as they head to the seaside town of Largs in the Kitchen Café campervan. We take a step back in time as Neil and Flora cook up some retro classics for lunch and Sumayya visits Nardini's, one of Scotland's most famous ice cream parlours.
Petit Pois A La Francaise by Neil Forbes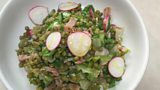 4 portions
prep time 5 mins
cooking time 5 mins
Ingredients
1 tin of petit pois in water, alternatively you can use blanched fresh peas or even frozen
1 baby gem lettuce, washed
4 rashers of good Ayreshire bacon
4 shallots, peeled and finely chopped
small handful of mint, fresh
a few radish, washed and sliced
a good knob of butter
a tablespoon of cold pressed rape seed oil
good salt and pepper
Method
Heat a frying pan on the hob and add the oil, then the shallots and fry for a minute.
Cut the bacon into lardons or small strips and add to the pan, continue to fry and add the butter.
Next, drain the peas and pop into the pan, season with good salt and pepper and add the washed shredded lettuce.
Give a good toss and add the radish and chopped mint leaves check for seasoning again and serve at once.

Trifle by Flora Shedden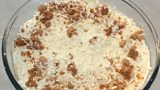 Ingredients
550ml Prosecco
150ml water
100g caster sugar
8 gelatine sheets
250g madeira cake
3-4 flat white peaches
1 tin of pear halves
1 tin of custard
450ml double cream
white chocolate and amaretti biscuits to decorate
Method
The night before make the jelly.
Soak the gelatine sheets in a bowl of cold water until wrinkled.
Heat the water and sugar together until the sugar has fully dissolved. Remove from the heat. Squeeze any excess water off the gelatine sheets the stir into the hot syrup.
Pour in the Prosecco and stir to combine.
Cut the cake into small fingers roughly 1-2cm thick. Arrange in the bottom of our bowl or glass serving dish. Cut the peaches into small segments and scatter on top. Place the jelly over the cake and peaches.
Cover and place in the fridge for at least 6 hours though ideally overnight.
To finish assembly, chop the pears into quarters then arrange over the set jelly.
Pour the custard on top and spread level.
Softly whip the cream then spoon small dollops onto the custard spreading gently.
Sprinkle with amaretti crumbs and a grating of white chocolate.
Store in the fridge until serving.
Podcast
Celebrate the joy of Scotland's larder with recipes, reviews, tips and delicious ideas!