Main content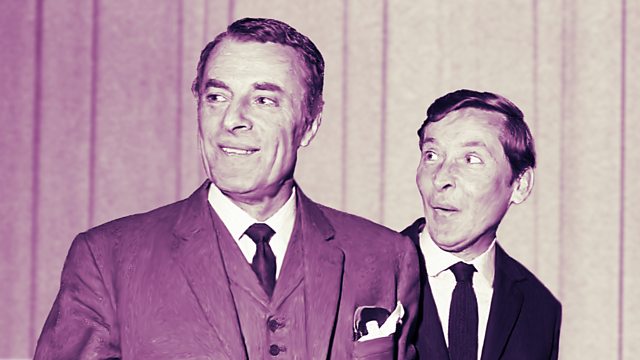 Paul O'Grady - The Bona History of Julian and Sandy
Made for 4 Extra. The fantabulosa Paul O'Grady talks polari to Ben Hunte, plus the dolly Maureen Lipman's vada at Round the Horne's omi-polones.
4 Extra's 'Gay Britannia' season welcomes the fantabulosa Paul O'Grady to talk polari - and solve some mysteries of the gay slang - with host, Ben Hunte.
Followed by:
The Bona History of Julian and Sandy:
Maureen Lipman's vada at the legendary omi-polones from 'Round the Horne', as portrayed by Kenneth Williams and Hugh Paddick.
Featuring Hugh Paddick, Kenneth Williams, Betty Marsden, Barry Took and Kenneth Horne.
Just the catchphrase of the legendary camp double-act "Hello, I'm Julian and this is my friend Sandy" was enough to spark audience laughter. Thanks to the sharply written scripts of Barry Took and Marty Feldman, Paddick and Williams helped introduce the camp gay language of polari to BBC listeners over four series between 1965 - 1968.
Each week, straight man Kenneth Horne found himself trolling into a variety of bona scenarios, being mercilessly sent up by the innuendo-loving duo.
Lipman explains more of the mysteries of speaking polari, along with classic Round the Horne clips from Bona Law, Rentachap, Bona Tours, Ballet Bona and Bona Productions.
Written and produced by Turan Ali.
First broadcast on BBC Radio 4 in 1998
The 'Gay Britannia' season on 4 Extra celebrates LGBT history in Britain for the 50th anniversary of the partial decriminalisation of homosexuality.
Produced for BBC Radio 4 Extra by Peter Reed.
Last on
Broadcasts

When did being gay become a crime?