Main content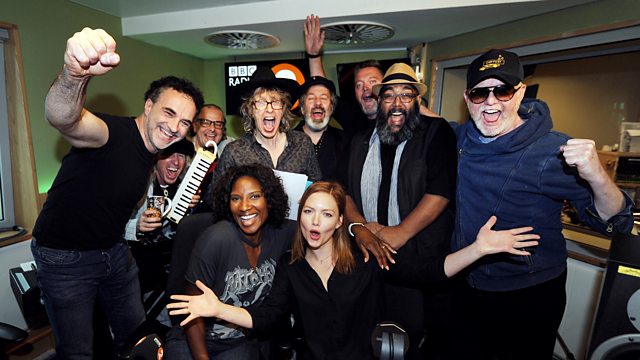 Noel Fitzpatrick, Denise Lewis, Holliday Grainger and The Waterboys
Supervet Noel Fitzpatrick on Animal Rescue Live, Denise Lewis ahead of the World Athletics Championship, Holliday Grainger spills the beans on Strike and The Waterboys play live.
Supervet Noel Fitzpatrick tells Chris about heading to Newcastle Dog & Cat Shelter for Animal Rescue Live every night next week on Channel 4, as well as answering questions about pets which are smaller than a mouse! Gold-winning Olympian Denise Lewis OBE gives us a preview of what to watch out for at this year's World Athletics Championships and how darts inspired her career. Actress Holliday Grainger spills the beans on her new BBC One crime drama Strike, based on the novels by J.K Rowling's pseudonym Robert Galbraith. There's live music from The Waterboys as they perform classic tracks The Whole of The Moon, How Long Will I Love You, their new single and a classic Bob Dylan cover! Plus Vassos has the sport and writer Abdul-Rehman Malik has the daily Pause For Thought.
Last on
Music Played
Basement Jaxx

Rendez-Vu

(CD Single).
XL Recordings.

Blondie

Too Much

Pollinator.
BMG Rights Management.
010.

Michael McDonald

Sweet Freedom

Michael McDonald - Sweet Freedom.
Warner Bros.

Meghan Trainor

Lips Are Movin

Lenny Kravitz

California

Lenny Kravitz - Baptism.
Parlophone.

Luis Fonsi

Despacito (Remix) (feat. Daddy Yankee & Justin Bieber)

Prince

&

The Revolution

Purple Rain

The Love Songs Album (Various).
Universal.

Elvis Presley

All Shook Up

Presley - The All Time Greatest Hits.
RCA.

Elvis Presley

&

Royal Philharmonic Orchestra

Burning Love

If I Can Dream.
RCA.
001.

Arcade Fire

Everything Now

Calvin Harris

Feels (feat. Pharrell Williams, Katy Perry & Big Sean)

Wham!

Wham Rap! (Enjoy What You Do)

Wham - The Best Of Wham!.
Epic.

Fleur East

Sax

Love, Sax & Flashbacks.
Syco.

The Sugarhill Gang

Rapper's Delight

The Seventies: A Very Special Collect.
Pickwick.

The Weeknd

Can't Feel My Face

Beauty Behind The Madness.
Republic.
7.

Pratt & McClain

Happy Days

Television's Greatest Hits Volume 3 70s & 80s.
Silva Screen Records Ltd.

Jamiroquai

Superfresh

(CD Single).
Virgin.
004.

Modjo

Lady (Hear Me Tonight)

Now 47 (Various Artists).
Now.

Rag'n'Bone Man

As You Are

(CD Single).
Columbia.
002.
Pause For Thought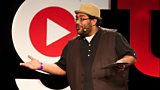 Writer Abdul-Rehman Malik.
Chris, just as I think I have found the secret to making my son listen to me – usually a mix of bribery and affection – he finds a way to confound me. My entreaties to him are now met with philosophical answers. The other day he tried to convince me that both our opinions had equal weight because, after all, he said, "we're both just people, aren't we?" 
So I was surprised when my wife called me a few weeks ago while I was away in Indonesia, that our son had been acting withdrawn, less precocious. He was mum about it, but ended up spilling the beans one night while half asleep. He'd been experimenting with nail polish and his fingers had been a cacophony of dazzling colours. It turns out some of the kids in the neighbourhood didn't take too kindly to this. They laughed at him and proffered the usual gender questioning slurs. 
Sitting in my hotel room, I thought of my son – whose fearless gumption and can-do attitude I celebrate and love so much – being caught in a snare of mean words, guilt and confusion. I was filled with anger and sadness. 
I've been working for the last year on a project in Indonesia, the most populous Muslim country in the world, whose complex cultures have been shaped by an intermingling of many ancient and beautiful traditions. I've been helping a diverse group of young leaders use the power of storytelling to confront a rising wave of intolerance. 
Through the telling of their stories to each and with each other, I have seen these remarkable women and men – some who have experienced violence for their beliefs – find healing and offer forgiveness. 
"Come, let us get to know each other", urged the Anatolian mystic Yunus Emre. "Let us make our work easier. Let us love and be loved. No one inherits this world. No one's here forever." 
The Waterboys wisely told us in their iconic song, there are some of us whose vision is limited – by fear or circumstance. We see just the crescent, but those daring ones, they see the whole of the moon.
To confront hate and hurt is to be daring. To be able to tell your story without fear is to be human. Everyone deserves to be understood. It's the lesson we all ought to be teaching. As my son would, we're all just people aren't we?
Broadcast