Main content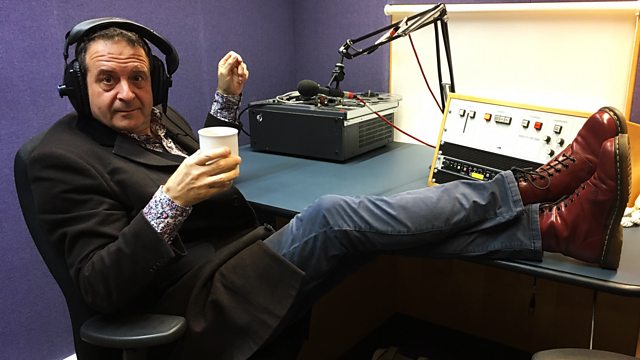 03/08/2017
Mark and Stuart are joined by comedian, political satirist and writer, Mark Thomas.
Mark Radcliffe and Stuart Maconie trotting round the 6Music gymkhana in hope of winning that Radmac musical rosette.
Joined by today's guest, comedian, political satirist and writer, Mark Thomas. He first became known as a guest comic on Radio 1 comedy show The Mary Whitehouse Experience in the late 80s and describes himself as a 'libertarian anarchist'. Well-known for his Radio 4 series Mark Thomas: The Manifestor, he features in the Guinness Book of Records for the Most Number of Political Demonstrations in 24 Hours (2006), and is here today to talk more about his latest ventures.
As well as their guest, Rad and Mac have their hardy perennial show features: The Chain - YOU get to suggest the next track, connected any way you like to the one before it - and Tea Time Theme Time, the end-of-show tracks linked to one another BUT HOW? It's up to you to get in touch and guess the connection.
Plus a daily gathering of Music News to pop into your audio vases, and a smattering of all the latest records gathered by Mark and Stuart too. Blooming marvellous!
Last on
Music Played
Arctic Monkeys

Brianstorm

Waxahatchee

Never Been Wrong

Fatback Band

(Are You Ready) Do The Bus Stop

Mercury Rev

Coney Island Cyclone

Wildwood Kin

Taking a Hold

Dream Warriors

Wash Your Face In My Sink

Phoenix

Ti Amo

Loyaute/Glassnote Records.

Tom Petty

&

The Heartbreakers

Breakdown

Depeche Mode

People Are People

Radiohead

Jigsaw Falling Into Place

The Charlatans

Different Days

Brian Eno

I'll Come Running

The Chemical Brothers

Setting Sun

The Fall

Gibbus Gibson

New Facts Emerge.
Cherry Red.

The Smashing Pumpkins

Rocket

Alice Clark

Never Did I Stop Loving You

Arcade Fire

Signs Of Life

Jane Weaver

Did You See Butterflies?
Broadcast