Main content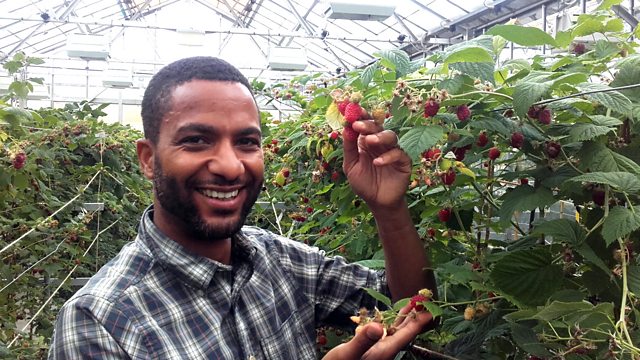 Fife
Ellie Harrison crosses the Firth of Forth to witness the seasonal spectacle of guillemots, kittiwakes and puffins jostling for position on the Isle of May.
Our Scottish journey starts just off the mainland - on the Isle of May. It's home to the largest puffin colony on the east coast of Britain at this time of year. Ellie Harrison crosses the Firth of Forth to see the seasonal spectacle. With guillemots, kittiwakes and puffins all jostling for position on the islands ledges and perches, Ellie finds out from David the island manager about the work they do to make it a five-star stay for seabirds.
Sean Fletcher discovers Fife's importance as a (soft) centre of excellence when it comes to fruit growing. He looks at the history of the connection between fruit and the east coast of Scotland. Sean then plays 'scientist' at the James Hutton Institute, a lab that has been creating a raspberry-breeding programme to produce new breeds for local growers. He visits the 'crumbly fruit house', checking that new breeds hold up to picking without crumbling, and then asks fruit breeder Nikki Jennings just how Fife can create raspberries with a fuller flavour and less sugar than its southern counterparts.
Adam takes to the skies with Roger Nock from Ordnance Survey to map his field margins, and Tom Heap looks at the unseen side of TB - its effect on goats, asking why the disease isn't being dealt with the same rigour as it is in our cattle herds.
The Magic of May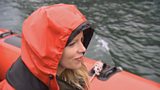 In this week's Countryfile Ellie will be on the Isle of May, at least she will be if she can get there! With all the passenger ferries to the island cancelled due to bad weather, Ellie has to make last minute arrangements. Thankfully, the weather calms and Roy Giles and his high speed rib come to the rescue!  After a wet and bumpy ride Ellie makes it to the Isle to be met by Bex Altram and 100,000 seabirds!  Getting to see this impressive seabird spectacle is a real treat for any bird lover, and Ellie gets even closer than most to one of the UK's favourite birds; the Puffin. She'll find out more from Mark Newall about the birds – but in such bad weather, the race is on to save the chicks as a storm rages.
Coastal Connections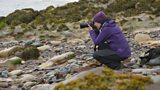 For landscape photographer Karen Thorburn, Fife has always held a special place in her heart. From childhood holidays to travelling though the countryside by train, Karen wanted to capture her memories of the place.
So she decided to embark on a mammoth walk - to complete the Fife Coastal Path, 117 miles of stunning scenery, wild landscapes, industrial towns and pretty fishing villages, as well as the world famous bridge the Forth Rail Bridge. Along the way she took 117 photographs, one for each mile marking her route along the coast.
In this postcard we find out just how hard the walk was but also how rewarding. We also discover what this walk meant to Karen and its connection to her grandfather, a train driver who had a very close link to the area and to the Rail Bridge.
Goat TB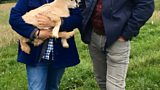 Bovine TB, most commonly associated with cattle and badgers, has blighted the British countryside; but other farmed animals can also be infected with the disease. Tom Heap is looking at how TB is affecting the UK's growing goat farming industry. With no mandatory testing, and little or no compensation for infected goats in England, there are concerns the disease could spread unnoticed. He meets goat farmer Tom Nicholls who lost more than a thousand animals to the disease, and a Cashmere goat breeder who farms in a high risk TB area in Devon and lives in fear of her flock being tested. Last year the government committed to a new strategy for dealing with TB in non-bovine species like goats. Will they deliver on their promise?  
Seabird Bonanza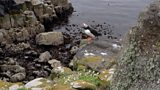 After a night on the Isle of May Ellie discovers that the weather has taken a turn for the worse.  At this time of year this is a disaster for the puffin population as David Steel, reserve manager, explains. With waves and water to contend with and burrows getting flooded it is a sad story for many of the new born pufflings.
But there's another problem ruffling feathers; the Black Backed Gull. They like nothing more than snacking on the abundant puffin population. Ellie meets Sophie Bennett to discuss this conservation quandary; should we prioritise the survival of one species to the detriment of the other? Both species are on protected lists and both have chicks to feed. 
https://www.rspb.org.uk/birds-and-wildlife/bird-and-wildlife-guides/bird-a-z/p/puffin/
Field Margin Mapping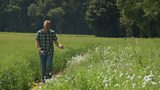 Summer is in full swing down on Adam's Farm. But its not just the hedgerows and the crops that are bursting with life. As the days have lengthened Adam's field margins have become a riot of colour.
Richard Spyvee from Gloucestershire Wildlife Trust visits the farm to see if Adam's field margins are doing their best for both the environment and the farm.
The government do pay a subsidy for every acre of field margin or kilometre of hedgerow that farmers have - but measuring them is quite a daunting task! But there is a new way to new way to measure field margins. Rather than farmers taking their own measurements - the Ordnance Survey can fly over fields and create a 3D map. It's the first of its kind in the country and Adam sees for himself, how it could pave the way for the farms of the future as well as help the environment.
Raspberry Rapture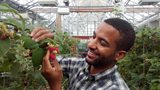 The fruitful fields of Fife lie at Scotland's berry growing heartland.  Sean Fletcher is in the county to find out more. He visits the James Hutton Institute where Dr Rachel McGauley and her colleagues are leading the way in raspberry research.  Sean then gets a glimpse inside the institute's raspberry growing glasshouses where Nikki Jennings is running an expansive breeding programme to create amazing new breeds of raspberry.
Having seen what is possible Sean heads into the heart of Fife to see raspberry growing in action. Here he meets long time fruit farmer John Laird to discover just why Fife is so perfect for growing this popular crop.
With a new breed of raspberry in hand Nikki joins Sean, John and growers from Angus Soft Fruits to find out if this example passes muster 
To round of his raspberry experience Sean and the growers dig into the traditional Scottish pudding Cranachan which showcases the very best of local produce.
Island Life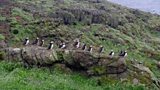 Ellie's seeing a side of the Isle of May that very few visitors get to see. She gets stuck in to daily life on the island as lived by the 12 volunteers and scientists who live there, six months of the year, alongside thousands of summer sea birds.  They might be here for the wildlife but there are still tasks to be done. Ellie is put to task prepping for visitors; maintaining walkways and cleaning to loos! The volunteers all chip in to keep the island running smoothly. And at the end of the day they all sit down for dinner together to reflect on another day on the island.
http://www.snh.gov.uk/enjoying-the-outdoors/what-can-i-do/volunteer/
Credits
| Role | Contributor |
| --- | --- |
| Presenter | Ellie Harrison |
| Presenter | Sean Fletcher |
| Presenter | Tom Heap |
| Presenter | Adam Henson |
| Executive Producer | William Lyons |
| Series Producer | Joanna Brame |