Main content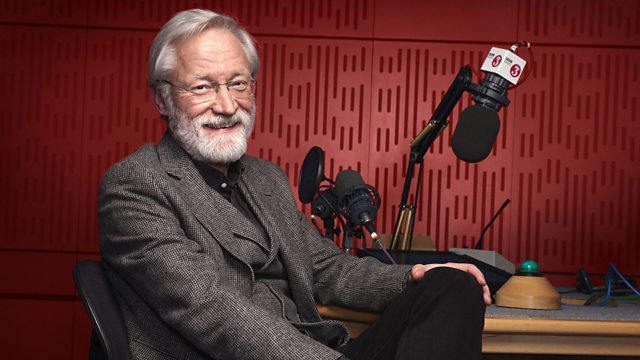 Donald Macleod surveys works from William Mathias that were inspired by Wales.
Donald Macleod surveys works by William Mathias inspired by Wales
Marking the 25th anniversary since the death of the Welsh composer William James Mathias, his daughter Rhiannon Mathias and friend Geraint Lewis join Donald Macleod to explore the composer's extraordinary life and music. During his career Mathias had his works regularly performed on an international stage. His orchestral score Laudi was at one point the most often performed work by any living British composer. Mathias was frequently inundated with commissions, including one to compose music for the wedding of His Royal Highness, The Prince of Wales in 1981. Alongside composing, Mathias was busy teaching new talent at Bangor University, whilst also sitting as a member of the Welsh Arts Council, the British Council, and the Music Advisory Board of the BBC. During his life he was involved in the transition to full professional status of Welsh National Opera, active in the development of the then BBC Welsh Symphony Orchestra, and oversaw the founding of the National Youth Choir and Youth Brass Band of Wales. He was highly active on the British musical scene, and greatly disciplined to have achieved so much during his lifetime. He died aged 57 in 1992 having composed many works including symphonies and concertos.
In 1968 William Mathias left his teaching post in Bangor and headed to Scotland to take up an appointment as Senior Lecturer at the University of Edinburgh. This was a happy period for Mathias and Yvonne, when their daughter Rhiannon was also born. However, the family would only remain in Scotland for one year, for with the illness and subsequent death of his father, Mathias and his family headed back to Wales, where he intended to become a jobbing composer. By 1970 though, a new opportunity came Mathias's way and he was appointed Professor and Head of Music at Bangor University, where he remained for many years. This return to Wales inspired a number of new works, including his Harp Concerto, which was commissioned by the Llandaff Festival and premiered by Osian Ellis. Mathias also received a number of choral commissions, including This Worlde's Joie for the Fishguard Festival and, setting words by the Welsh poet Dylan Thomas, he composed his dark and turbulent Ceremony after a Fire Raid premiered by The Scholars in London.
Magnificat (Jesus College Service, Op 53)
Wells Cathedral Choir
Jonathan Vaughn, organ
Matthew Owens, conductor
Harp Concerto, Op 50
Osian Ellis, harp
London Symphony Orchestra
David Atherton, conductor
Ceremony after a Fire Raid, Op 63
BBC National Chorus of Wales
Andrea Porter, percussion
Matt Hardy, percussion
Christopher Williams, piano
Adrian Partington, conductor
Producer Luke Whitlock.