Main content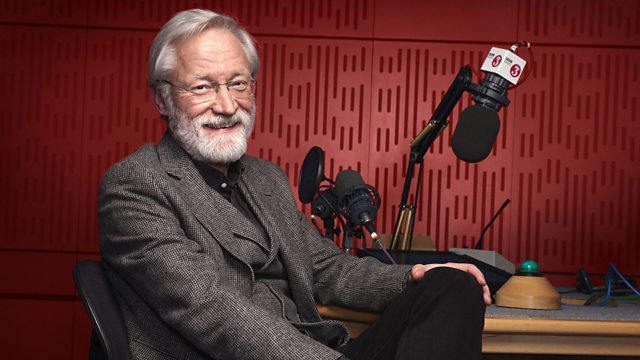 Donald Macleod follows William Mathias's return to Wales to teach at Bangor University.
Donald Macleod follows Mathias's return to Wales to teach at Bangor University
Marking the 25th anniversary since the death of the Welsh composer William James Mathias, his daughter Rhiannon Mathias and friend Geraint Lewis join Donald Macleod to explore the composer's extraordinary life and music. During his career Mathias had his works regularly performed on an international stage. His orchestral score Laudi was at one point the most often performed work by any living British composer. Mathias was frequently inundated with commissions, including one to compose music for the wedding of His Royal Highness, The Prince of Wales in 1981. Alongside composing, Mathias was busy teaching new talent at Bangor University, whilst also sitting as a member of the Welsh Arts Council, the British Council, and the Music Advisory Board of the BBC. During his life he was involved in the transition to full professional status of Welsh National Opera, active in the development of the then BBC Welsh Symphony Orchestra, and oversaw the founding of the National Youth Choir and Youth Brass Band of Wales. He was highly active on the British musical scene, and greatly disciplined to have achieved so much during his lifetime. He died aged 57 in 1992 having composed many works including symphonies and concertos.
After graduating from Aberystwyth, William Mathias went to study with Lennox Berkeley at the Royal Academy of Music in London. His own musical language was emerging at this time, including what would become regular traits - a taste for syncopation and his harmonic language. During this period of the late 1950s and early '60s, Oxford University Press began to publish music by Mathias, which they then regularly did throughout his lifetime. Mathias also met a fellow student at the RAM, Yvonne Collins, and they were married in 1959. The newlyweds soon returned to Wales where Mathias took up his first teaching post as Lecturer in Music at the University College of North Wales, Bangor. This was a busy period when, on top of teaching commitments, Mathias explored and expanded his own musical voice with works such as his Invocations for organ. As an accomplished pianist Mathias also performed in the premiere of his third Piano Concerto in 1968, alongside the BBC Symphony Orchestra at the Swansea Festival.
Improvisations for Harp, Op 10
Elinor Bennett, harp
Invocations, Op 35
John Scott, organ
Piano Concerto No 3, Op 40
Peter Katin, piano
London Symphony Orchestra
David Atherton, condcutor
There is no rose of such virtue, Op 45 No 3
Christ Church Cathedral Choir
Simon Lawford, organ
Stephen Darlington, conductor
Producer Luke Whitlock.