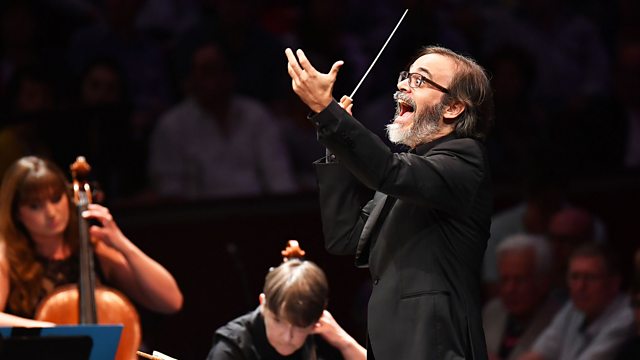 Live at the BBC Proms: the BBC SSO and Ilan Volkov are joined by Steven Osborne for the world premiere of Julian Anderson's piano concerto, The Imaginary Museum.
Live from the Royal Albert Hall, London
Presented by Kate Molleson
Liszt: Hamlet
Julian Anderson: Piano Concerto, The Imaginary Museum (world premiere)
c. 8.10pm INTERVAL - Proms Extra
Presenter Sara Mohr-Pietsch and guest, the pianist and broadcaster David Owen Norris, explore the theme of orchestration in connection with today's Prom.
c. 8.30pm
Liszt: From the Cradle to the Grave
Mussorgsky, orch. Ravel: Pictures at an Exhibition
BBC Scottish Symphony Orchestra
Ilan Volkov, conductor
Steven Osborne, piano
The BBC Scottish Symphony Orchestra and its Principal Guest Conductor, Ilan Volkov, perform two of the last in the series of Liszt's symphonic poems - the mercurial Hamlet, a study of Shakespeare's tragic hero, and From the Cradle to the Grave, one of Liszt's most experimental works. They sit alongside Mussorgsky's much-loved Pictures at an Exhibition and the world premiere of a new piano concerto by Julian Anderson, which offers a tour around 'an imaginary museum' of contrasting worlds and sensations.
Producer Douglas Templeton.
Last on