Main content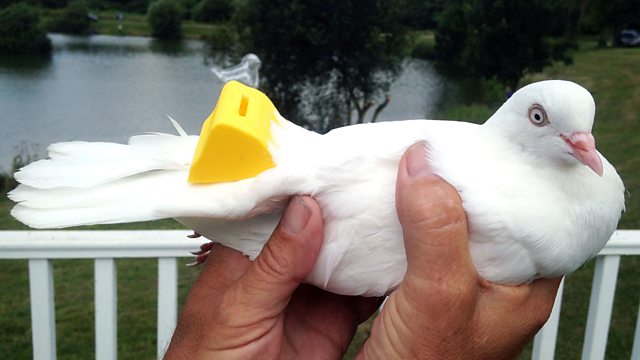 The Pigeon Whistles
Pigeon Pete and musician Nathanial Mann bring to life the thousand-year-old art of pigeon whistles - flying birds making music - with a glimpse of the world of the pigeon fancier.
The sound of music flying through the air, carried on the tails of pigeons.
"I knew it was a noise maker, but it was the only thing in the museum that I had no idea what it might sound like. Because it works in a way no other instrument does. No other instrument physically moves around you in space, flying overhead, and that seemed like magic".
Inspired by the Chinese pigeon whistles in the Pitt Rivers Museum, Oxford, Nathaniel Robin Mann decided he wanted to revive the ancient art of pigeon whistling, a tradition possibly thuosands of years old, in which tiny flutes are attached to pigeons in flight. His experience with birds, however, was limited and he needed a bird expert.
"None of the pigeon racers wanted to get involved in a music project. Then someone said, 'Well, there's this guy in Nottingham who has a loft made of an old hutch that he straps to the back of his scooter. They call him Pigeon Pete.'"
Enter Pete Petravicius, Nottinghamshire ex-miner and steeplejack. A life-long passion for pigeons makes him the perfect trainer to teach the birds how to fly with their unusual musical attachments.
We follow Nathan and Pigeon Pete as their friendship, and their understanding of the pigeon whistles grow. From the gloomth of the Pitt Rivers Museum, to the creation of a modern day 3D-printed whistle for Pete's pigeons.
Finally, we hear a pigeon's flight described in sound across the sky, creating a haunting, undulating chord cloud, accompanied by Nathan's hypnotic voice, singing songs he has discovered about pigeon culture.
Producer: Sara Jane Hall
About the presenters:
Nathaniel Mann is a composer, singer and performer. As Sound & Music's Embedded Composer in Residence at the Pitt Rivers Museum and Oxford Contemporary Music, he discovered the world of Pigeon Whistles, and started to explore their potential, supported by PRSF, a foundation helping new musicians make new work.
His eclectic projects chart diverse worlds of sound and culture, from bronze foundries and popcorn, to donkeys and Trafalgar Square - each has found a voice through Mann's work.
Pete Petravicius is unique in that he is the only man in the UK who trains his birds to return to a mobile pigeon loft. The birds can thus travel across the country, flying in formation and returning to their small motor home/coop. He's also an ex-miner and terrific raconteur who loves his Birmingham Rollers.
The Pigeons are cared for in strict accordance to guidelines and regulations laid out by the DEFRA & the Animal Health and Veterinary Laboratories Agency (AHVLA). The use of Pigeon Whistles has been deemed as not causing stress or harm to the birds by independent animal welfare advisors and Pigeon Fancing experts.
3D Pigeon Whistles modeled and printed by Joe Banner at Printrite, Nottinghamshire.
About the music :
The Pigeon Bell
Words/Music: Mann - after poems by Mei Yaochen (1002-1060) & Zhang Xian (990-1078) - as translated by Wang Shixiang
The Pigeon
Words: Trad. Music: Mann
Adapted from 19th Century Broadside Ballad "The Pigeon" Found in Bodleian Library's collections Shelfmark: Harding B 21(14)
The Pigeon Chase
After 'Uke Uke' - Fox Chase - as sung by Dee Hicks of the Cumberland Plateau
Words: Mann / Music: Trad.
Last on
Broadcasts