Main content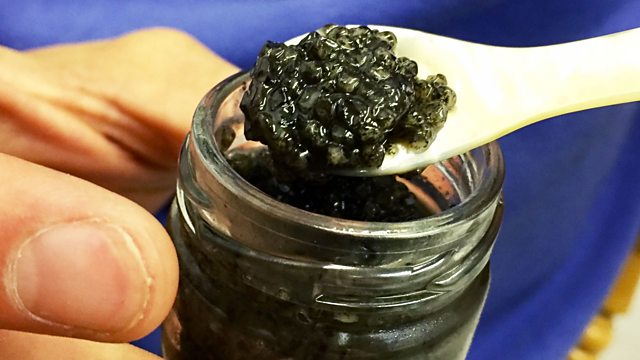 Yorkshire Caviar
Can two Yorkshiremen beat the Russians at their own game? Caz Graham meets John and Mark Addy, producing a kinder, gentler caviar a long way from the Caspian Sea.
Caviar, one of the world's most expensive and luxurious foods comes from the eggs, or roe, of the sturgeon. Traditionally it's harvested from fish in the Black Sea or the Caspian Sea - but now a father and son team from Yorkshire are harvesting sustainable caviar at their farm near Leeds.
John and Mark Addy have decades of experience in aquaculture and for the last six years they've been developing a way of producing sustainable caviar, meaning the fish the eggs come from don't die in the production process. Instead of killing the fish or performing caesarean sections on them which usually ends in fatalities, the Addys stimulate ovulation naturally by altering the warmth of the water and the light levels in the poly-tunnels their 82 fish are kept in. The business was born out of Mark's concern at the severely diminishing world stock of sturgeon, described by the IUCN (the International Union for the Conservation of Nature) as "more critically endangered than any other group of species".
Caz Graham goes along to hear how this gastronomic delicacy is putting down roots in the north of England.