Main content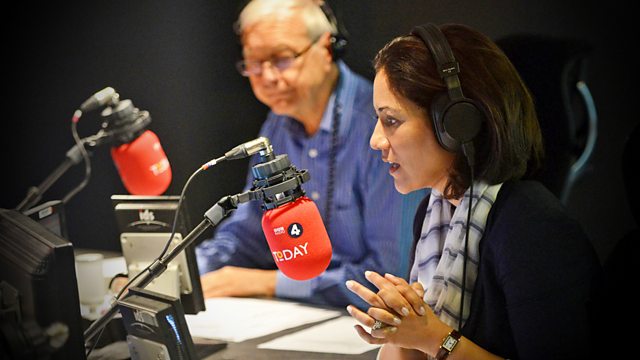 28/07/2017
Morning news and current affairs. Including Sports Desk, Weather and Thought for the Day.
Today's running order
0650
Britain has become the top performing European country for the first time ever at the International Mathematical Olympiad. Alexander Song got an honourable mention at the Olympiad aged 17 and Vicky Neale is part of the UK Mathematics Trust.
0655
Refuse workers in Birmingham ramp up their industrial action today – after weeks of misery for people in the city who've watched rubbish pile up outside their homes. The BBC's Kathryn Stanczyszyn reports. Howard Beckett is assistant general secretary for the union Unite and Stella Manzie is interim chief executive at Birmingham City Council.
0710
The BBC understands that at least 60 buildings have failed the government's whole system fire test, where aluminium panels and insulation were tested together. Lord Porter is chairman of the Local Government Association.
0720
The Postal Museum opens today in London. Perhaps its biggest draw will be the post office's best kept secret, mail rail - a six-mile network of underground tunnels through which the post was shuttled on little trains from 1927 until the railway closed in 2013. Today's Zoe Conway reports.
0730
The last person you might expect to talk about "the soul" is evolutionary biologist Richard Dawkins, who made his name arguing that religion is absurd and that critical thinking is the real saviour of mankind. Richard Dawkins is author of new book Science in the Soul.
0740
The Parliamentary Digital Service has commissioned a new series of photos of MPs to show the "human side" of the House of Commons. Marie Le Conte is a journalist and Paul Masterton is the Conservative MP for East Renfrewshire.
0750
Is there a civil war within the West Wing? The president's new communications director Anthony Scaramucci suggests there is - and that there will soon be bodies to show for it. The BBC's North America Editor John Sopel reports and Sebastian Gorka is deputy assistant to the president.
0810
The Financial Times is reporting that the Chancellor Philip Hammond is seeking a two-phase Brexit deal with an "off the shelf" transition arrangement that would mean we stayed in the single market and the customs union before we moved into an "implementation phase" when a trade deal would be put in place. Philip Hammond is Chancellor of the Exchequer.
0820
The Profumo affair remains one of the most intriguing scandals of modern political times. An opera, released on CD, explores the affair and is one of a growing number of political, celebrity scandal-focused operas. The BBC's Nicola Stanbridge reports.
0830
Aid workers in Greece say they're dealing with hundreds of extremely vulnerable refugees being held on the island of Lesbos, many who have suffered torture and sexual abuse at the hands of so called Islamic State in Syria and Iraq. The BBC's Gavin Lee reports and Louise Roland Gosselin is advocacy manager for Medicins San Frontieres.
0835
A "payment-by-results" pilot project aimed at cutting reoffending has proved to be a success and seventeen investors will now make a profit on their initial investment. Ronald Cohen co-founded Social Finance UK, who were ultimately behind the pilot.
0840
Today, as on every other day this month but two, cabin crew belonging to British Airways' mixed fleet operation will be on strike. Simon Calder is a travel writer and Rita Clifton helped create BA's World's Favourite Airline campaign.
0845
People who drink moderately three to four times a week are 30% less likely to develop diabetes than those who never drink, according to a new study. Professor Janne Tolstrup is the lead researcher in the study.
0850
How unusual is it to be going into the summer recess with such a fractious cabinet? James Forsyth is political editor of the Spectator and Anne McElvoy is senior editor of the Economist.
0855
One hundred years ago, between July and November 1917, the fields of Flanders witnessed one of the bloodiest episodes of the First World War: the Third Battle of Ypres, or Passchendaele. To commemorate the battle, Samuel West reads Siegfried Sassoon's Memorial Tablet.
All subject to change.